Tag Archives:
Web form
Esri Support has launched an updated version of the Support Request Form, now known as the Request Case web form. You can access the Request Case web form from the Esri Support website home page by clicking the Support Request … Continue reading →
Since My Support was launched earlier this year, it's been streamlined and we've improved its performance. We deployed even more changes this week that affect process flows and the user interface.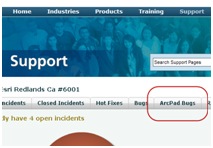 ArcPad Bugs tab
Beginning this week, customers who don't have a support maintenance contract for ArcPad will see that the ArcPad Bugs tab in My Support is gone. If you have a current ArcPad contract for support, or if you are an Esri International Distributor, this is unchanged: the ArcPad Bugs tab is still visible and can be used to view ArcPad bugs.
Submitting new incidents from My Support
We've streamlined the process to submit a new incident from My Support.
Up to now, validation of your support contract was required the first time a new incident was submitted through My Support and again when submitting a request through 'Submit a new incident' (aka: the Web form). This often resulted in having two separate Esri Global IDs to access My Support and the Web form.
Now, to submit a new incident, you can log in to My Support and/or the Web form using the same Esri Global ID. That's where the process is a lot more streamlined: if you're already in My Support, you only have to click on the 'Submit New Incident' button for direct access to the Web form.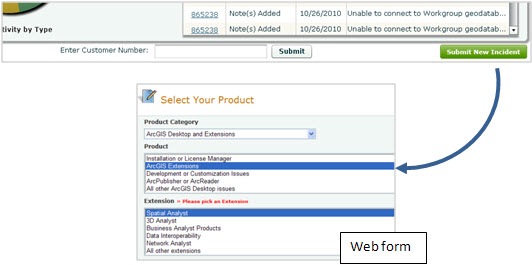 Conversely, if you are already logged in to the Web form and, for example, you want to view all the incidents related to your customer number, you can access My Support directly, without having to use a different login ID.
- Web Services team – Esri Support Services
---

As many of our users may have already noticed, ESRI has recently revamped the way that we initiate support incidents via email with our users. These changes have been made to enable you to better access and communicate with our Support Analysts in situations where an email may be better to describe an issue.
By utilizing the new Support Request Web Form located on ESRI's Support Center Web site, our aim is to enable you access to the appropriate Support Analyst more quickly, so they may begin troubleshooting procedures with a clear picture of the behavior you are encountering and the environment in which you are working.
With your assistance, this may be accomplished with a detailed and comprehensive snapshot of your issue: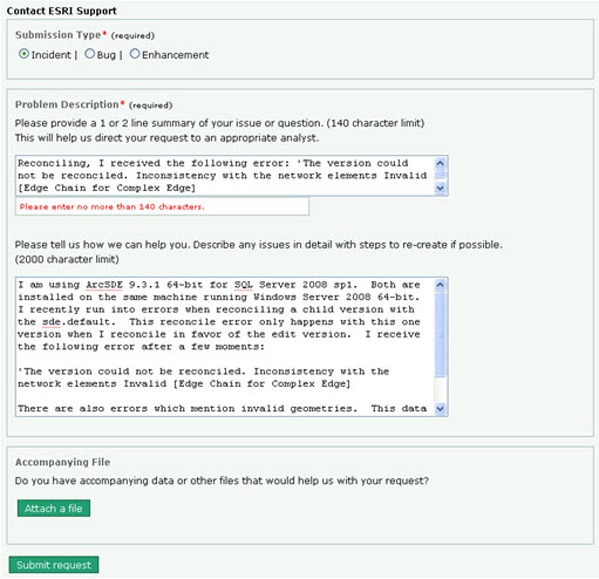 In addition to a descriptive recap of what you are encountering within the 'Assessment Panel' (shown above) of the Web form, the 'Product Support' portion (shown below) ensures that your inquiry is routed to an ESRI Support Analyst best suited for your situation.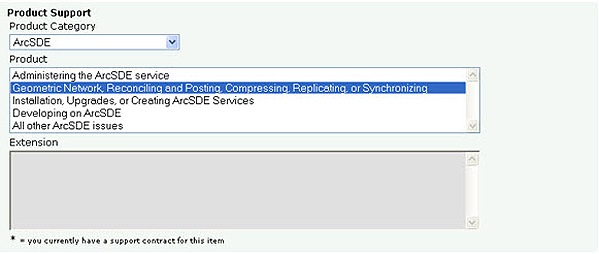 We understand that it can be frustrating to answer the same group of configuration questions every time you call a technical support analyst.

Don't you wish you could just pass all of your configuration information to an ESRI Support Analyst and get to the meat of your issue much faster?
Well, with the new ESRI Support Request Form's ability to create and save System Configuration Profiles, you can!
What operating system are you working on? Just set it and forget it.
What programming language are you developing with? Just set it and forget it.
Which RDBMS are you using? Just set it and forget it.
Which Web Server are you …well, you get the picture.

The above example displays a local utilities profile for their development machine which they have named "Springfield Dev"
We encourage our users to create as many profiles as are needed to communicate the various environments you work within every day. This way, when an incident is logged using the Web form, you can simply select the Profile Name that applies to your current situation to help Support Analysts begin assisting you immediately.
Finally, the ability to attach screenshots, error logs, word documents, as well as sample datasets in a ZIP file may all be included for immediate action on your issue. This enables you to upload up to 70 MB of data so that we are able to more closely identify with your issue.

It is our hope here at ESRI Support Services that you take advantage of these new methods of incident logging, so we are better able to support you in your work and, as a result, help you to be more productive and successful.

- Jon D., Geodata Support Analyst, ESRI Support Services
---