Tag Archives:
Upgrade
If you are a customer with an Oracle geodatabase and are planning to upgrade your enterprise geodatabase to ArcGIS 10.2.1, please read the following technical article before you upgrade, as some issues exist that directly impact the upgrading process. If you have any further … Continue reading →
Posted in

Announcements, export, Geodatabase, High Priority
Tagged

ArcGIS, ArcGIS 10.2.1, geodatabase, NIM099594, ORA-06512, ORA-20085, ORA-29877, Oracle, Upgrade
Leave a comment
When using ArcSDE geodatabases, you may have noticed a change within the 10.0 release in how the upgrade process is now handled. Instead of using the Post Installation Wizard and selecting Repository Setup, as in previous releases, there is a new upgrade process. Upgrading your geodatabase is now performed within ArcCatalog using the new Upgrade Geodatabase (Data Management) tool.



The Upgrade Geodatabase (Data Management) Tool can be accessed in ArcCatalog via the Database Properties of a database connection under the General tab > Upgrade Status or within the Upgrade Geodatabase geoprocessing tool referencing an existing connection. For ArcSDE geodatabases, a direct connection to the geodatabase is necessary to run the upgrade.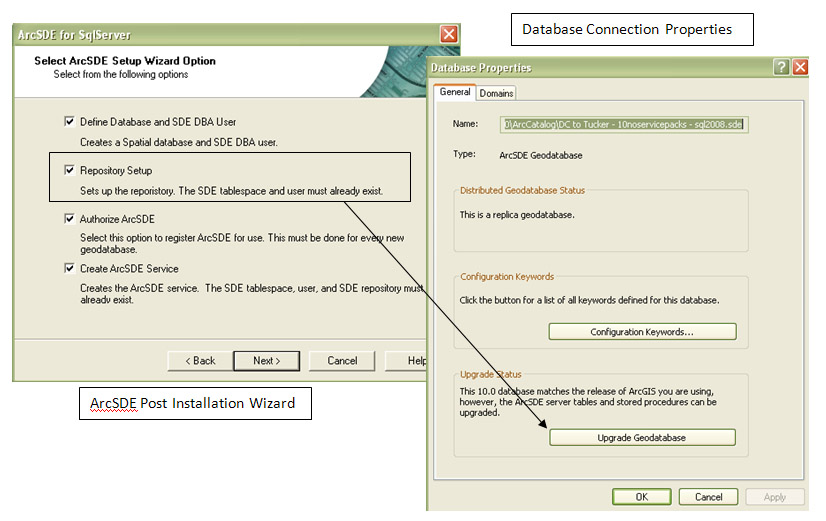 Post Installation Wizard at 10.0:
The Post Installation Wizard in 10.0 can be used for the following:
Defining Database and SDE DBA User – Creating new ArcSDE enterprise geodatabases
Repository Setup – Populate system repository tables (for new geodatabases only)
Authorize ArcSDE – Perform Software Authorization of the geodatabase
Create ArcSDE Service – If using application server service (when not using direct connections)
More changes are on the horizon to incorporate Post Installation functionality into the client tools for the 10.1 release, so stay tuned!
---

As with any resource, ease of usability is a big factor (at least for me). Well, wiki.GIS.com has been upgraded to do just that – increase the ease of usability. With the newly upgraded wiki, you can now use the editing toolbar to assist you in creating and editing pages. There is a lot of functionality within the editing toolbar – from changing the text to bold and adding internal or external links to creating references and even seeing a preview or the changes made to the page. See the screen shot below for a more detailed look at the editing toolbar:

The editing toolbar with the Advanced functionality opened
The search functionality has also been improved with this upgrade. Now, when you search for a word or some letters within a word, a drop-down menu appears to assist you in either finding the exact word you are looking for or allows you to select the "containing… " to return pages containing those letters.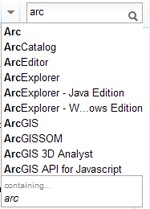 Example: wiki.GIS.com Search drop-down
Overall, the usability of wik.GIS.com has been improved and will continue to improve as we move forward. As is the nature of wiki, there is always work to do and ways in which to make it better – both functionally and content-wise. If you have not had a chance to see wiki.GIS.com, create an account, or add some of your GIS knowledge, feel free to join the wiki.GIS.com community and help us to continue to make this an excellent resource for all levels of people using and interested in GIS.
If you are looking for a place to collaborate and share your ideas with other people on the wiki, you can always use the Discussion Room, which is accessible within the 'Site Management' links along the left-hand side of any wiki page or create a discussion on a particular wiki page by using the 'Discussion' tab.
We are always looking for feedback. To send feedback, click the feedback link located on the bottom of each wiki page or just send us an email to admin@wiki.gis.com.
We hope you enjoy the upgraded wiki and look forward to seeing you around.
-Collin W., wiki.GIS.com Administrator
---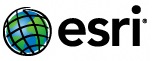 The following issue has been found when customers attempt to upgrade a geodatabase from an older version to 10, specifically on the Linux Platform:
NIM058774 – ArcSDE geodatabase upgrade for Oracle fails if the geoprocessing upgrade script is executed from a Linux platform.
Please see Knowledge Base article 37974 for further details and workarounds.
Esri is working on a fix for this issue and will be working to make the required Linux files available for download soon.

Mike H., Program Manager
User Advocacy Group, Esri Support Services

Follow me on Twitter:
http://twitter.com/mikehogan
---

Hi everybody, this is John with the Implementation team here in Tech Support. In preparation for the ArcGIS 10 release, I'd like to take a few minutes and let you in on some tips for the upgrade procedure. This isn't comprehensive, but keeping these concepts in mind should make for a smooth upgrade.


Prior to actually running the ArcGIS 10 installer (and before 10 is even released), there are several things that you can do to get your system ready for the upgrade. I try to keep my system well maintained, but if you're like me your computer ends up cluttered anyway. Preparing for a major upgrade is a great time to clean up the hard drive, and a guide like this one from Microsoft is a great way to do it. If you have the infrastructure, it's always a good idea to make a backup of your system, just in case.



If you're reading this, you are probably someone who always reads the manual. I strongly recommend checking the Systems Requirements page before you start to make sure there aren't any special considerations you need to take for your system. For example, 10 is the first version of ArcGIS Desktop that needs the .NET Framework 3.5 SP1 before it can be installed. It's also worth a few extra minutes to take a look at the installation guide on the DVD.


As you get closer to the actual upgrade, there are a couple other considerations:


Authorization numbers: Start thinking about licensing considerations before upgrading the software, so you don't end up with unexpected downtime. ArcGIS 10 (final) authorization numbers will be emailed to the primary maintenance contact when the software is ready for download. There will also be a new section called "Authorization and Provisioning" available on the Esri Customer Care Portal http://customers.esri.com, where people that have existing 9.x software or ArcGIS 10 pre-release can get new authorization numbers when ArcGIS 10 final is released. Older versions of the License Manager will also need to be upgraded. For more information about these changes, please see: http://resources.arcgis.com/content/arcgis-desktop-licensing.


Uninstall third-party extensions, add-ons, and even ArcScripts that work with ArcGIS Desktop 9.3/9.3.1. There's a chance that some of them may work from 9.x to ArcGIS 10, but they may cause severe issues and can be very difficult to troubleshoot after the upgrade. Once you have ArcGIS 10 installed, you can start fresh and install your extensions one at a time to test for compatibility.
That's about it – best of luck with the upgrade!
-John P, Senior Implementation Support Analyst, Esri Support Services
---

Hi all! This is Jim B. with the Eastern Support Services Desktop unit and a few tips to keep you going strong. We each have found ourselves in situations where customers, clients and colleagues are using different versions of ArcGIS Desktop. If you upgrade immediately after a new release, you may find the need to share geodatabases or map documents with those who haven't had a chance to upgrade yet. Fortunately, there is a quick and easy way to share data and documents between versions of ArcGIS Desktop.
Map Documents
To send a map document that is compatible with an earlier release of ArcGIS Desktop, you'll need to save it for that particular version. For example, if you are using ArcGIS Desktop 9.3.1 and you need to send your map document to a colleague that is using ArcGIS Desktop 9.2, a copy of the map document needs to be saved specifically for ArcGIS Desktop 9.2. To do this:
Open the Map document you need to send.
Go to the File Menu and scroll down to 'Save a Copy'.
In the 'Save a Copy' dialog box, add a 'File Name' for the document and 'Save a Copy' as "ArcMap 9.2 Document".
Click 'Save'.
This saves a copy of your ArcGIS Desktop 9.3.1 map document that is compatible with ArcGIS Desktop 9.2.
Geodatabases
Sometimes it is necessary to share entire geodatabases with others, but they could all be using different versions of ArcGIS Desktop. With the exception of ArcGIS Desktop versions 9.0 and 9.1 as well as version 9.2 SP5/SP6 and 9.3 being compatible with each other, previous versions of ArcGIS Desktop cannot read or access geodatabases created from later releases of ArcGIS Desktop. It is possible to work around this by adding feature classes to a geodatabase that was created using an earlier release. To do this:
Make sure that the Geodatabase does not contain any objects that are specific to the newer release.
Create a new personal geodatabase using the previous release of ArcGIS Desktop.
With the current release of ArcGIS Desktop, copy/paste the data into the geodatabase created by the previous release of ArcGIS Desktop.
The geodatabase now contains the data from the current geodatabase and can be used by the previous release of ArcGIS Desktop.
More details can be found using the following links to the Knowledge Base:
How can previous versions of ArcGIS Desktop connect to geodatabases created with newer releases?
How to share data from more recent versions of the Geodatabase with older versions of ArcGIS Desktop.
So, the next time you have a colleague that needs documents and data for an earlier release of ArcGIS Desktop and they think it's impossible, you'll be able to impress them using your new knowledge of the sharing capabilities of ArcGIS Desktop.
- Jim B., Desktop group, Eastern Support Services – Charlotte, NC
---

There has been a lot of buzz lately in the ESRI Community about ArcGIS 9.3.1; hopefully answering the following FAQ's will clear a few things up for you.


What will ArcGIS 9.3.1 include?




It will include many bug fixes that were submitted by users just like service packs do, but will also include many new features that will have a significant positive impact on many users. To see the targeted list of bugs to be included view the 9.3.1 Announcement (Note: the downloadable PDF contains the list.) For more details on what features are going to be included in ArcGIS 9.3.1 for all products, please see 'What's coming in ArcGIS 9.3.1'.



Will there be a download for 9.3.1 available on the ESRI Support Center Website?




ArcGIS 9.3.1 will automatically be shipped on media to all customers that are current on maintenance for the respective products. There will be an "Upgrade" DVD that will take your existing 9.3 or 9.3 SP1 products and upgrade them to 9.3.1 (no uninstall of 9.3 required).


For new customers purchasing an ArcGIS product, there will be a full 9.3.1 installation disk.



When will ArcGIS 9.3.1 be available?




ArcGIS 9.3.1 is scheduled to be available in the second quarter (Q2) of 2009.



What about backwards compatibility?




ArcGIS 9.3.1 is compatible with ArcGIS 9.3 for all aspects of ArcGIS, including geodatabases, maps, and API's; so you will be able to easily migrate or work in mixed environments of ArcGIS 9.3 and ArcGIS 9.3.1 within the same organization.



Where can I post feedback about the upcoming 9.3.1 release?




Check out the Upcoming Release Announcement Forums, these forums are here for you to discuss, ask questions, suggest additions, and give us feedback specific to future ESRI Products. These forums will be monitored by ESRI.



Is there going to be a Service Pack 2 for 9.3?




No, the next release of ArcGIS Software is going to be ArcGIS 9.3.1. This is a minor maintenance release, and is recommended for all users.
The following is a link to a related article that was published in the Winter Edition of ArcNews Magazine: ArcGIS 9.3.1 Is the Next Release of ArcGIS.
—Mike H., User Advocacy Group, ESRI Support Services
---