Tag Archives:
Online Support Resources

As a part of the new ArcGIS 10 experience, we at the ESRI Support Services – Online Support Resources (ESS-OSR) program redesigned the Support Web site, added new Web 2.0 features for our customers to enjoy, and plan to launch more features between now and the ESRI User Conference (July 22nd, 2010). Here are the great new changes you can see and use right now:
Search-centric
The new large 'Search Support Pages' bar helps you search existing data and find solutions easily. This 'Search Support Pages' bar is powered by a new Google Search Appliance (GSA), which provides an excellent search experience. Using the 'Search Support Pages' box is the best way to reach the resources you need.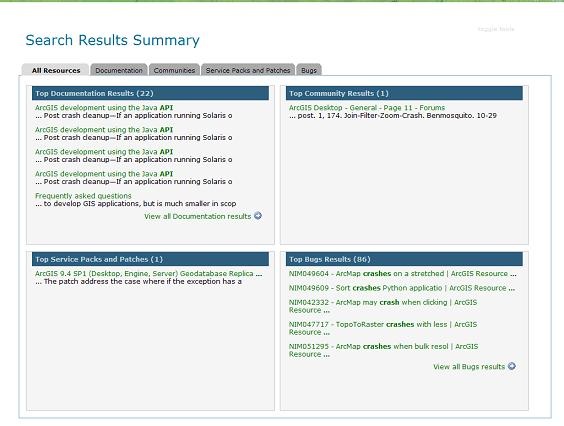 Keyword search results are now displayed in a new quadrant-based search page that gives you a quick glimpse of relevant search results from different data repositories: Documents, Communities, Service Packs and Patches, and Bugs. You can click on the link directly, or click on "View all … results" to view the full results of the type of resources that you want to see.
Support Announcements
This area provides you support-related announcements – not a marketing feed. These announcements keep you up-to-date on important bug-related announcements, patches and service packs, and new articles.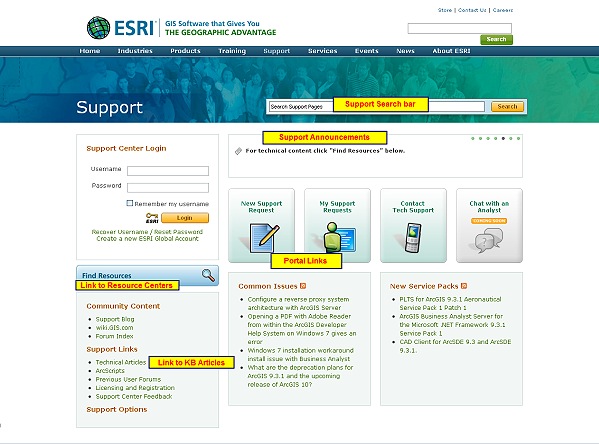 Online Support Request
This button opens the Web form for logging new incidents to ESRI Support Services.
My Support Requests (currently available only to International Distributors)
This button activates the Online Incident Management (OIM) portal, which allows you to a) create a new incident, b) see all your incidents from one centralized location, c) request escalation, d) view bugs, and e) get various reports for the Support incidents.
This functionality is currently available only to International Distributors and will be made available to users who have a valid Support contract around the UC 2010 timeframe.
Contact Technical Support
This button provides links to find contact details, such as telephone numbers, incident management sites, and technical support sites as applicable for ESRI Support Services as well as for International Distributors.
Find Resources
This button takes you to the new ArcGIS Resource Centers, where you can find information about our products, get Web help, and see knowledge base articles. You can also navigate to the knowledge base articles by clicking on the link to KB articles under Support Center Resources.
Other Links
The new design also provides users easy access to other links like the Support Blog, ArcGIS Ideas, Forums, and other Support resources.
Everyone at ESRI Support Services wants to thank you (our users) for your understanding and patience while we transition to the new Support experience. A BIG thank you goes out to our advisory group of users who helped us every step along the way by providing requirements, reviewing designs, and critiquing our work in progress.
- Sanjay L., Online Support Resources Manager – ESRI Support Services
---