Tag Archives:
global id
Support Services is constantly updating the functionality available on the Support Services Website. The key to accessing all of the capabilities of the support website is to login using an Esri Global Account ID.

While anyone with an Esri Global Account can access certain functionality – such as finding bugs online, submitting ideas, reading blogs and technical articles, and joining the forums – customers that are considered "Authorized Callers" will also have the ability to log email- or chat-based support incidents, view and manage an organization's open support issues and more.
What is an Authorized Caller? They are the folks within an organization who can open an official incident with Esri Support via phone, email or chat. Customers that have a valid maintenance contract with Esri Support are entitled to a certain number of "Authorized Callers."
How is someone setup as an Authorized Caller? Esri Support Receptionists manage the Authorized Caller database within Support's Incident Management System. Once an organization identifies the individuals who will act as an Esri Support Authorized Caller, the following information will be requested:


Esri Customer Number


Customer Name


Customer Email Address


Customer Phone Number with Extension*



*If the last four digits of all phone numbers are unique for all Authorized Callers in an organization, an extension is not required. If all phone numbers end in the same four digits and the organization does not use extensions, generic 4-digit extensions will be generated and provided for validation purposes.
For example, I might provide the following:



Esri Customer Number: 123456
Customer Name: John Smith
Customer Email Address: jsmith@esri.com
Customer Phone Number with Extension*: 888-377-4575 x8797
This individual's information would be added into Support's Incident Management System and used to validate incident requests.
Creating and Configuring an Esri Account
Once Support has received the necessary information from an Authorized Caller, that caller is then ready to create a new Esri Global Account and link it to the Esri Support database. Note that if you already have an Esri Global Account, you will not need to create a new one.
Tying it all Together
After being added as an Authorized Caller and then creating an Esri Global Account, the final step to unlocking all of the functionality of the Esri Support website is tie the two account together through "account validation".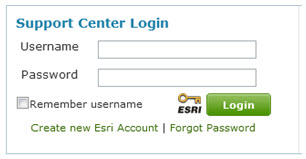 Navigate to the Support website home page and enter your new Esri Global Account username and password into the Support Center Login dialog.
Once you have successfully logged in, click on the "My Support" button in the center of the page.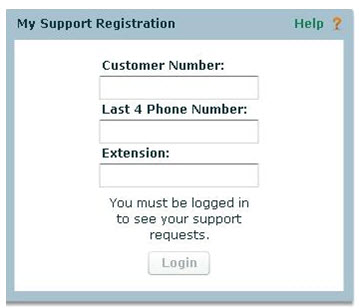 A validation dialog will appear.
In order to validate your account, you'll need to enter:


The same Customer Number you provided when becoming an Authorized Caller


One of the following:





The last four digits of your unique phone number; No extension is required


The last four digits of your company's phone number; your extension


The last four digits of your company's phone number; the generic extension provided when becoming an Authorized Caller*
If you have any problems validating your account or using the Online Support tools, please click on the "Feedback" button at the bottom of the Web page.
With a validated Esri Global Account, you can:
Related Links:
New Changes Coming Soon to the Esri Online Support Gateway Page
- Allison Rost and Halina Brodzik, Technical Account Leads
---