Tag Archives:
Developer Summit
Are you going to the Esri Developer Summit this year? Perhaps you have some questions or need help and would like some special assistance from our Technical Support Analysts? Come see us at the GIS Technical Support Island (TSI) in the Esri Showcase. Esri … Continue reading →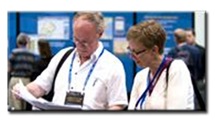 2009 ESRI Developer Summit begins on Monday, March 23.
"The Developer Summit is dedicated to GIS, mapping, and spatial developers." ESRI Support Services will be leading a technical session on Tuesday, March 24, 2009 from 1:00pm-2:15pm at Mesquite C (PSCC). The session is titled Support Operations and Processes presentation. It will be focused on an interactive session using a survey to build a discussion about the aspects of Support Services that the developer finds most important, as well as the details of recent changes and initiatives that will enhance the experience of developers contacting ESRI Support Services. Here are some helpful links to get you around the DevSummit:
Come visit us at the Technical Support island during the hours of the ESRI Showcase. To all of those attending the Developer Summit, we wish you a wonderful and insightful week.
—Collin W., SCN Blog Content Manager, ESRI Support Services
---