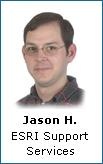 Thanks to everyone who has already taken the time to fill out the recent survey:
Where Would You Like To See the Support Center Improved
, and to those who have mentioned the survey on their blogs. There have been about 45 responses so far; we'll be leaving the survey up for a few more weeks (through May 16) to give less-frequent visitors a chance to voice their opinions.
A Few Early Results
More detailed results will be posted to this blog after the survey concludes. Here's what the results so far are telling us:


There's a lot of GIS Professionals taking the survey. Also, we've recently determined that water is rather wet… Somewhat more surprisingly, a fair number of developers have taken the survey, suggesting that at least some developers are perusing the Support Center and not just the EDN web site. Speaking very briefly of the EDN site, we've been paying attention to your comments and feedback about that site as well… it's a bit off-topic for this blog, but I'll likely have more to say about the EDN site in future posts.


Extra, Extra, Read all about it: So far, almost everyone wants to see the "Latest Additions" section improved, with RSS feeds being a close second, followed by customizability. Let me see if I understand: You want the latest ESRI Support news and content, you want it ASAP, and you want to see it where you want to see it. Did I get that right?


Search Results Improvements: All of the above. Each of the potential "Search Results" improvements listed in the survey has received high marks so far, indicating that this area impacts a lot of people. It sounds like any improvement in this area is likely to be well-received.

Technical Articles: Make mine a wiki. The current leader in this set of potential improvements is the notion of having a User Comments section that would allow you to append your own helpful tips and explanations onto existing articles in the ESRI Knowledge Base.


What about the Forums? The survey concludes with a couple questions on forum participation and usage:




So far, it looks like about 50% of respondents participate (that is, post a question or answer someone else's question) in the forums at least several times each month, and 50% participate less frequently than that. That's pretty good participation, people!


Responses to the final survey question indicate that many of you trust the forums more than our technical articles. Ouch. Perhaps allowing User Comments on articles would help?
As mentioned above, the survey will remain open for a few weeks more. Even so, we've begun planning further improvements to the Support Center, some of which should be ready in time for the
ESRI International User Conference
in June. It's not yet clear exactly which improvements will be ready by then, but you can safely bet on some new things to
feed your aggregator
.