Monthly Archives:
December 2011
An interview with Desktop Senior Support Technical Lead, Todd S.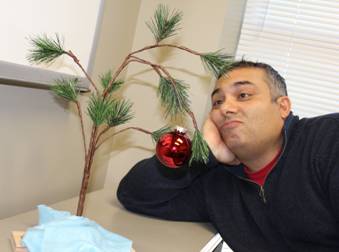 Before the end of the year, we wanted to introduce you to another member of our team – this time from the Charlotte office! We snapped a picture of him and his Charlie Brown tree as he reflects on his past GIS experiences and how he got to where he is today. Continue reading →
Wouldn't it be wonderful if we lived in a world where our boss just handed us a 100 percent accurate table of XY data so that we could generate the point feature class using the "Display XY" tool and be done?
Hey, we can dream can't we? Continue reading →
Posted in

ArcGIS Desktop, export
Tagged

ArcMap, attribute table, data, display, Display XY, editor, feature class, field, location, point feature, python, query, script, XY
5 Comments
As an ArcGIS Server Support Analyst, I often assist customers with web traffic related incidents. While there are many applications available to monitor and capture web traffic from an internet browser, I have found Fiddler (a popular freeware solution) to be invaluable in troubleshooting web applications that fail to display some or all of a web map. Continue reading →