Monthly Archives:
August 2011
Recently, you helped ArcGIS Ideas reach a few big milestones — Your ideas count passed the 3,000 mark, and the vote count crossed the 50,000 mark! To celebrate your enthusiastic participation, we're excited to bring you the new, refaced ArcGIS Ideas site.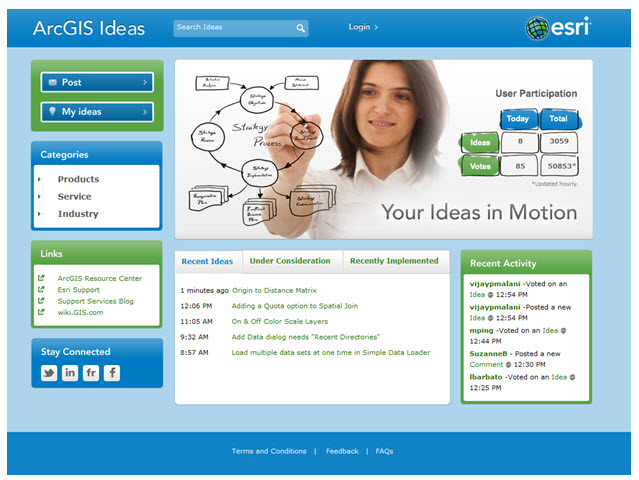 Our existing Ideas users will see the following key enhancements:
The site has a cleaner look and feel.
Categories now collapse into a group for better navigation.
Recent ideas, Under Consideration ideas and Implemented ideas are shown under different tabs on the home page.
The community's recent activity is shown on the home page.
The "My Ideas" page provides a better representation of your activity, including the number of ideas submitted by you, as well as the number of the ideas that you've submitted/voted on that have moved to "Under Consideration" or "Implemented" status.

We have added Frequently Asked Questions (FAQs) that will help you get answers to common questions while using Ideas.
We thank you for your continued support for ArcGIS Ideas and hope you'll continue using this site to provide us with valuable input to improve our products and services. We look forward to receiving your comments and feedback on the site. Send this using the "feedback" link that's on the bottom of all the Ideas pages.
---