Monthly Archives:
February 2010

Hello GIS World – Monte back again from a little blogging hiatus!
What does ESRI Support Services do with all of the comments in eSurveys? How does taking the time to fill out the eSurvey help me as a user? These may be a couple of the questions that come to mind as you are contemplating whether or not to fill out the eSurvey that is sent to you at the conclusion of your Support incident. My hope is to answer these questions for you, let you know more about eSurveys, and also how our response to the eSurveys will be changing in the future.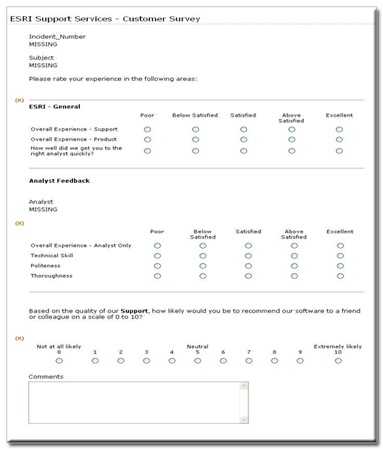 To obtain a better understanding of eSurveys and possible trends in the comments section, ESRI Support Services (ESS) recently completed a project where we analyzed 3,300 surveys, with comments from you, since the implementation of the new eSurvey back in September 2008. Survey comments were placed into two categories. The first category focused on your experience with ESRI Support Services and was separated into values that were generally positive, negative, or not applicable. We interpreted negative comments as not purely negative, but instead, areas for opportunity or improvement; we will talk more about that in a bit. The second category that the comments were placed into consisted of values including general Support feedback, analyst feedback, products, documentation, communication, solution, responsiveness, Support engagement, and scope of support.
Now to the numbers: of the ~3,300 comments received, about 2,200 contained overwhelmingly positive feedback about the support provided to you, our customers. Focusing on areas for opportunity, product feedback received the most comments, making up 33% of this feedback. This information is invaluable to us, as it helps our development team to address customer issues and concerns regarding our products. Other categories where we will use feedback to make improvements include analyst feedback and communication. We can reflect on the feedback provided by you to make changes and approach situations differently in the future – these efforts are geared to helping you achieve success with our software, as we are always looking to exceed your expectations in the support that we provide.
Overall, the results of this project reflect your perception of the quality of service provided to you based on your feedback. Most of the time the feedback is very positive; although, we sometimes receive feedback that's tough to swallow, but that is exactly the reason why we send out surveys. While it is great to hear reinforcing and positive feedback, we are a service-based organization and need to understand your needs and seek your feedback to achieve the highest possible standards of customer service. We appreciate customers taking the time to provide feedback on the support we provide. To ensure that it is clear that we value your dedication to our continuous improvement, we will be responding to your feedback. As part of our overall customer centric vision, one of our new upcoming workflows will involve ESS actively contacting individuals based on the results of their surveys. This will give us the opportunity to better understand what we can do to improve the overall customer experience. Thank you for filling out your eSurvey, and we look forward to communicating with you more in the future.
As always, I encourage you to ask questions or leave comments in the comments section. NOTE: You must be logged into your ESRI Global Account to leave comments.
- Monte, Server Unit Manager, Support Services, ESRI
---