Monthly Archives:
February 2009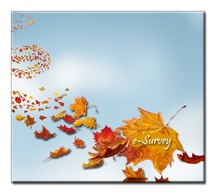 Have you ever contacted ESRI Support Services (ESS) and received an e-Survey, either during the handling of your incident or after the incident has been resolved or closed? For those of you who have, thank you for your feedback. For those of you who have not, below is a screen shot of the e-Survey that is sent out by ESS.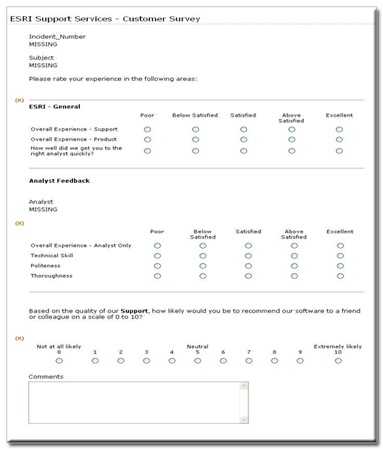 ESRI Support Services main focus has always revolved around being customer centric and gathering feedback from you, the customer. One way ESS accomplishes this is through the distribution of e-Surveys.
e-Surveys provide a method to deliver and return information quickly and easily to help ESS improve support, workflows, and overall practices. The content of the e-Survey also helps ESS pinpoint specific areas in the software that may need fixes and helps to drive the implementation of new products, therefore creating a better product for you.
While moving into 2009, we have worked towards improving the e-Survey process and the content in order to continue gathering your feedback in a more conducive fashion.
Improvements include:


Making the content in the e-Surveys more specific to your overall experience and satisfaction with ESRI Support, the analyst that provides you support, and the area of the product you are using. Better distinguishing your feedback allows ESS to consistently work towards improving all areas of your ESRI Support experience as well as the product being used.


Providing customers with multiple surveys. In the past, e-Surveys were only sent to customers after an issue had been resolved. With the implementation of our new internal escalation process, e-Surveys are now sent when an issue is escalated and when an issue is resolved. Having your feedback throughout the life of the incident helps ESS ensure that the new e-Survey process does not affect your customer experience.
Gathering feedback from you, the customer, is essential for the growth and overall success of ESRI Support Services. We hope to continue this growth in the future with your help and look forward to hearing from you.
— Josh B., Desktop and SSR Unit Manager, ESRI Support Services
---