Monthly Archives:
November 2008

Introducing Monte
Howdy! This is Michael Montemayor, manager of the Server Unit in ESRI Support Services (Technical Support) and a new contributor to the Support Center News Blog. Most people around here call me Monte so you'll see me refer to myself as Monte in future posts. For a little background on myself, I was an ArcIMS support analyst for almost 3.5 years and have now been managing this unit for about 2.5 years.
In terms of day to day activities, one of my most important responsibilities is working with team leaders and analysts to ensure that we are providing you prudent and focused support. I guess another way of saying that is – achieving success with our products is my number one goal for you. Some of my other duties include providing tools and resources necessary for analyst success, recruiting new staff, developing existing staff and working on many projects to improve the support that we provide.
If you have comments or questions regarding the Server Unit, definitely leave them in the comments section. I look forward to posting more topics in the future. Now have fun developing your server applications!
Cheers,
Monte
- Michael Montemayor, Server Unit Manager, Support Services, ESRI
---
Not That Kind of Server Team
…
You may be asking yourself, what exactly does the Server Unit do in ESRI Support Services? The Server Unit is divided into two teams: the Server Implementation Team and the Server Usage Team.
The Server Implementation Team provides support to our customers who are having installation and/or configuration issues with our software. This includes support for ArcGIS Desktop, License Manager, ArcGIS Server (including ArcSDE), ArcIMS, ArcEngine, ArcGIS Image Server, ArcGIS Explorer, etc.
If you experience usage issues with ArcIMS, ArcGIS Server or ArcGIS Explorer (map doesn't display, cache doesn't build properly, etc.) once the software is installed and configured, that's where analysts from the Server Usage Team hop in and take over to help you out.
As server and web technologies continue to evolve, we certainly see more and more users calling in for support. As a manager, former analyst and ArcIMS developer (before coming to ESRI), I have firsthand experience with the complexities and challenges you might face. Having said this, I encourage you to contact us when you need help. We're here to help you out so that you get the most out of our products. For more information, you may want to take a look at the following links:

As for that other kind of server team; we hope that all who will be celebrating have a fantastic Thanksgiving and an enjoyable holiday weekend!
- Michael Montemayor, Server Unit Manager, Support Services, ESRI
---

Introducing Chris Fox, SDK Unit Manager
Hello, my name is Chris and I am the Unit Manager of the SDK team in ESRI Support Services. SDK stands for Software Development Kit. The SDK is a set of code libraries and related tools used to develop platform-specific applications. Check out these SDK resources for ArcGIS Desktop or ArcGIS Server to begin learning about what is possible. My team is here to support your integration and development efforts. We aim to provide the resources and guidance you need.
We are excited to see the many different ways you use the SDKs to automate and extend our software's functionality to fit your specific project needs. We are always looking into ways to improve the service we can offer. Continue to check back here for news on SDK Support initiatives.
If you are interested in learning more about ESRI's developer community, you may want to attend the 2009 Developer Summit. We may get a chance to meet there!
- Chris Fox, SDK Support Manager, ESRI Support Services
---
Phone Availability Initiative

This is Alagiri, a Group Lead within the SDK Unit in ESRI Support Services. I am excited about a new initiative designed to help shorten the time between when you ask for help and when you get it! In the first week of November, SDK Support increased our availability to handle calls as they come in. I would encourage you to continue to contact us by whatever media you feel most comfortable with. Call us or use our web form. Our current initiative means that you will have more immediate access to SDK Support by phone.
When you call, your SDK Support Analyst will gather your information, then triage, troubleshoot, and work with you on your issue until you have resolution. We are aiming to reduce the number of contacts required to resolve your issue completely.
Our web form is also highly effective. When you send us feedback, we can research your issue then reply promptly and work with you to find a resolution.
However we hear from you, we are always happy to help and we look forward to making your next contact with our support team an excellent experience! Please check this blog frequently for updates on this and other initiatives in the SDK Unit.
- Alagiri V., SDK Unit Group Lead, ESRI Support Services
---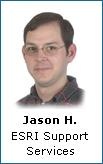 (Re)Introducing Jason H.
If you read this blog back in 2007, you may already know who I am, based on my
Welcome and an Introduction
post from way back when. A lot has happened since then! For starters, I'm transitioning into a new role in Metrics, where I'll be helping measure the effectiveness of ESRI Support Services. Whether you're interacting with our Support Analysts via the phone or browsing the
Support Center Web site
, I'll be analyzing usage patterns and prescribing changes to management on how we can improve our services.
There's some obvious overlap with the Support Center, and I anticipate being involved in future Support Center improvements… and yes, there are some more improvements in the works, more info to appear here in future posts… But at any rate, it's good to be blogging again, and Collin and I look forward to bringing you lots of quality information that is entertaining, interesting, and just plain useful from ESRI Support Services.
---
Tips & Tricks:
System Requirements, Product Compatibility and Developer Resources
Here are a few tips for getting the most out of today's Support Center:


Finding the System Requirements pages. Whether you're planning to create a new GIS or upgrade or expand an existing one, it's always a good idea to check the System Requirements pages to make sure all your software and hardware components will play nicely together.

The System Requirements pages for the latest ESRI software versions are fairly easy to find – you can find them via the Software tab (select a Product, then click the System Requirements link), or via the Knowledge Base tab (click the System Requirements link, then select a Product).

The System Requirements pages for earlier versions of ESRI software are a little less obvious: First, you'll want to find the correct System Requirements page for the current version, then look near the top of the page for a note that looks like this:


Just follow the link in the note to get to the page you're looking for.

System Requirements for older ESRI products can be found by clicking the Software tab, then clicking the 'Older Products' tab found on that page.




ArcSDE Compatibility Matrix. Use this handy table to determine what versions of ESRI products are compatible with what versions of ArcSDE. If you click the Knowledge Base tab, then click on the System Requirements link, you'll find a link to the Compatibility Matrix near the top of that page. If you're looking for compatibility between products older than version 9.0, scroll down to the bottom of the Compatibility Matrix page and you'll find a link to an archived page with the info you're looking for.




Developer Resources. If you're a software application developer, check out the recently revamped ESRI Developer Network (EDN) for access to developer-related resources and communities.
- Jason H., Online Support Resource Manager, ESRI Support Services