Tag Archives:
ArcView
Because ArcGIS Online includes imagery from several different sources collected at different times, ArcGIS Online can be effectively used to study landscape change. Recently I was teaching at the Esri East Africa office in Nairobi, Kenya, in a neighborhood experiencing rapid transformation from residential to large office blocks. After my class gathered data about street lights and streets using ArcPad running on a Trimble Juno device, we transferred that geodatabase to my computer and started ArcGIS 10. Next, I needed a base map to display behind my field-collected data. In the case of Nairobi, the best street data was from OpenStreetMap, a layer easily obtained from ArcGIS Online. Then I easily added two images from ArcGIS Online—the Esri world imagery layer, and the Bing imagery layer. The imagery layers were both useful because they allowed us to examine two different years, the Esri imagery layer (2004) and the Bing imagery layer (2010).
Now I could assess the amount of change in the neighborhood. Using the swipe tool on the Effects toolbar allowed me to easily and dynamically compare the two images. The building housing the Esri East Africa office (just north of the soccer field in middle right) did not exist in the older image, yet the boarding school across the soccer field was visible on both images.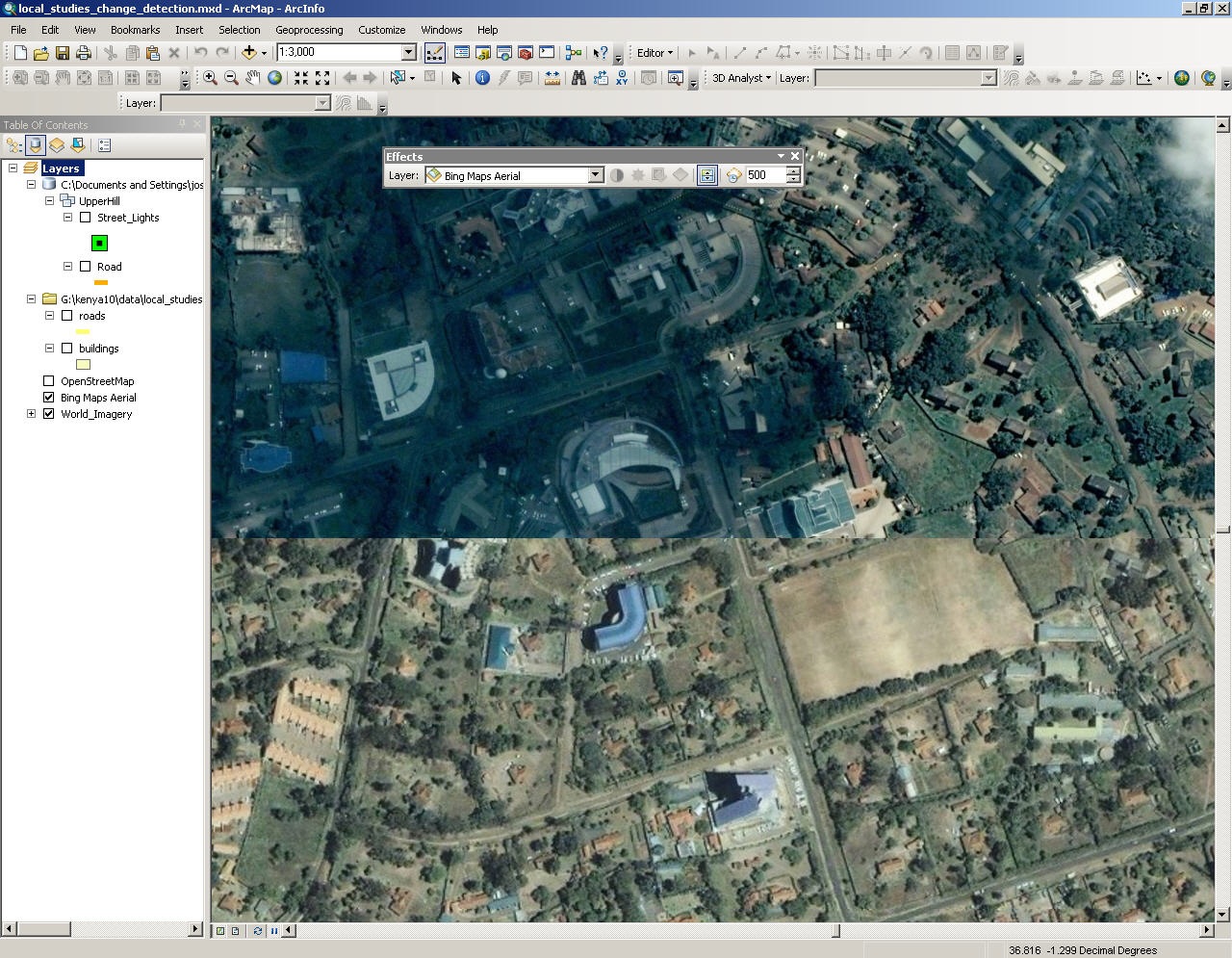 This same technique could be used to examine your own neighborhood or any area on the planet that you are interested in studying that may have experienced human or environmental change—an area recently scorched by wildfire, converted from rangeland to farmland, covered with roads or houses, scarred by a landslide, or impacted in other ways.
Another point worth noting is that since ArcGIS Online imagery covers the world, no matter where your study is located, you will be able to obtain a base map. And, what's more, the base maps overlay perfectly with your other data. How things have changed from a few years ago when it was difficult to obtain a base image for many areas of the planet—much less, one that overlaid your field-collected data!
What changes can you detect using imagery from ArcGIS Online?
-Joseph Kerski, Esri Education Manager