Two years after Katrina, we're all conscious of the power of
hurricanes. Educators should be aware of their power for educational purposes.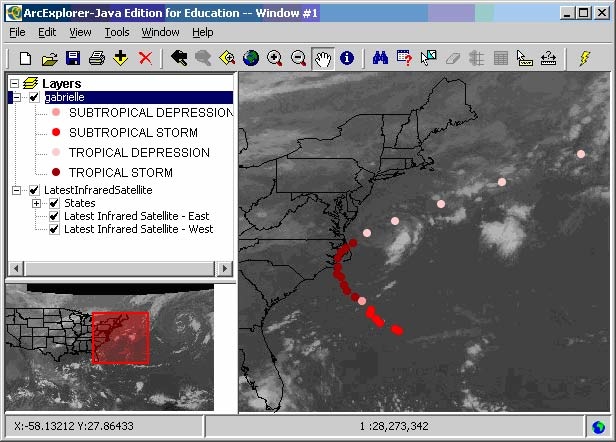 This morning, I keyed into a search engine "hurricane
data" and one of the top entries was the Unisys Hurricane Center, http://weather.unisys.com/hurricane.
I chose "Atlantic 2007″, then scrolled down and chose to see tracking
information for Gabrielle. The data appear as a text file, with decimal degree
latitude and longitude … perfect for mapping.
Seeing data in one form and recognizing that it may have
additional value when presented in a different mode and combined with other
elements, and knowing how to make this happen, are HUGELY important skills for today,
as well as the future.
I copied and pasted the text into Notepad, did some quick
replacement of spaces with commas, did a little file cleanup, and exported the
file as "gabrielle.csv", for "Comma Separated Values". (I
opened the CSV file inside of Excel to make sure it looked right … a good error
checking process.)
Then I engaged AEJEE. One of the data sets mentioned on the
AEJEE page (www.esri.com/aejee) is
satellite data coming from Penn State. I thought this would make a good
backdrop for a map, so I told AEJEE to add that server and selected
"Latest Infrared Satellite." Then I used AEJEE to convert my
"gabrielle.csv" into a point shapefile, and classified the dots by
storm strength. The whole process took about five minutes.
Since the data include projected path as well, it would be
an interesting process to go thru this several times with any given storm, to
see how well the forecasters have been able to predict. And then, of course, track
the news bulletins and analyses from the areas hit by hurricanes. These are not
just educational tools, but real events that threaten the lives of real people.
When teachers can integrate math, physical science, social science, communication
skills, tech skills, and current news, that's a powerful way to make school
both useful and interesting to students.
Charlie Fitzpatrick, ESRI Education Manager