Making Spatial Decisions Using GIS and Remote Sensing is the first workbook to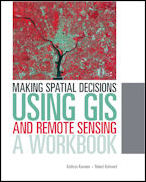 highlight the image processing capabilities inherent in ArcGIS software. Designed to complement remote sensing textbooks in an undergraduate curriculum, this workbook teaches students image processing and analysis skills with ArcGIS 10.1 for Desktop. The book uses step-by-step instruction, guided activities that reinforce learned concepts, and independent projects that encourage students to solve problems using local data.
A DVD with Landsat imagery and other data accompanies the book along with access to ArcGIS 10.1 for Desktop Advanced software (180-day use). Instructor resources are available.