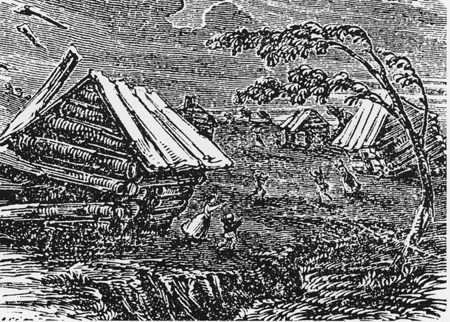 On December 16, 1811 a violent earthquake shattered a winter night along the Mississippi River Valley in an area of present-day northeast Arkansas. While the region was sparsely settled at the time, the local European and Native American inhabitants were being introduced to what would only be the beginning of a nightmarish winter framed by the mid-December occurrence, followed by another main event in late January, and an even more fierce temblor in early February centered outside the village of New Madrid in the Bootheel of present-day Missouri. The community was effectively destroyed, while in St. Louis, over 150 miles upriver, houses were severely damaged with chimneys crashing down. All of the principal shocks were felt far to the east with amazing reports coming from cities as far away as Boston and Toronto. In between and into the spring, numerous aftershocks were triggered and felt. Together, these were the largest earthquakes to have occurred since European settlement east of the Rocky Mountains in the US and Canada.
I grew up near this region and have experienced first-hand what can happen in this seismically active area. A few years ago, I created a blog series and a map project using ArcGIS Explorer Desktop to examine some aspects of the region. My work then was triggered by a sizeable event in the spring of 2008 in southern Illinois. Today's blog post draws a bit from that series but its main purpose is to highlight a new map I've been building using ArcGIS Explorer Online, a growing array of map services found in ArcGIS Online, and some CSV files I crafted and added to my map. Not surprising, the map is focused on the Bicentennial of the New Madrid Earthquakes.
Rather than describe the specifics of what the map contains, I have instead added that information as "metadata" and discussion at the map's storage location in ArcGIS Online, as well as links to some USGS resources. Here's a mini-URL that you can share, www.esriurl.com/NewMadrid. Once you are at the site, open the map in either the default option, Explorer Online, or the ArcGIS.com mapviewer. Also, rather than take you on a guided tour, here instead are a couple of screenshots of what you'll discover.
Historical earthquakes and recent events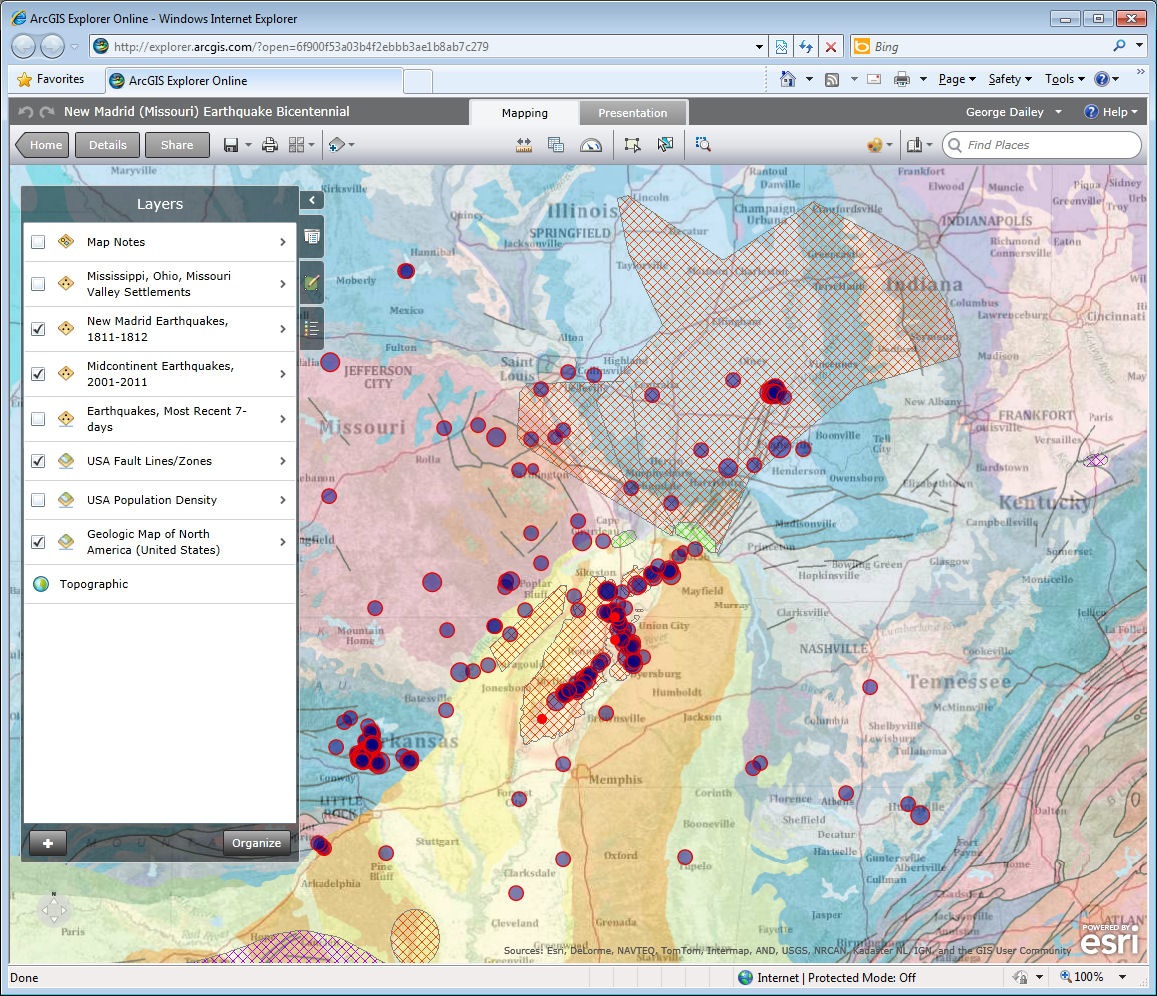 Historical earthquakes and nearby populated places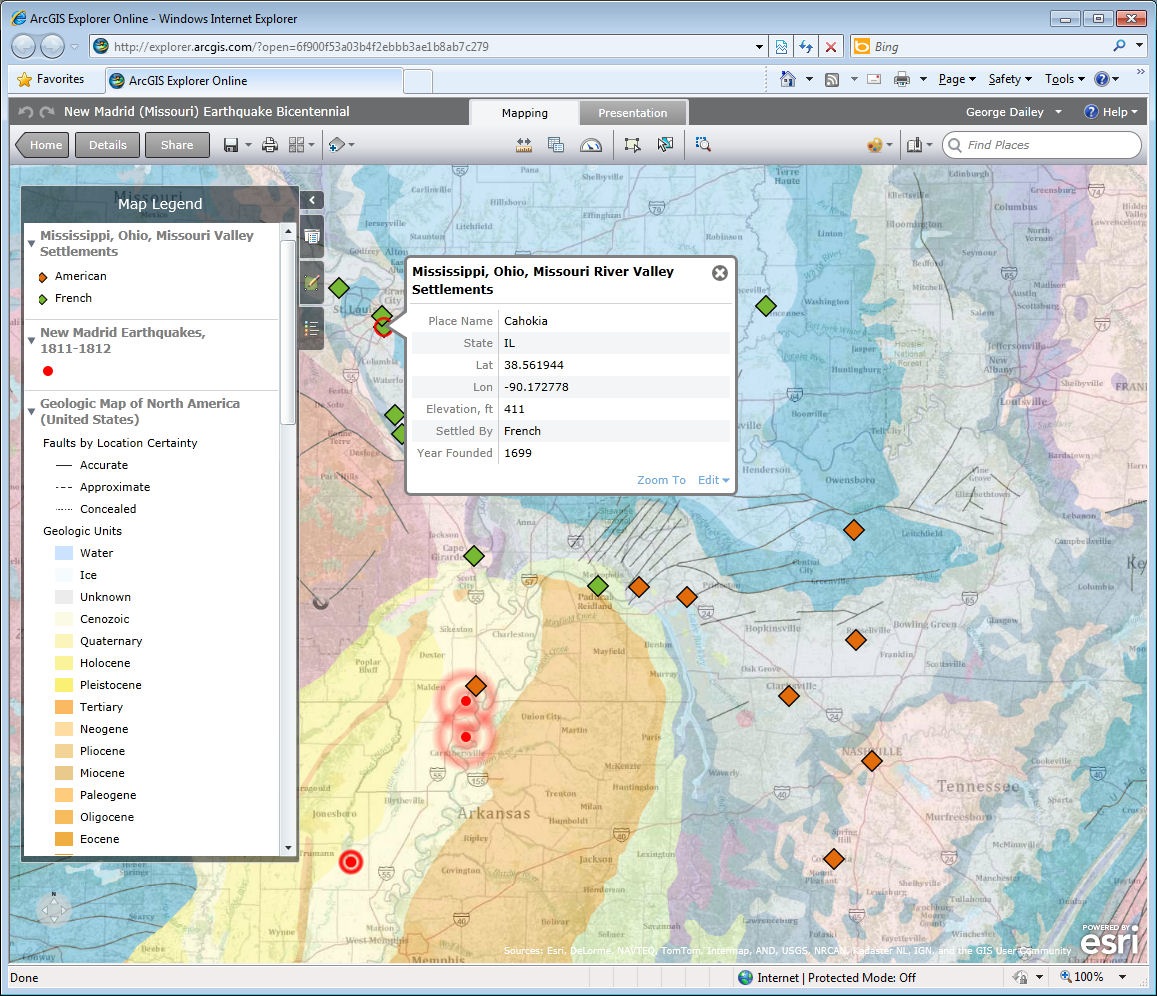 Please feel free to augment what I have done and save your own version of the map by logging in with your Esri Global Account, doing a "save as," and share the new map. If you do craft your version, be sure to add your own description and other information for other users.
Also, remember the New Madrid Seismic Zone and similar zones in the Central US are active. Be sure to examine current population densities in these areas to begin to understand the human risk in a region not immediately recognized as a hazardous area.
Lastly, stay tuned for an Esri Map Story on this topic later this week.
- George Dailey, Co-Manager, Esri Education Program Manager