So many map, image, video, and data sources exist along with GIS tools these days that it is tempting to think we can "get by" without doing any fieldwork. Indeed, in these days of educational funding constraints when fieldwork involves high costs, permissions, and effort, these technological resources are extremely welcome and valued as virtual field trip substitutes. But are they truly substitutes?
We on the Esri education team work closely with the education community to promote active fieldwork. Our collaboration with National Geographic on the 2011 Geography Awareness Week promotion is just one example. We have collaborated with the American Geosciences Institute on Earth Science Week and with those promoting "No Child Left Inside" initiatives; we make use of the resources from the Place Based Education Initiative, and we promote the use of probes, GPS, and even smartphones to gather primary data to map and analyze within a GIS environment. Watch my video to examine why fieldwork is important. Even if you cannot get away from campus, you can still collect data right on your own school grounds. Dr Herb Broda's book SchoolYard Enhanced Learning provides excellent ideas on how to do just that.
One activity out of many that incorporates these elements is entitled "Get Outside With GPS", where I use key science, math, and geography content standards in a series of 22 questions to get students racing to see who can log the fastest speed with GPS, who can find virtual geocaches, who can most quickly calculate the Earth's circumference, how long it would take to walk around the Earth from one's current location, and calculating sunrise and sunset times based on the current latitude and time of year.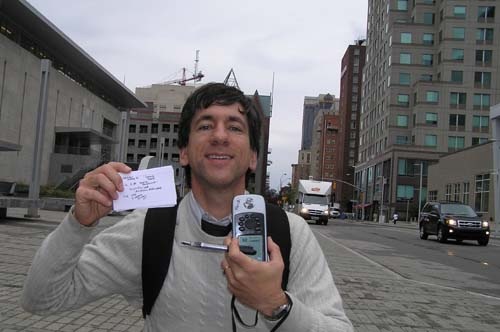 There is no shortage of things on which to collect data in your local community—pH and conductivity in streams and ponds, tree height and species, litter type and quantity, building age and condition, or something else. Create a spreadsheet in text, CSV, or XLS format and map it with ArcGIS Online or ArcGIS Desktop. Hyperlink images, text, and videos that you create at each of these points, save your maps, share them, and analyze patterns. How does water quality compare between local streams and lakes? How does tree height and species vary across a mountainside? What is the distribution of litter or graffiti in your community? Equally important as the "what" and "how" questions are the "why" questions. The spatial perspective and GIS represent a powerful framework and toolkit in which to examine your local community through your own locally-collected data.
How can you incorporate fieldwork, spatial analysis, and GIS so that you are making every day of the year one of "Geography Awareness"?
- Joseph Kerski, Esri Education Manager