In summer 1986, at an institute for geography teachers in Minnesota, I "found religion." I met 30 local educators who also loved geography and wanted to do an ever better job teaching it. In summer 1987, I "found my voice," during a teacher institute at National Geographic Society headquarters in DC. In these two summers, I learned to be proud I was a geographer, to proclaim its power with stentorian voice, and to help others become geographic thinkers.
We talked about the abyss of geographic knowledge and thinking, among students and adults. US Senator Bill Bradley (NJ) came in to talk about how important it was for everyone to understand why geography matters, and how we missionaries could help. We learned there would be an official proclamation for Geography Awareness Week, and met the staffer who had penned the words and helped secure congressional signatures. How exciting!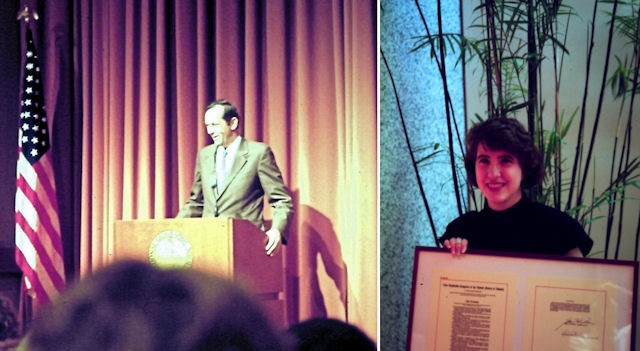 So, where are we now, in this 25th Geography Awareness Week? Alas, progress has been weak. Despite global political upheavals, dramatic environmental changes spanning every continent, multi-national wars, economic turmoil, social unrest, massive technological revolution, and more, many Americans still think about geography as "states and capitals," and worthy only scant attention in schools.
The only hope we have for survival, as a species and a planet, lies in education. Only by understanding the patterns of "what's where," the relationships between things here and things over there, and interaction between these things here and other things here, will we be able to improve conditions. Only with sound grasp of critical background context and vital thinking skills can our citizens and our leaders make intelligent decisions consistently. These skills and content knowledge do not appear merely by reaching adulthood. They must be built over time, through application, like a birder who integrates environment and shape and call to identify a bird, or a basketball player who knows to weave this way, fake that way, and shoot with a certain touch.
Geographic knowledge and skills can lead to unlimited careers, for sure. But they are also priceless for helping us survive, as a person, a community, a nation, a species. We ignore this at our peril. You can tell Congress to support geography education. But even if Congress chooses yet again to ignore this powerful discipline, you need to make sure it happens locally. Talk with educators, and be a mentor, locally and beyond. Help them see how easily they can engage the tools of geography, in whatever they teach. Help them to understand our world's richness, complexity, patterns, and relationships. Help them, and help young people everywhere, have a chance at a brighter tomorrow.
- Charlie Fitzpatrick, Esri Education Manager