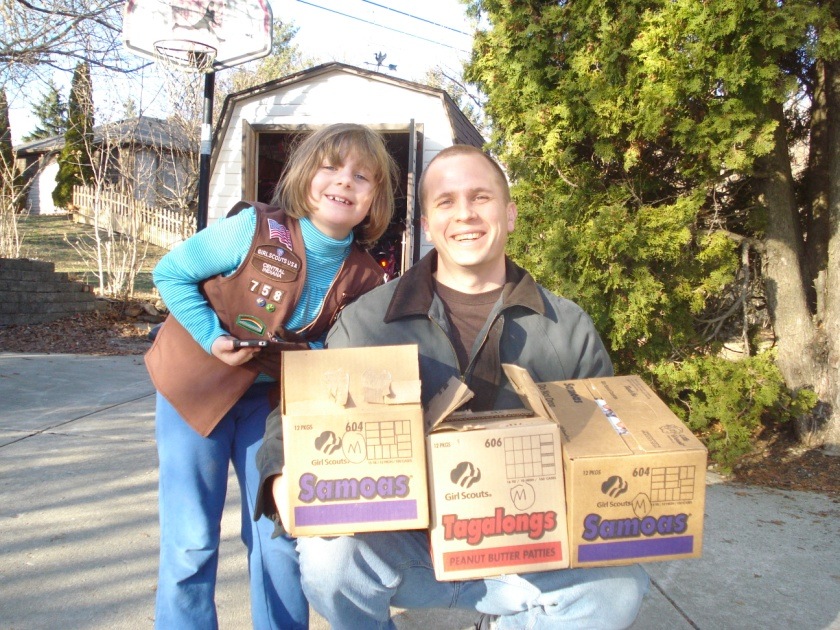 I'm always looking for good opportunities to teach my kids about GIS. Recently I was presented with a great opportunity to do just this when my daughter, Sarah, was selling Girl Scout cookies. Sarah was very excited to sell lots of cookies so we headed out in our coats to sell to our neighborhood. The first day we had some sales, some "no's", and many folks not home. The next day we were excited to get selling again but we had a problem. What if my wife was going to take Sarah out to sell cookies? How would I easily communicate to her which people declined and which were not home? This would get even more difficult if we didn't get to everyone the next day. All we needed was a simple map where we could draw all the houses where people either bought or declined. I decided to see if we could use ArcGIS to solve this problem and teach Sarah a bit along the way.
Sarah helped by reading off the cookie names while I added them as fields to a geodatabase feature class. Each field would store a count of the number of cookies purchased at that location. I added a couple more fields for information like the sales girl (Sarah), customer name, total boxes sold, etc. I then created a simple map that showed sales in red and "no's" in gray. Then I published the map with feature access to ArcGIS Server and added the resulting map services to a new web map in ArcGIS.com. Together we used the find feature in the ArcGIS.com map to find all the addresses from the day before and add all our sales to the map. The resulting map looked like this.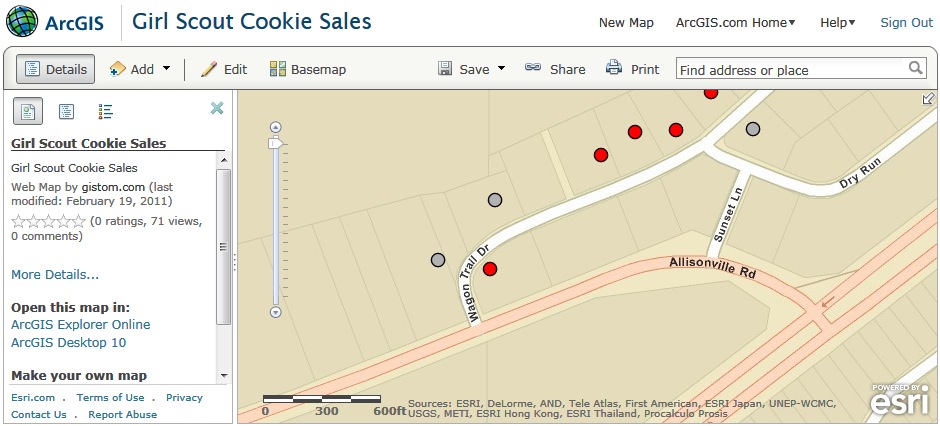 At this point Sarah started to understand how the places we walked the day before related to the map.
Before we headed out to sell cookies again I loaded this web map on my iPhone using the ArcGIS for iOS application. I showed Sarah how she could tap on any of the existing sales to see what was purchased there.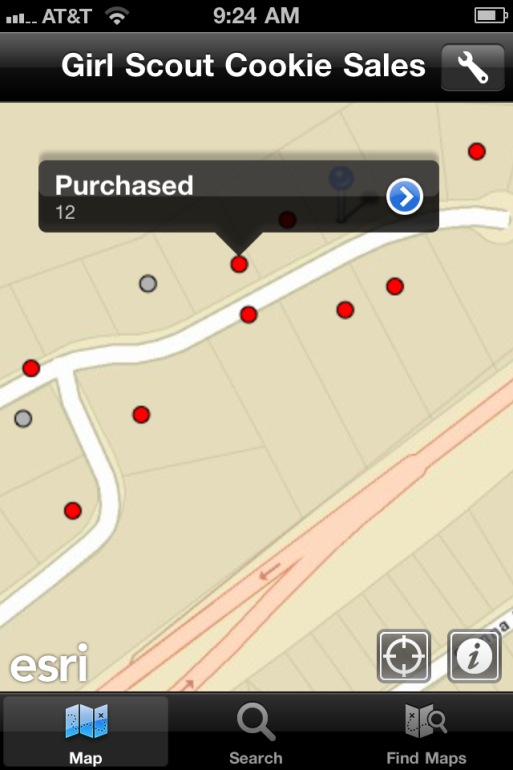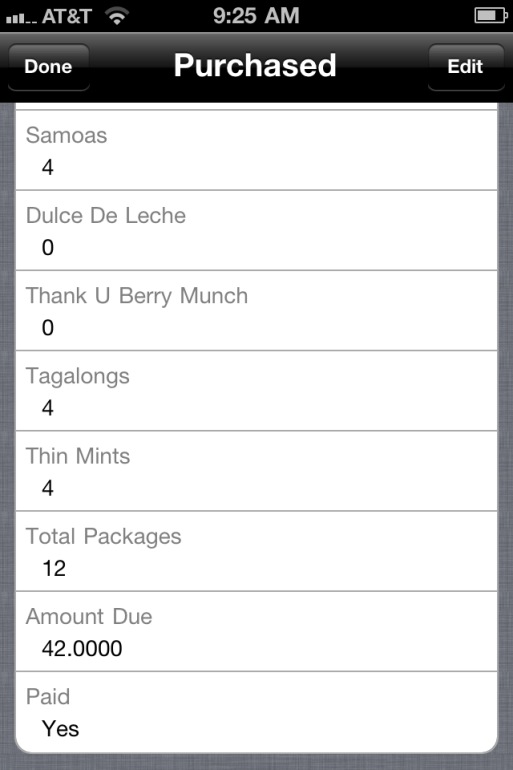 Then whenever we left a house, we took an extra minute to enter the new data. We used the data collection feature of the ArcGIS for iOS application to enter the GPS and sales information. I was really surprised at how quickly my seven year old daughter picked this up.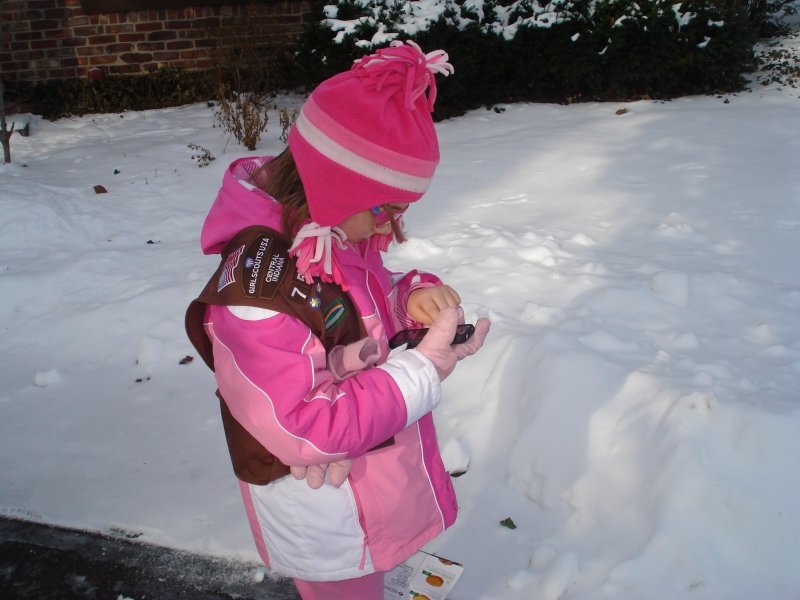 I showed her how to enter the first location and she basically took it from there. That is until her fingers got cold, then she delegated data entry to her father.
So Sarah got a good understanding of how to collect the data and how it could help her quickly find the houses that we still needed to visit. After all the orders came in, we used ArcGIS again to help deliver the cookies. We loaded the wagon and Sarah used the iPhone to tell us where to go and what to deliver.
Once we delivered cookies and received payment, she would take care of marking the customer as paid in the GIS. Since everyone wasn't home the first time we went out, we then needed an easy way to quickly show where we needed to deliver cookies. To make this easy I opened the ArcGIS.com map in ArcGIS Explorer Online and built a query called "Needs Delivery".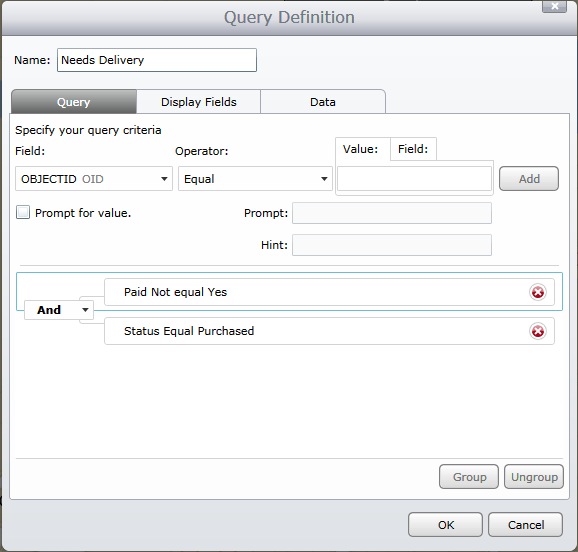 Sarah could then use the query in the ArcGIS for iOS application to see where we needed to go. This was a great teaching opportunity. Sarah learned that a GIS lets you ask the map questions.
Using ArcGIS.com and ArcGIS for iOS was a great way to teach my daughter about GIS. For Sarah I think her favorite part was the arrow that showed up on our GPS location showing our current direction on the map. For me I it was a fun use of the technology and a fun time with Sarah.
Editor's Note: Additional resources have been posted that may be of interest to readers:
Girl Scout Cookie Information Model -
Mapping Girl Scout Cookies Presentation (pptx)
- Tom Brenneman, Esri Solution Engineer