Daily Archives:
October 24, 2011
Want to compare places across USA? Looking to compare data layers in a web-based map? Try the ArcGIS Online MapViewer "Compare Maps" template. Use this example to see how powerful it is to view three maps in parallel:
(This blog is also available in the ArcLessons archive.)
1. At the front door of ArcGIS Online, search for and open the project "USA Demographics for Schools". When the map opens, click the "Contents" button to see the 10 different layers. But don't get distracted yet!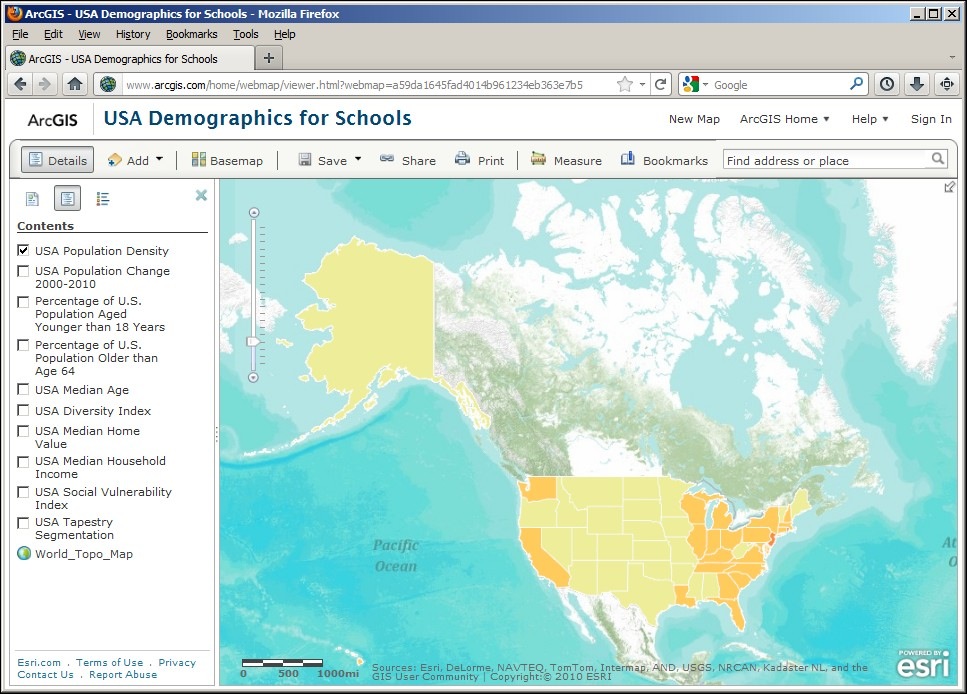 2. Such great data deserves exploration of more than one layer at a time. Above the map, click "Share," then choose "Web Application." You'll get a bunch of choices. Find the "Compare Maps" template (currently page 1, second row, far right) and click it.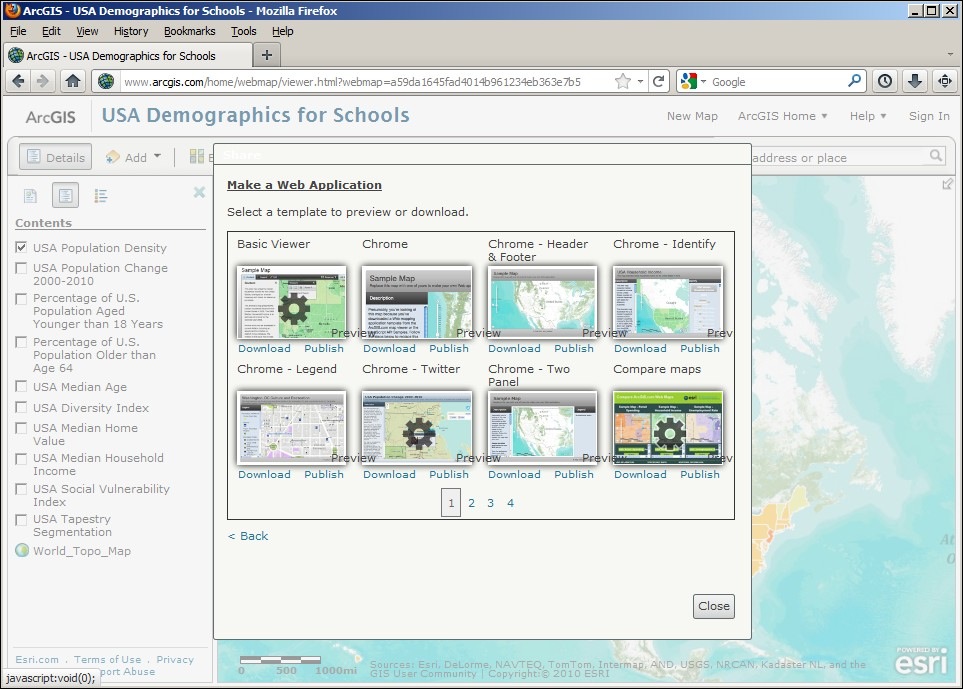 3. A new window appears with three identical maps. Below the three panels, click the boxes next to "Scale" and "Location", to synchronize the maps; zoom or pan on one, and the others shift also. Then, click "Content" to expose the layer list, and leave the left map unchanged. In the center map, click the top line "USA Population Density" to turn off that layer, then click "USA Population Change 2000-2010″ to turn on that layer. In the right map, click the top line "USA Population Density" to turn off that layer, then click "Percentage of US Population Aged Younger than 18 Years" to turn on that layer.(Remember, the topmost layer that is "on" is the one you'll see in the map.)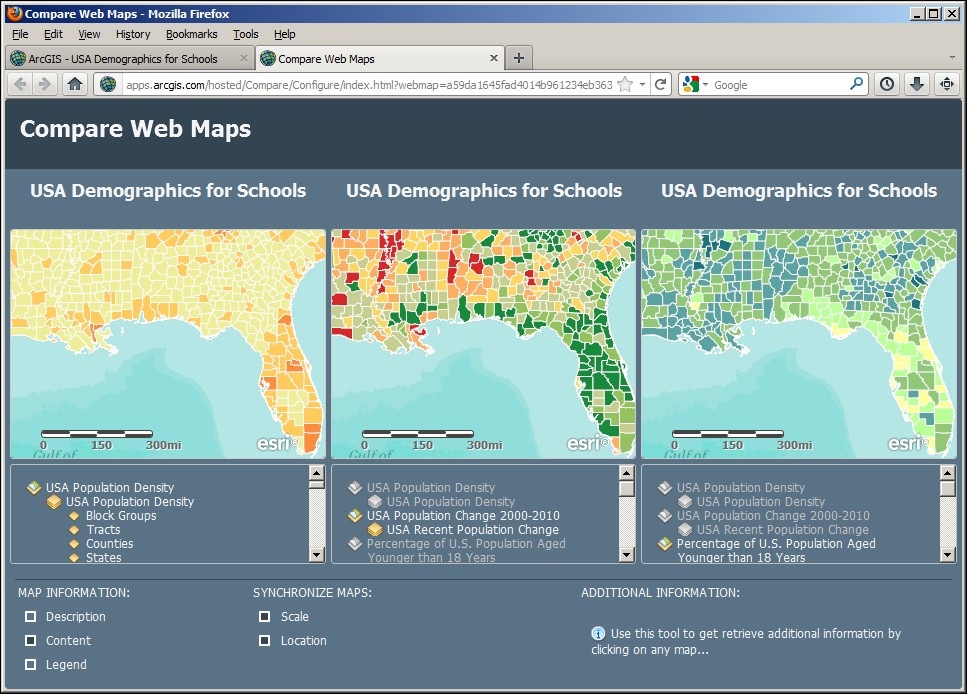 4. Zoom down to some local place, and click the blue circled "i" below the map to engage the Identify tool. Click on a feature, and the text below each map will show the data about that location for the displayed layer. (Scroll past the title info.)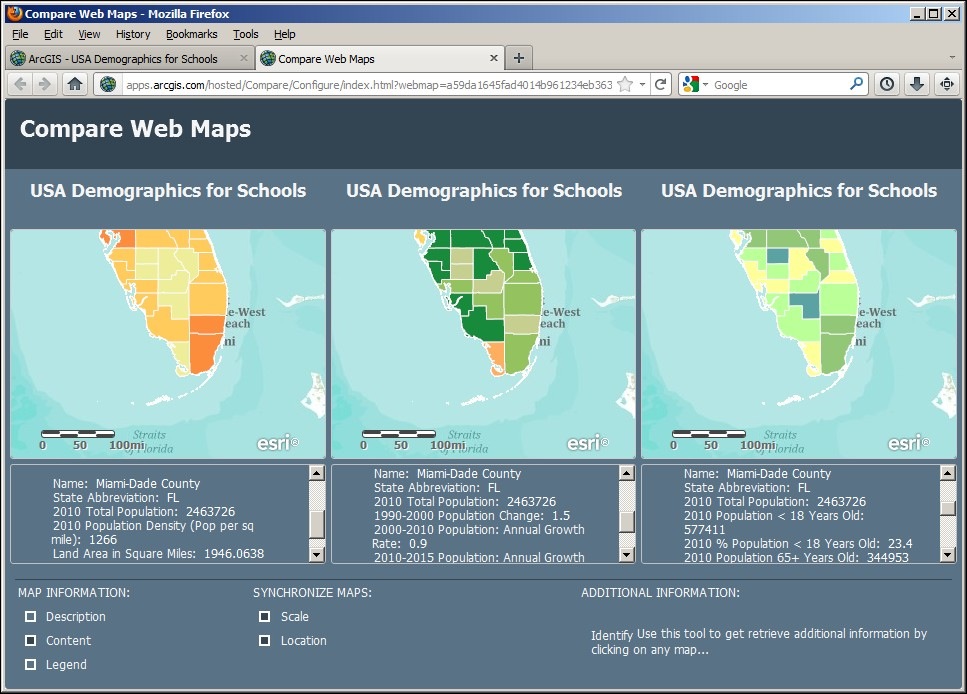 5. Finally, click the "Legend" box below the map to see the legend for the displayed layers in each map.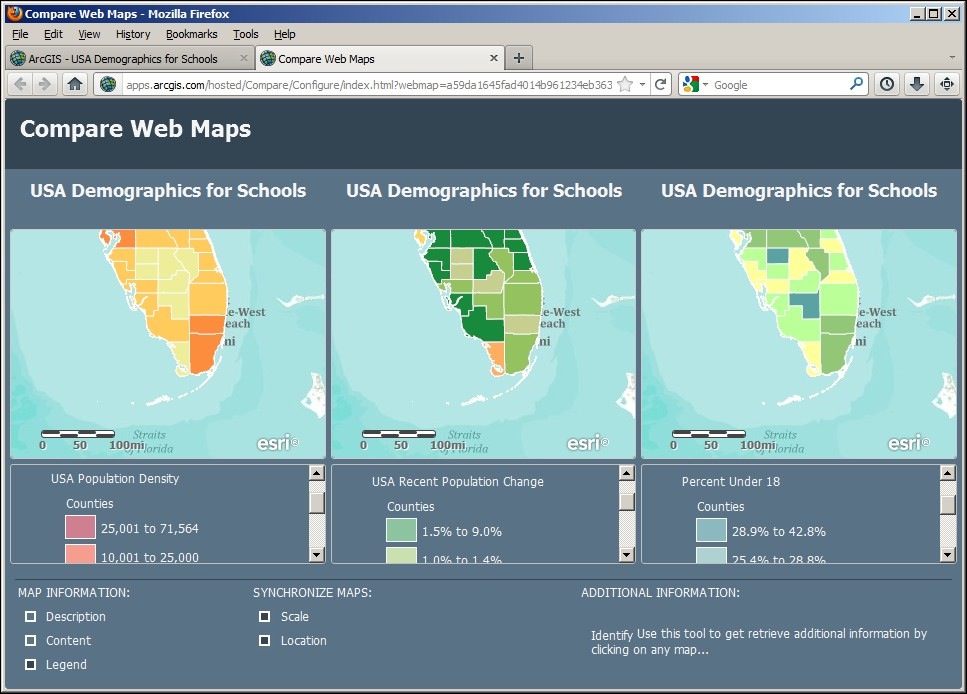 Comparing data in this manner is hugely powerful, and an essential skill for students. They need to build the visual and mental acuity to recognize and distinguish coincident patterns across layers. Seeing different contents in parallel helps students visualize relationships between phenomena. Once that concept is established, students can more easily conceive the existence of less visible relationships that require deeper analysis to tease out. So the first step in this process is building the skill of recognizing and comparing patterns. It is an essential capacity in a broad range of jobs — improving farm production, understanding crime patterns, determining need for social services, finding environmental relationships, or grasping geopolitical situations.
- Charlie Fitzpatrick, Esri Education Manager