Daily Archives:
October 7, 2011
This past weekend, I joined 50,000 people in Denver and many more across the country who walked and ran for the Susan G. Komen Foundation's "Race for the Cure" event to raise funds for bre ast cancer research. The Esri Denver team wore tie-dyed t-shirts sporting our name "Mapping for the Cure." We were 21 people strong, raising over $1,100 and counting. More importantly, the Denver event raised over $3 million. About 3,000 of the marchers were cancer survivors. I was marching in memory of my friend, a teacher, who passed away a few years ago. I marched with her wonderful family and friends, so it was quite an emotional experience. As awareness and treatment improves, we have good reason for hope. However, as all of have been most likely impacted by someone with this disease, a great deal more needs to be done before it is eradicated.
I decided to map the route of the Race for the Cure using ArcGIS Online. ArcGIS Online provides an excellent means of telling a story through WebGIS maps. I took pictures and video on the 5 kilometer route, and I uploaded those pictures and videos to public websites, hyperlinking them to points that I created easily along the route. I added a few pieces of text describing what was happening at each stage of the route. If I wanted to, I could create a presentation using ArcGIS Explorer Online and tell my story using a series of interactive slides. The results of my map are shown here. See if you can find the loop we walked on that, from above, looks like the ribbon symbol that the Komen Foundation has made famous. We did "the wave" on this loop that you can see in the linked video, and felt solidarity and hope all along the route.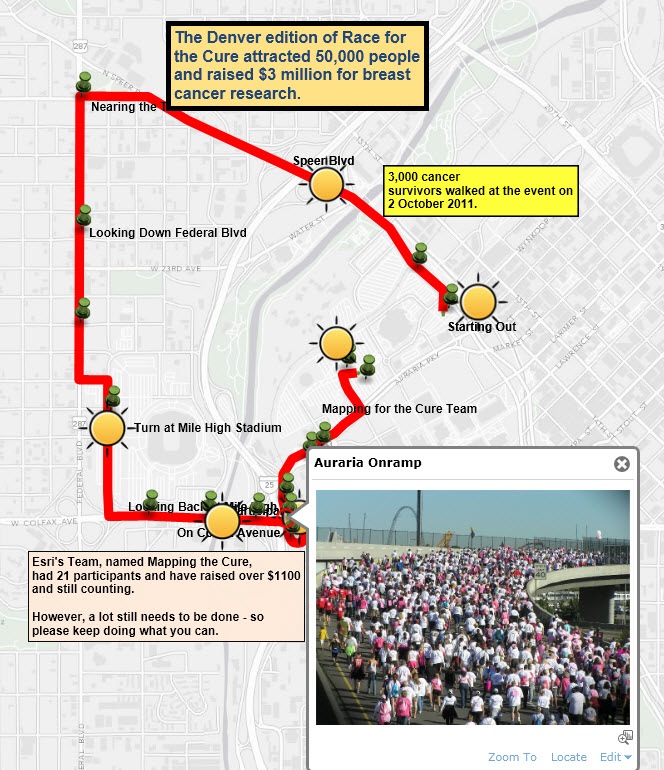 What story would you like to tell using ArcGIS Online?
- Joseph Kerski, Esri Education Manager.