An easy yet powerful activity is to map place names using a GIS. Make it even better by mapping names associated with holidays. For Valentine's Day, I mapped place names containing the words "love", "heart", and "rose." I ran three queries against the Geographic Names Information System, exporting each file as a comma separated value (CSV) file. I brought each file into Excel, deleted a few fields I did not need, re-saved, and brought the file into ArcGIS Explorer using Add Content.
Rose was the most popular (the 591 red circles), then love (the 136 yellow notes), and heart (the 38 blue circles). Candy and chocolate resulted in only 6 and 3 places, respectively.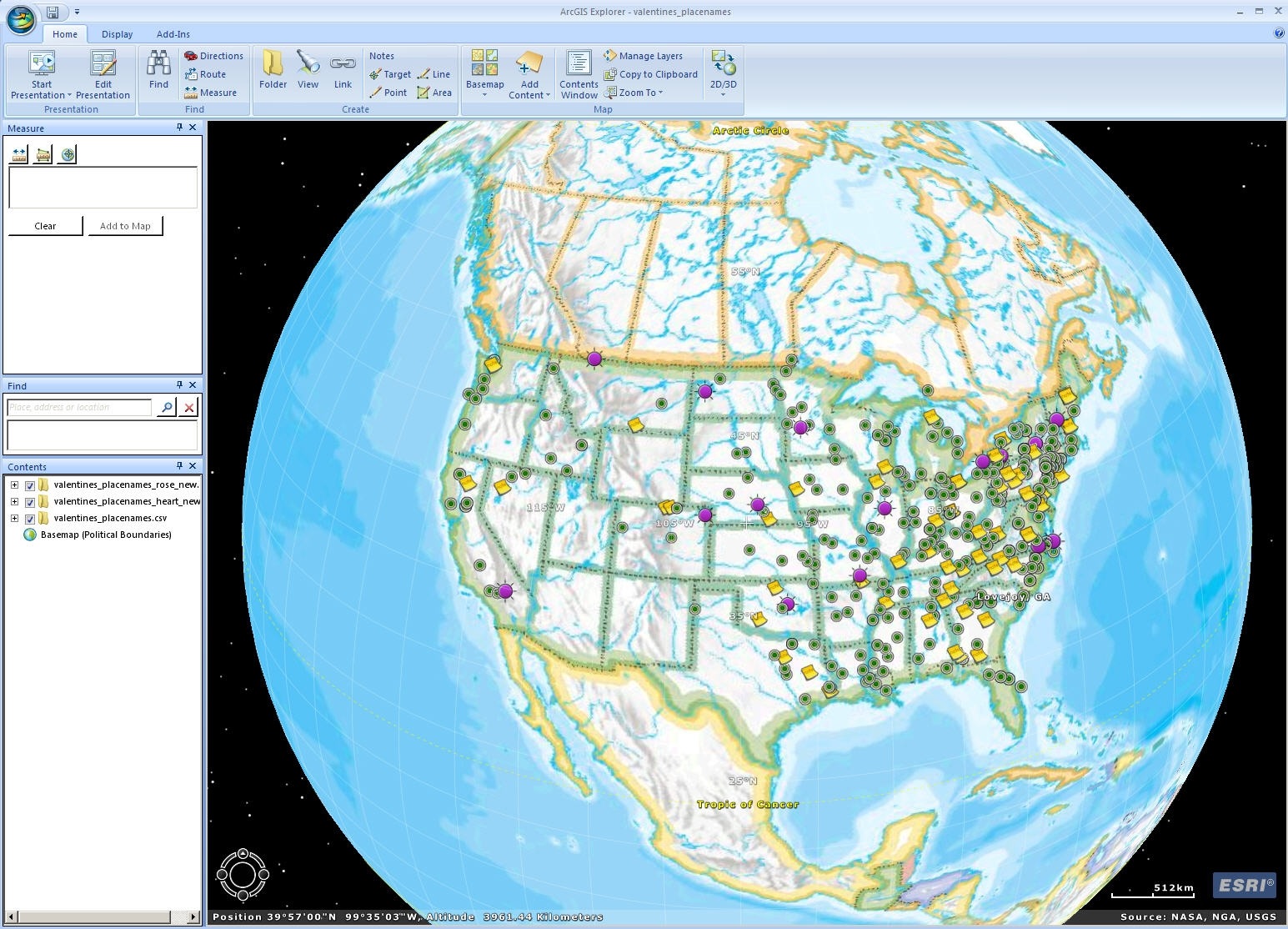 There seems to be a clustering of "Rose" place names in Minnesota, the southern Mississippi Valley, and along the Delaware River.
Can love scale any height? You top 7,303 feet at Loveland Heights, Colorado, not far from the city of Loveland, where more than 200,000 Valentines are mailed to all 50 states and more than 110 countries, just to receive the Loveland postmark. Sadly, you hit bottom in aptly named Love's Folly, Maryland, at 7 feet.
You could also analyze businesses and industry responsible for producing things associated with Valentine's Day. For example, 1,170 locations produced chocolate and cocoa products in 2006, employing 39,457 people, led by California with 128. To access the data, go to http://www.census.gov/, then "Business and Industry," "County Business Patterns", then select a state, and look up "Details" for "Industry Code 31, Manufacturing." Locate code 31133, "Confectionery Manufacturing From Purchased Chocolate." After noting the number of employees and establishments involved in the manufacturing of confectionery from chocolate, use "Compare" to compare other states. Chocolate comes from cacao trees found in Central and South America and is imported to the USA by confectionery manufacturers. You can probably guess the city where the largest producer of chocolate products is! Next, do the same thing with florists.
I invite you to explore the endless possibilities of analyzing names and industries through the use of a GIS.
May you find yourself in Lovewell Kansas this Valentine's Day rather than Loveless Park Alabama!
–Joseph Kerski, ESRI Education Manager
Originally posted February 12, 2010