Monthly Archives:
January 2011
One of the cool capacities of ArcGIS Online is the ability to compare maps. We can use the content from a past column as a 10-layer web map viewable in three parallel windows. (See "Fun With GIS #55" to review the content.) As with many tasks on AGO, this will take only seconds to accomplish, and you don't even need to be signed in to do it!
1. In any Javascript-capable Web browser, go to arcgis.com and type "USA demographics for schools" in the search box or just click here.
2. Click on the thumbnail map to open the project in the ArcGIS viewer. Look above the map for the word "Share" and click it.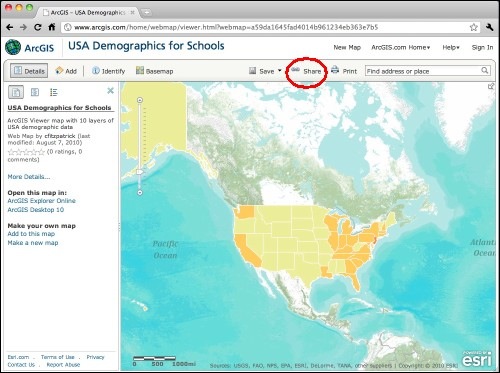 3. There are several ways to share this, but click the bottom right, for making a "web application."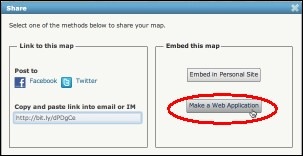 4. On the first page of choices, click on "Compare maps."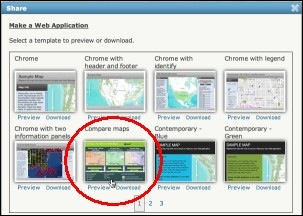 5. The package of maps appears in identical condition a new browser, in three parallel windows.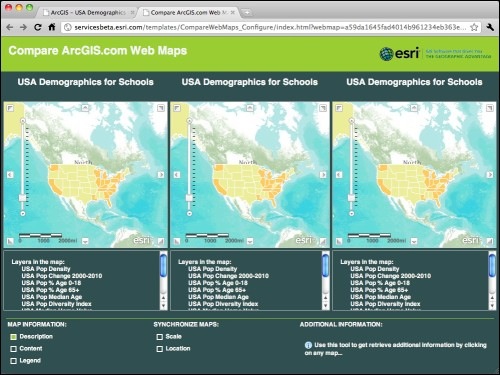 6. Look in the "Map Information" and "Synchronize Maps" section at the bottom. Switch from "Description" to "Content" to get a list of the layers. In the middle map, click on the top element in the description ("USA Population Density)to un-select it, then click on the second element ("USA Population Change 2000-2010″) to select it. In the right-hand map, unselect the top element again, and select a different element ("USA Diversity" is shown below). Under "Synchronize maps", click "scale" and "location" to have the maps follow each other. Double-click on the map to zoom in (or use a mouse roller wheel), and hold-drag the map to go to a new area.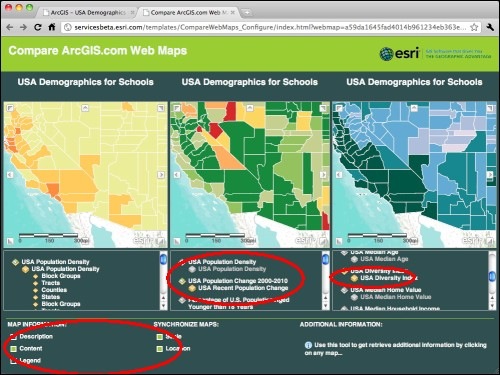 Such maps are easy to make, save, and share on ArcGIS Online, and comparing data like this is a powerful way to help students see patterns and explore relationships. Using the "identify" tool, students can examine key details of a feature. By getting students to construct, save, share, and compare their own maps, teachers can help students move beyond "just looking" and get them into generating assemblages which tell a story, build knowledge, and solve problems … just what we want citizens of all ages to be able to do.
- Charlie Fitzpatrick, Co-Manager, Esri Schools Program