Last week, I was at the Maine GIS Educators Conference, in Augusta. Outstanding! About 50 teachers from K-12 and another 20 from Higher Ed gathered to share notes and learn new ideas.
Because Maine has a Macintosh-based laptop initiative, I'd been waiting for this event ever since the opening of ArcGIS Online. The ArcGIS Online Viewer (Javascript-based "1-foot high jump") and ArcGIS Explorer (Silverlight-based "2-foot high jump") offer excellent starting points for people who want to get into GIS, whether on Windows or Macintosh.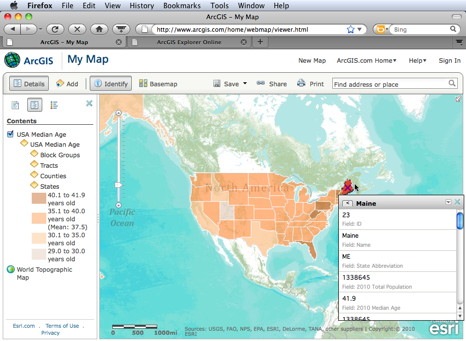 We mapped the country, and the state, and down into neighborhoods, as demonstrated below. The basic Viewer is an excellent starting point, and teachers from a full spectrum of grade levels and subject areas were able to practice on their own laptops. The exciting thing about this tool is how easy it is to see some and use of the fundamental concepts and skills engaged in full-scale GIS. Pan/zoom, scale and dependency, layers and drawing order, on/off, transparency, features and attributes, adding data, find, and especially the identify tool. These elements get used constantly in professional GIS, and users of the basic Viewer can encounter them all in the first minutes.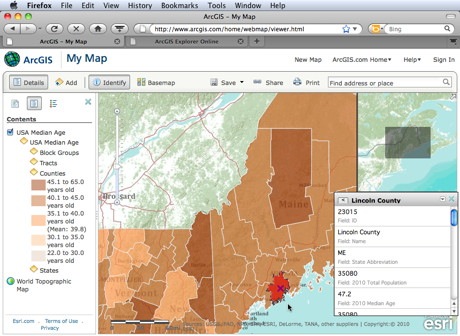 After gaining basic comfort with the "1-foot high jump," we graduated to the "2-foot high jump" of ArcGIS Explorer Online. With time flying past, we raced to practice adding geographic data and then construct a quick presentation.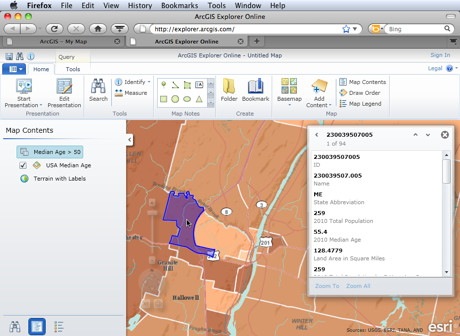 These tools can provide instructors and students alike a powerful, fast introduction to critical elements used constantly in GIS, and can expose them to a lot of professional content and good cartography. I only had the barest chance to mention the capacity for doing SQL queries, such as shown above – a query highlighting block groups in Maine with median age above 50. For a simple, free tool, it's quite powerful.
I think it's always vastly more interesting to see what powerful work users can accomplish with simple tools than to see simple work done with powerful tools. GIS educators who want to help others get into GIS (especially all the STEM educators!) would do well to engage the tools of ArcGIS Online and see my previous dozen or so blogposts for guidance on usage.
- Charlie Fitzpatrick, Co-Manager, Esri Schools Program