Daily Archives:
November 16, 2010
Happy Geography Awareness Week! Since 1987, the National Geographic Society has promoted this event to show that geography education is relevant to a whole host of issues in our world, and to illustrate how to teach about these issues in practical ways. Through those years, Esri has supported Geography Awareness Week by illustrating how GIS can be effectively used for instructing students of all ages with dynamic maps, geographic inquiry, and sound content. This year, the theme is freshwater. GIS has long been used for years for freshwater research and makes an excellent teaching tool as well. GIS allows us to view, understand, question, interpret, and visualize data in many ways that reveal relationships, patterns, and trends in the form of maps, globes, reports, and charts. A GIS helps you answer questions and solve problems by looking at your data in a way that is quickly understood and easily shared.
Begin with the Esri EdCommunity Geography Awareness Week resource page on:
http://edcommunity.esri.com/gaw.
This resource features videos, web mapping, lessons on stormwater, watersheds, water use, and floods. How does the stream in Colorado, Missouri River in North Dakota, and the Savannah River in Georgia compare in terms of vegetation on the stream bank, amount of flow, and nearby landforms? Why?
Learn about Mapping Freshwater with our colleague Charlie Fitzpatrick's guidance on the Esri EdCommunity blog:
http://blogs.esri.com/Info/blogs/gisedcom/

Charlie shows how to use ArcGIS Online to make water-related maps. Try it! Search http://www.arcgis.com for water related content, and you will soon be analyzing water from the local to global scale:
http://www.arcgis.com/home/search.html?q=water&t=content

Watch Charlie Fitzpatrick's webinar on the Community Atlas program, ArcGIS Explorer Online, and freshwater, on:
http://edcommunity.esri.com/im/webinars/
Search for "water" in the ArcLessons library of lessons:
http://edcommunity.esri.com/arclessons/arclessons.cfm

You can also search for GIS in education case studies that relate to "Water":
http://edcommunity.esri.com/community/caseStudies/

Be sure to read about Mr. Obenhaus' students in "Combining Math, Science, and GIS" who use GIS and other technologies and field work to study freshwater.
How will you use GIS to study freshwater and raise awareness about geography and this precious resource?
- Joseph Kerski and Tom Baker, Esri Education Managers
What is the purpose for the pole in this picture? Notice that others exist across the street, and indeed, stretch on for blocks in this neighborhood. Yet in your neighborhood, none may exist.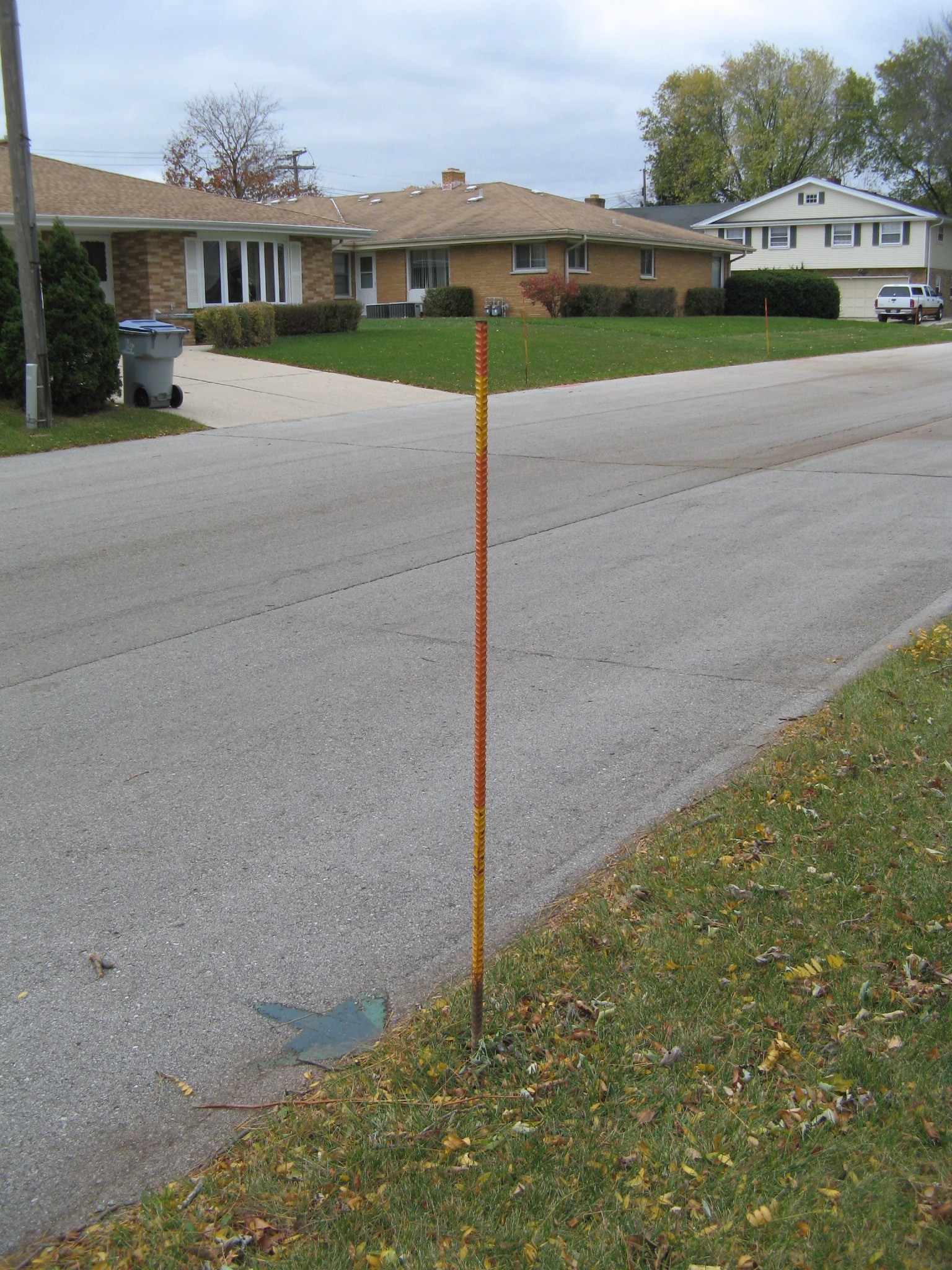 What else do you notice in the picture? What kind of houses do people live in, and what might the inhabitants be like? What does the vegetation imply about this area's ecoregion? When were the houses constructed, and how has the area changed over time? The term "neighborhood" implies being near residents who are considered "neighbors." How large of an area do you consider to be your neighborhood? Does the area that we define as our neighborhoods change as we grow older? Do you believe that a neighborhood's size depends on our primary mode of transportation? What influence does rural or urban have on neighborhood size? What natural or human-made features influence what you consider to be your neighborhood boundaries?
How could you use GIS to examine your neighborhood? Begin by examining topographic maps and satellite imagery using ArcGIS Online (http://www.arcgis.com). Add demographic data to your map and examine variables such as age, income, and ethnicity, as shown below. Examine lifestyle measures online (http://www.esri.com/data/esri_data/tapestry.html). Compare your neighborhood to others nearby or far away. GIS offers a rich toolkit for neighborhood analysis, and your investigation could continue through the examination of spatial statistics in ArcGIS Desktop.
That pole? It is a plow stake, placed there every autumn so that in this area, which lacks sidewalks or curbs, snowplow drivers will know where the edge of the pavement is. Knowing this, and considering your earlier observations, where do you think this photograph was taken? I will post a comment to this blog entry after I have given you time to guess.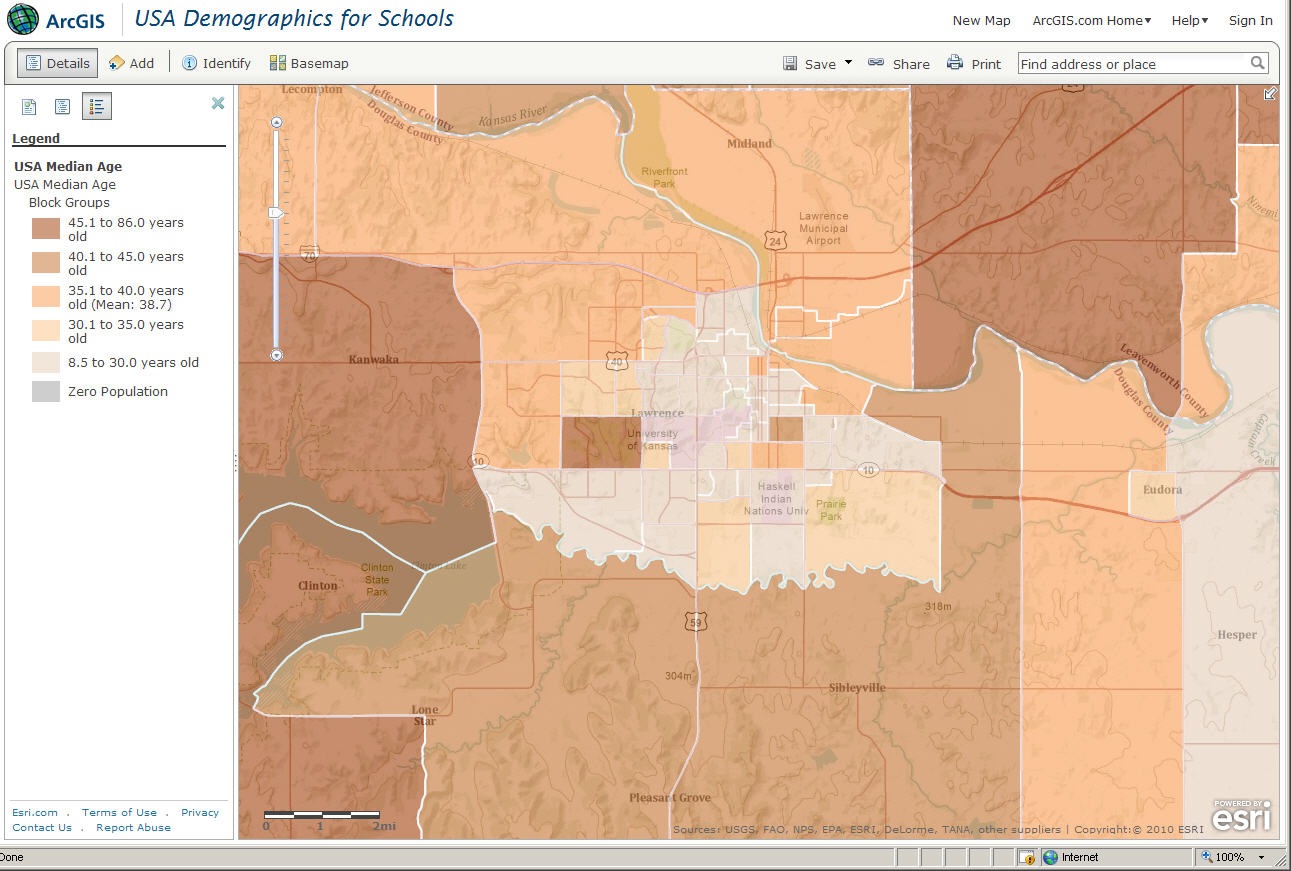 Consider asking your students what makes their own neighborhoods unique, and use GIS to investigate the fascinating stories that their replies will lead to.
- Joseph Kerski, Esri Education Manager