Daily Archives:
November 15, 2010
Geography Awareness Week (Nov 14-20) 2010 has a theme of "fresh water." This critical topic is easy to explore with GIS, whether on GIS Day (Nov 17, 2010) or any day, using resources of ArcGIS Online.
It took only two minutes of work on ArcGIS Online to create a project of watersheds and surface waters for the US. Starting with the blank ArcGIS.com "Make a Map" Viewer, I searched for and added "population density", "watersheds EPA" (choosing the "Web Mercator" version), and "rivers NHD". I shifted the basemap to "topographic", and saved and shared the result, as "US Waters."
I even checked to see that it would show up and work properly on an iPad, which, of course, it does, since this web map application uses only Javascript.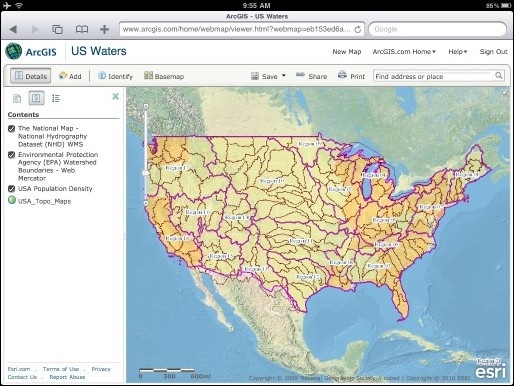 Then, I opened up the same project inside of ArcGIS Explorer Online (which uses the Microsoft Silverlight plugin). The hydro data actually has a series of layers which can be spilled open independently and customized. I zoomed in to one region — Augusta, Maine — and was able to look at the how the lay of the land can be seen in the watersheds, and vice versa.
By zooming closer and closer, people with just a web browser can see the landscape, study the patterns of water flow on the ground, look for elements on the land that might affect the quality of water, and explore how capable the environments are for handling variations over time.
Fresh water will be a pressing issue for humanity for the foreseeable future. Citizens of all ages, backgrounds, and nationalities need to understand water systems. The integrative power of GIS is critical for helping people develop a holistic view. STEM (science, technology, engineering, mathematics) classes and non-STEM classes alike need to think holistically if we expect to build critical thinkers who can truly solve problems and not simply make decisions. Start by taking a look at the waters in your area.
- Charlie Fitzpatrick, Co-Manager, Esri Schools Program