Monthly Archives:
July 2010
No question about it, maps are fascinating … captivating
views of the world, large or small. Whether it's a paper version world map from
National Geographic, or a web-based map looking at the Gulf oil spill in
relation to storms, wave heights, and U.S. congressional districts (see http://bit.ly/EdComm20100726), maps
allow users to explore, ponder, focus on the elements of one's choosing, and
think about patterns and relationships.
Consider for instance the Gulf Oil Spill map above. This was
built using ArcGIS Online (www.arcgis.com)
and its free browser-based tool. As we pass the two-month mark since the tragic
explosion at the oil drilling platform in the Gulf, and listen to preparations
for both hurricanes and elections, what things will emerge from the integration
of these disparate phenomena? Getting students to consider patterns and
relationships helps them prepare for the challenges they will encounter as
adults. The world is messy. Political boundaries, cultural zones, and physical
regions don't line up well, which leads to constant challenges. What's in
abundance here is scarce over there, meaning there are opportunities for trade,
yes, but also issues because of the side effects of transportation, inequality,
and competing priorities and values.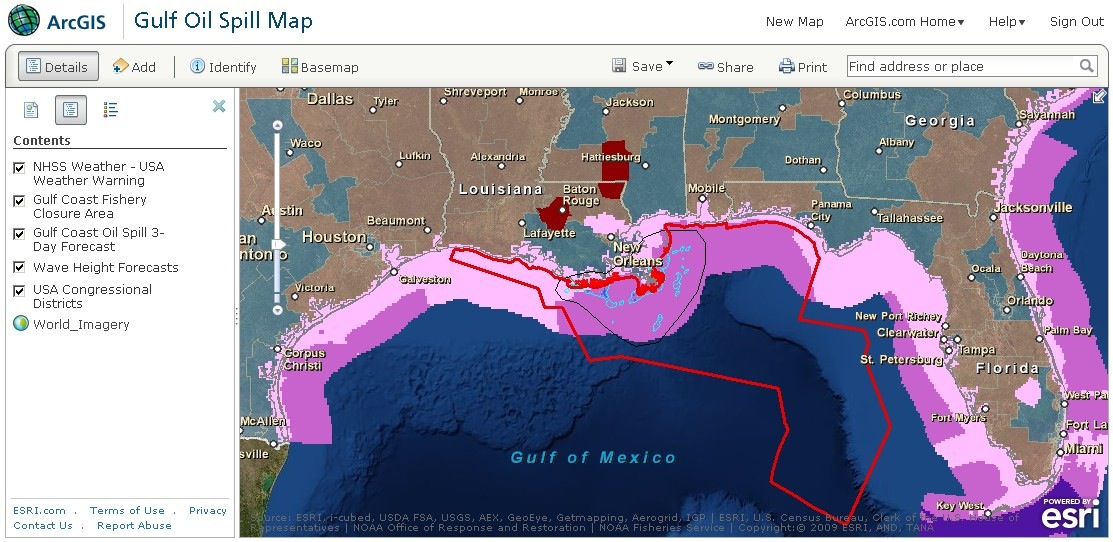 Some folks today seek "an easy way into using
GIS." ArcGIS Online is a splendid starting point, what I call a
"one-foot high jump" – something nearly everyone can do. With nothing
but a web browser and an internet connection, users have a banquet of data to
explore. Nothing to install, and it can be done on Mac or PC, even iPad,
smartphone, or wifi-capable handheld device. Head to www.arcgis.com and click "Make a
map." Type in "oil spill," choose the "3 day
forecast," and click "add". This is updated daily; the way you
see it will be different from how I created the above map. (Yes, this is a bit
of "good news and other." Remember, things change, so the world is a
little "messy.")
To learn more tricks for using this powerful, free tool,
click the question mark in the upper right corner, and read thru the help file.
It will help you learn to access different basemaps, add multiple layers, look
at legends, engage transparency, use external data servers, and so on. See if
you can replicate the map I linked above.
But that's just the technology. GIS is more than simply
tools and data. It's about a mindset, thinking about patterns and
relationships, about layers of information that might have bearing on the
condition or future of another. This is what geographic analysis is all about.
I used to tell my students "Geography is about three questions: What's
where? Why is it there? So what?" Many people get fixated on just the
first question, but we need students to get beyond that, look for the patterns
and relationships, and seek a holistic understanding to make good decisions.
This is why people in STEM education (Science, Technology, Engineering,
Mathematics) can benefit from GIS: thinking analytically, identifying a problem
or challenge, exploring mathematically a banquet of data about the physical and
social realms, in order to design a solution.
GIS technology by itself won't make critical thinkers out of
people who want simple solutions and quick fixes. But it can give people
opportunities to practice. Working with data in ArcGIS
Online – getting in and really messing with data – can help you explore the
power of maps, and it is a good "one-foot high jump" into the world
of GIS. Users good at thinking about the patterns and relationships of data can
graduate to the "two-foot high jump" of ArcGIS Explorer Online (another free
tool for both Windows and Macintosh), and then the "three-foot high
jump" of ArcGIS Explorer
Desktop, before moving into the "four-foot high jump" of ArcView.
- Charlie Fitzpatrick, Co-Manager, Esri Schools Program