Daily Archives:
May 24, 2010
Last week, I participated in a meeting of businesses looking at STEM (Science, Technology, Engineering & Math) education. It's not simply a STEM-savvy workforce that businesses seek, but a STEM-literate
populace: citizens who see or can build meaning in the array of numbers in the news, embrace and extend technology, live and vote with an understanding of scientific thinking, and have a disposition for breaking problems into relevant components and designing strategies with which to address them.
Geographic information systems (GIS) technology is a perfect fit for STEM. GIS users display, sift, disaggregate, integrate, and analyze information in infinite combinations. The vast sweep of industries using GIS (see www.esri.com/industries), and the broad spectrum of applications within any individual industry (see www.esri.com/mapmuseum), show that adults in all walks of life rely on GIS to understand the world and make informed decisions, about the nature of places (from cellular to galactic scale) and effective use of resources (money, tools, time, people).
How can we help students, schools, and communities in these troubled times? Engage GIS, as early, often, and powerfully as possible. Students who build their own data tables about family members can fathom the power of data and distinguish proper from inappropriate. Kids who map the room from an overhead view can build similar displays of their larger world, find meaning in symbols, and grasp displays that extend the world beyond their personal experience. By anchoring learning in the familiar then launching into the foreign, we help students establish a flexible framework for knowledge, engage the boundless inquisitiveness and creativity of youth, and foster a disposition for seeking appropriate information. From mapping ant colonies in the school playground to earthquakes around the world, or the flow of bodies in a school building to traffic in a city, or temperature patterns around the school grounds to global climate patterns, the stretch is small, but vital.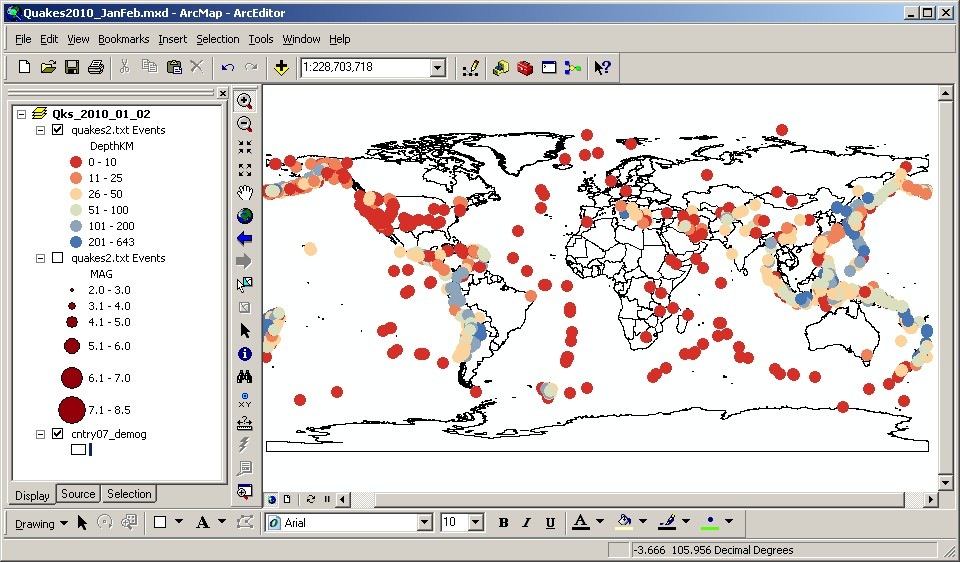 And, wherever I go across the US, employers say to me "Test scores and diplomas are fine, but what I really need is people who can find and integrate information, analyze data, and make informed decisions; collaborate and work independently; and learn, adapt, solve problems, and communicate effectively. Show me kids like that and they've got a job. We can't find enough inside our state, so we're stealing them from other states."
- Charlie Fitzpatrick, Co-Manager, ESRI Schools Program