Like other disasters, human and natural, the current horrendous situation with the oil spill in the Gulf of Mexico is a dynamic event, changing rapidly over space and time. Because of this, it can be effectively investigated within a GIS. GIS provides context and content, helping students understand the location and extent of the disaster through taking measurements, overlaying other map layers, and examining scale. Moreover, GIS allows students to understand how physical and human systems are interrelated, such as winds and cleanup efforts, oil and fisheries, and much more. Far from static tools, desktop and web-based GIS tools can be used together with imagery and maps that are updated daily—even by ordinary citizens.
First, download the oil and gas drilling platforms in the Gulf of Mexico offshore from Texas from the state's General Land Office and bring it into ArcGIS. The density of these platforms is truly astounding:
http://wwwdb.glo.state.tx.us/gisdata/disclaimer.cfm?dmap=shapefiles/subleases.zip
A set of data available on ArcGIS Online includes forecasted movement of the plume, a 3-D ArcGIS set of data, ASTER and Landsat imagery, environmental impacts, critical habitat, and more, on:
http://www.arcgisonline.com/home/search.html?t=content&q=gulf%20oil%20spill
ESRI created and posted an interactive map that allows the viewing of location-based feeds, including news and videos, and also allows users to add their own content, on:
http://www.esri.com/services/disaster-response/gulf-oil-spill-2010/index.html%20%20
The ability to add content is provided by ArcGIS Server 10 beta hosted in the Amazon Web Service infrastructure.
Dig deeper and use some remotely sensed MODIS imagery:
http://rapidfire.sci.gsfc.nasa.gov/
For daily images see:
http://rapidfire.sci.gsfc.nasa.gov/subsets/?subset=USA7
These pages provide GIS compatible imagery. Select "more info," select the granule of interest from the list at the bottom of the page. Click on the link to get an uncorrected 5-minute swath image, down to 250 meter resolution. Make sure you also download the world file so the image will be georegistered within your GIS. You can also download a KML and use it in ArcGIS Explorer.
For example, a 250m MODIS image is available on:
http://rapidfire.sci.gsfc.nasa.gov/gallery/?2010119-0429/Louisiana.A2010119.1648.250m.jpg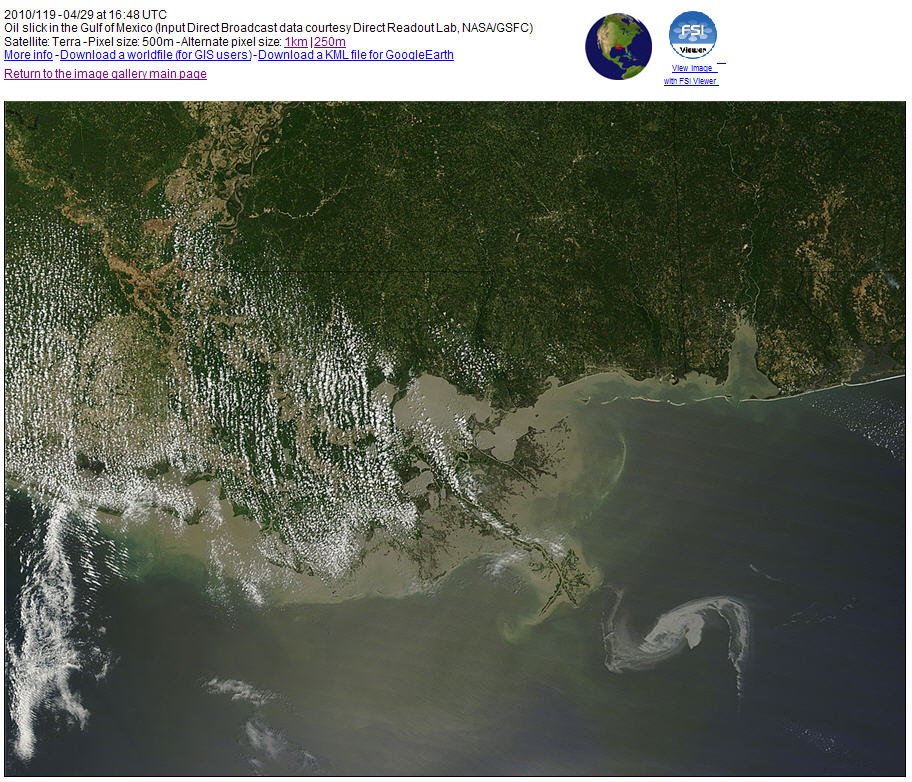 I encourage you to use GIS in your analysis of the Gulf oil spill to try to make sense of this disaster.
–Joseph Kerski, ESRI Education Manager