April 1, 2010 is Census Day here in the U.S. This decennial event marks only the 23rd time in our history that we have taken an enumerated population snapshot of ourselves. Unlike years past, the form we complete contains only 10 questions about basic household characteristics. The larger body of questions aimed at socioeconomic, housing, and other data are now part of the ongoing American Community Survey. The first 2010 Census data reported will be total population for the nation and states and used for the reapportionment of Congress, but not available until December 31, 2010.
What if we wanted to get a taste of what will be coming from the census? Well, we can. Using ESRI data services found in ArcGIS Online (AGOL) and ArcGIS Explorer (AGX) we can examine likely patterns. ESRI has a team of demographers, economists, and statisticians that are focused on creating a range of data for a range of geographies. They make keen use of data from the Census Bureau and elsewhere to construct various estimates and projections. (Interested? Examine ESRI's methodology).
So, let's map some recent demographic information. Launching AGX, I decide to keep my map in 2D mode and focus on the contiguous 48 states. I also change my Basemap to "World Streets."
From the "Add Content" menu I select "ArcGIS Online" which opens my Web browser. In the "Search" window, I enter "USA population ESRI" which returns 20ish items and for now I focus on 2000-2009 population change.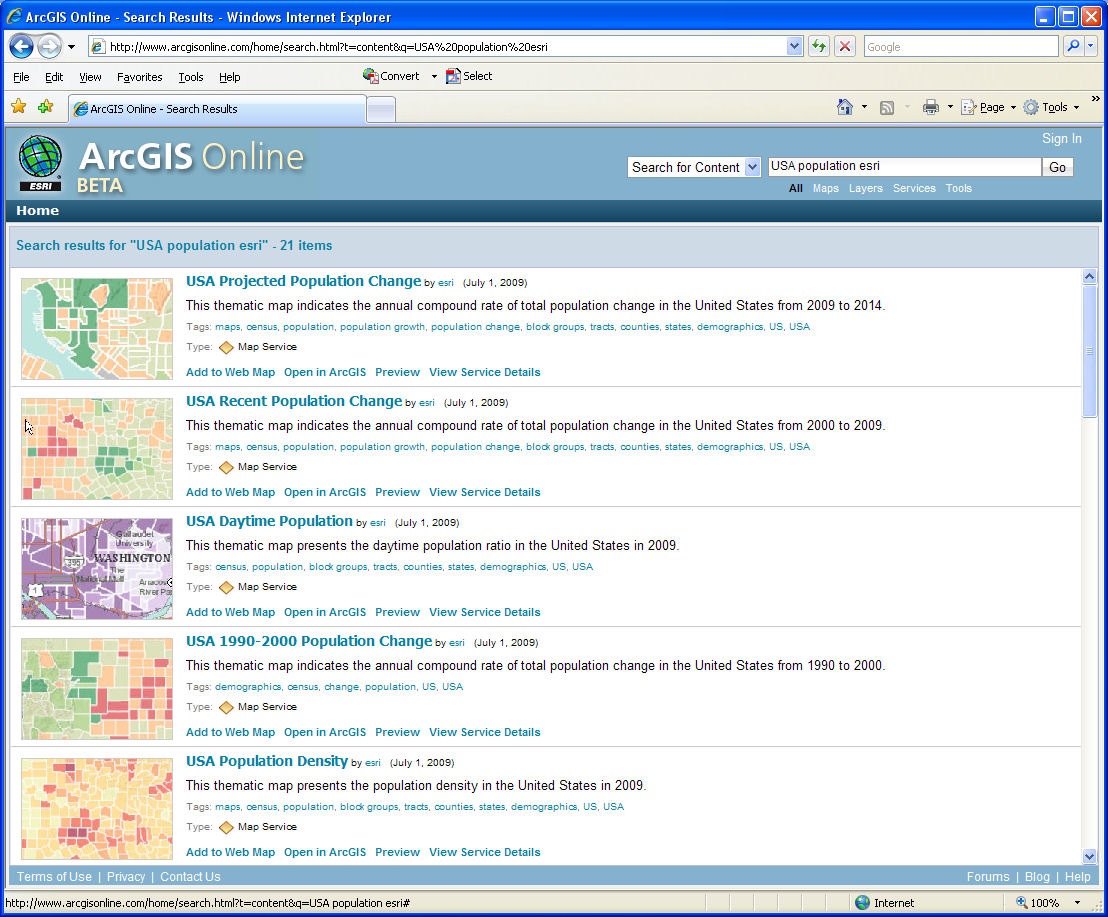 Clicking on the item's name gives me metadata about it.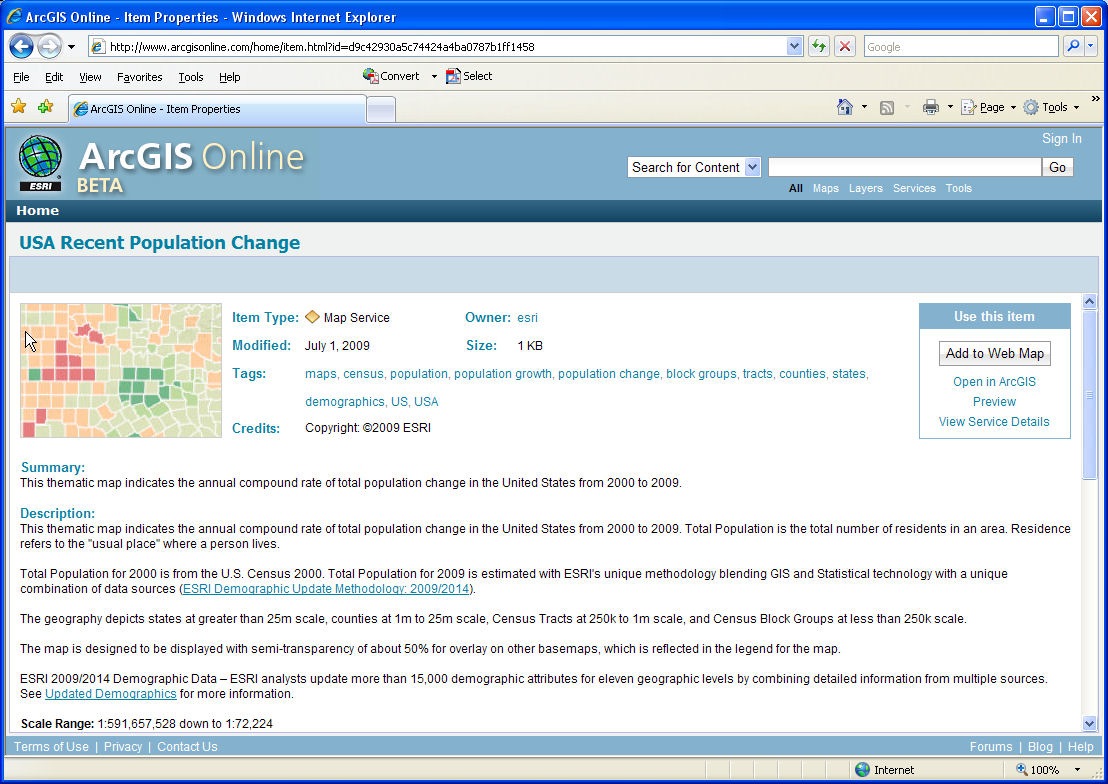 From the "Use this item" window, I select "Open in ArcGIS" and when prompted, I "save" the LYR to my hard drive for this and future projects.(NOTE: I could also simply use this layer in my Web browser by clicking "Add to WebMap" but I'm going to build on this AGX project in the future.)
Back in AGX, I add the layer to my map (Add Content > ArcGIS Layers > ___.lyr). I open the layer's "Legend" (Tools tab > Show Legend) and expand its window to discover that there is actually a legend for each of 4 geographic levels that are revealed when I zoom closer.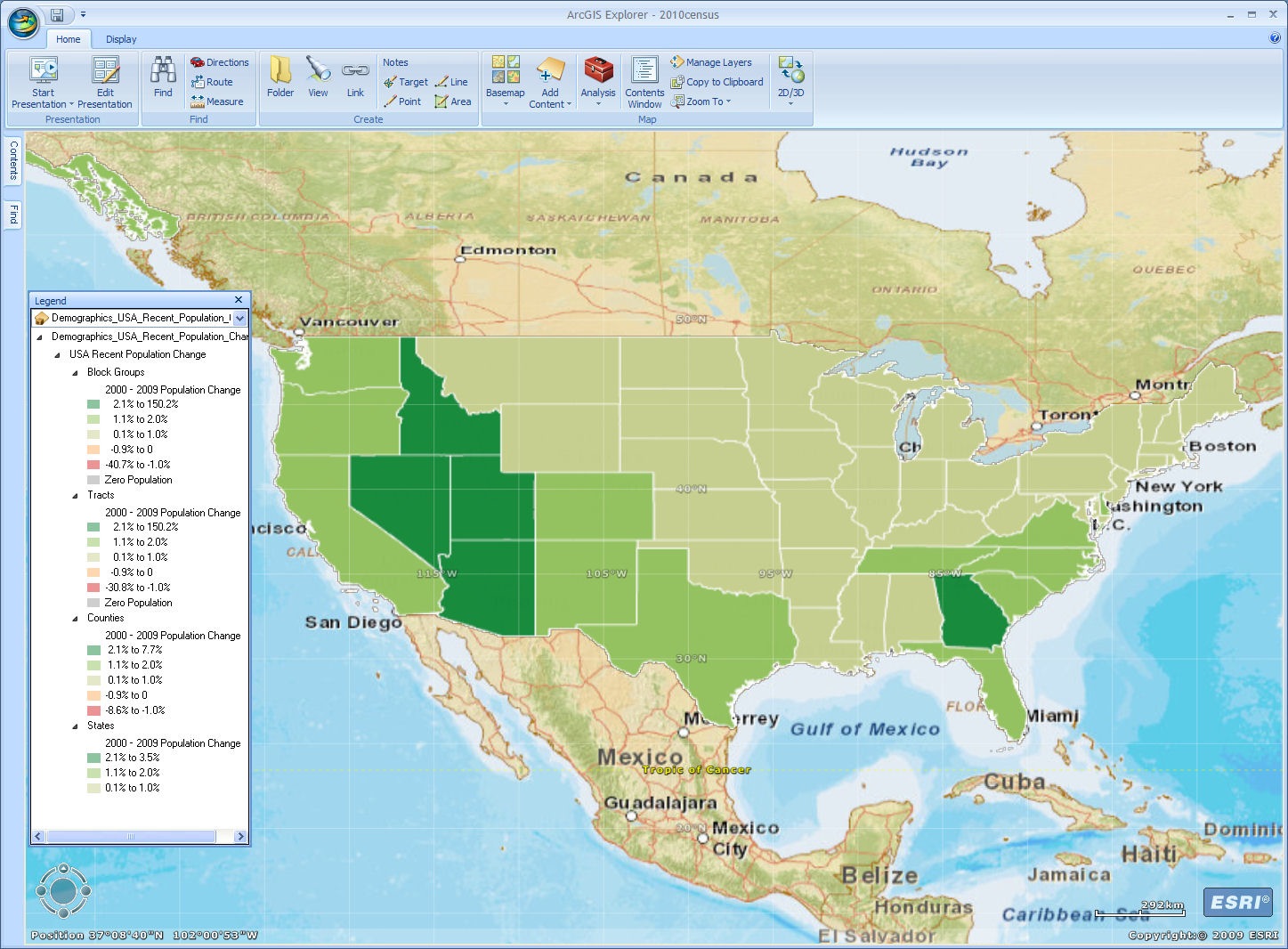 Currently my map shows an estimated state population change with the highest growth in the south and the west. Assuming these patterns hold what are the implications for the reapportionment of Congress?
Zooming in on Colorado and adjusting the transparency of the layer to see the underlying Basemap (Tools tab > Transparency), I quickly see that change is varied across counties with population loss evident in the east and possibly related to the pattern further east and north. What impacts could these varied changes indicate? What does this look like in your state?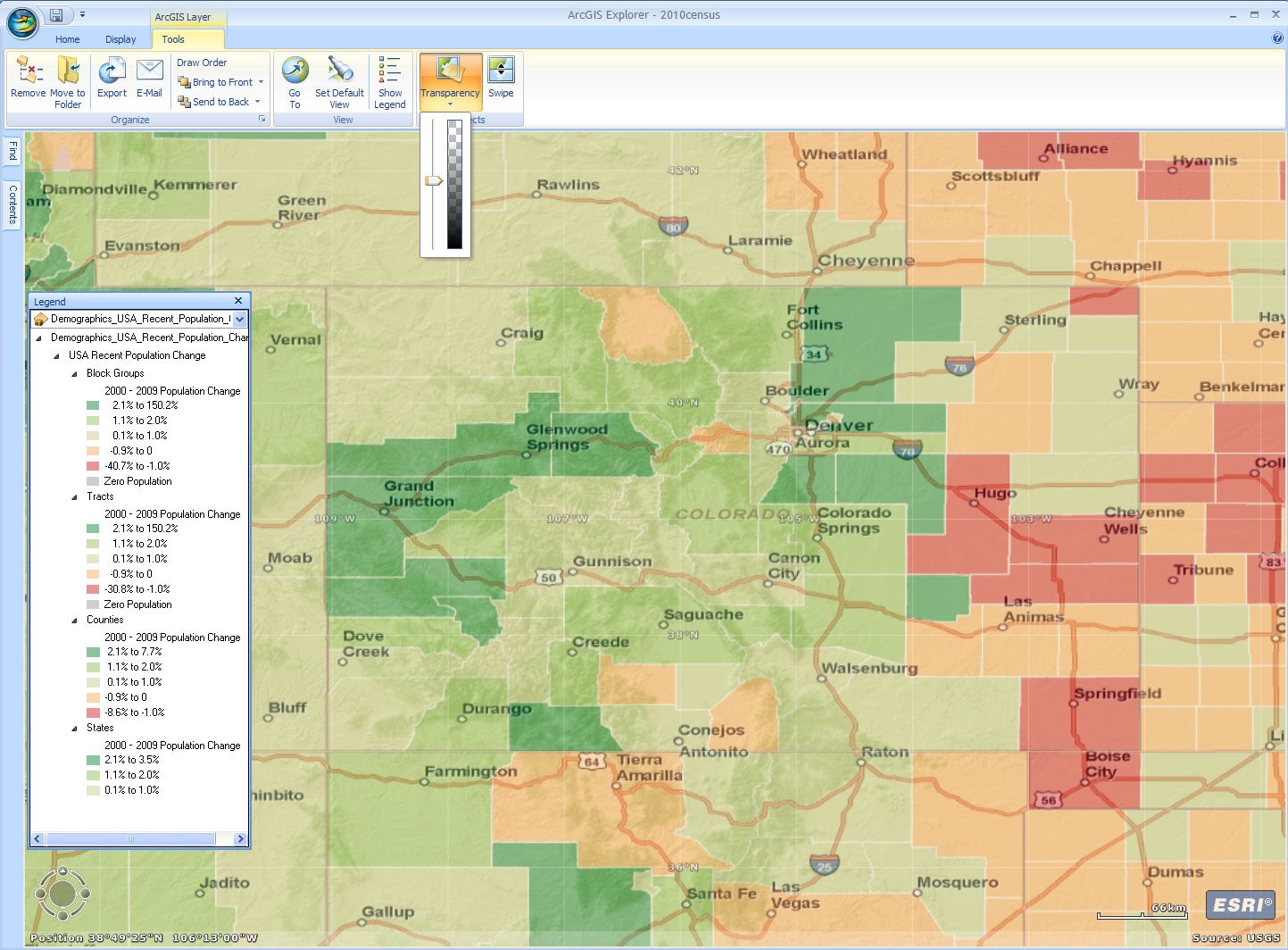 Closer to home I see a patchwork pattern of population gain and loss in the center of Dallas near where I live. What local factors could be at play to spawn rapid gain and rapid loss in adjacent neighborhoods? How about where you are?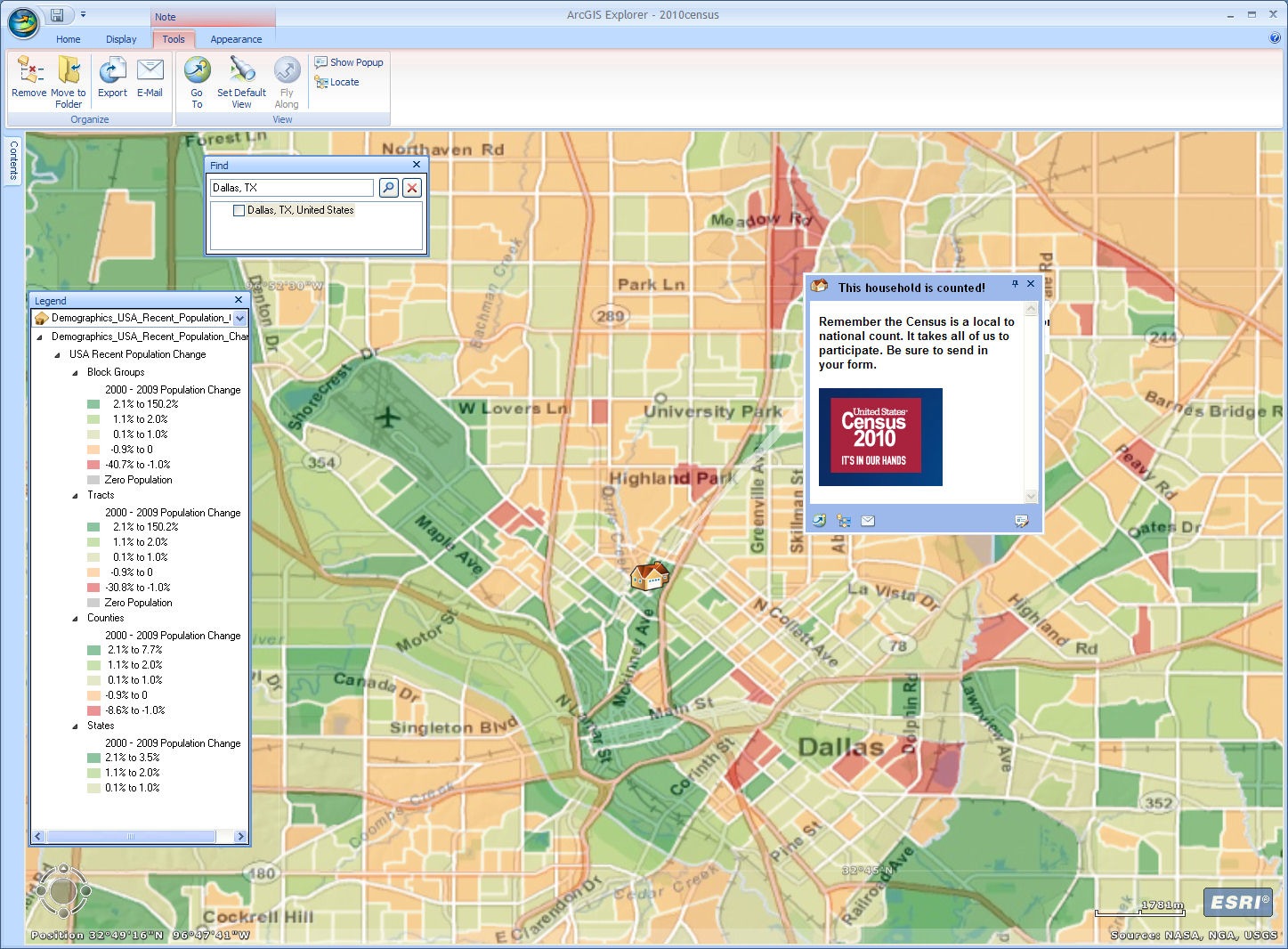 The questions I've posed can be explored more fully with other demographic and socioeconomic layers using the AGOL search presented above. Consider repeating my steps and expanding the exploration. And remember to have the data that you eagerly use requires responding to Census Bureau and other key data collection efforts. It's in your hands.
-George Dailey, ESRI Education Program
…and Census Bureau employee 1985-1993