Monthly Archives:
February 2010
I just wrote a new lesson to bring field data along with their latitude and longitude coordinates from a GPS into a GIS environment by creating a spreadsheet. The lesson also shows how video, photographs, websites, text, and other objects can be hyperlinked to each desired point.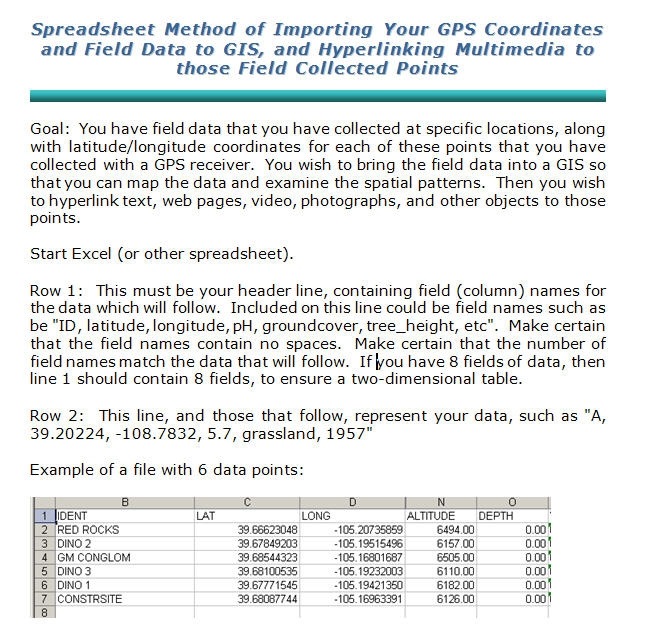 Yet as I was writing the lesson, and teaching these skills in a recent professional development workshop for teachers, I could not help but notice that the lesson illustrates far more than the technical skills of bringing data from one format to another. First, it illustrates the worlds that can literally open up when spreadsheet data is mapped. Patterns may or may not emerge. The lack of spatial patterns says just as much about whatever is being mapped than a clear spatial pattern. Yet either way, it becomes clear that a map communicates more and richer content than a spreadsheet.
Second, this lesson illustrates one method of bringing field data and GPS-gathered coordinates into a GIS. Other methods exist, including manually creating other types of spreadsheet files (such as DBF) or text files (such as CSV or TXT), as well as automatically uploading the data and coordinates via a cable.
This brings up the third point that the lesson illustrates. Sometimes the data files will include something that prevents them from being "map-able." This is analogous to the occasional problem I still have writing CD-ROMs—sometimes, the process just doesn't work, and I have to try again. There are common items to check when your data is not "map-able." Spaces in the field names, spaces in the file name, the latitude-longitude coordinates truncated, a letter "O" instead of a zero, a comma instead of a period, extra rows in the table, and the data not starting in column 1 are a few things to check. It can take a few extra minutes, but these moments actually can serve a purpose—they teach students to be problem solvers, which is exactly what they will have to do to be successful in the workplace.
–Joseph Kerski, ESRI Education Manager