On September 27, 2009, the Public Broadcasting Service (PBS) launched its video series, The National Parks: America's Best Idea. The series has inspired this sequence of blog postings about aspects of my personal park explorations over the years via ArcGIS Explorer (AGX) (Tweeting @ArcGISExplorer :: ArcGIS Explorer Blog :: ArcGIS Explorer Add-ins).

The first blog post was basically about setting the stage: Building some geographic data and getting the national parks on my AGX map. Next, I want to really personalize it: Of the 58 national parks, which ones have I visited and when?
One way of doing this might be to go back to the parks CSV file and manipulate it. Discarding parks I've not been to, adding a field that gives a date of my first visit, saving the file under a different name, adding that new file to my AGX map, etc.
Or, I can do that work inside AGX in a different way.
Regardless, I need to identify "my parks" and traipse down memory lane to get a best estimate of when I first visited. With this information in mind, I was ready to go back to my parks NMF.
In a nutshell, what I need to do in AGX is select "my parks" from the list, put them into a "my parks" folder, add some date info to my parks, and save my work.
Holding down the Ctrl key, I go down the park list selecting "my parks" (and see others I long to visit like Yosemite.) Once complete, I right click one of the selected, choose Export, give my subset a name, My_US_National_Parks, and Save. The "my parks" file is now a permanent piece of AGX content I can add to this or any other project.
Back in my map, I do a little housekeeping. I turn off the main park list by clicking the folder tick box, and close the US National Parks folder.
Time to add "my parks" to the map. In the Add Content menu, I select Map Content Files, find my file, and open. Like the big list of parks, I want "my parks" to be in a collapsible folder. To do this, I right click one of "my parks," select Move to Folder, click New Folder, and name it. I modify the symbology of these parks to reflect these as ones I have visited.
Using my date of first visit memories, I decide to modify the names of each park and order them in date sequence, e.g., 1966, Saguaro….2007, Virgin Islands. With that I save my map. Here's a look at the 23 national parks I have "explored" across 40 years.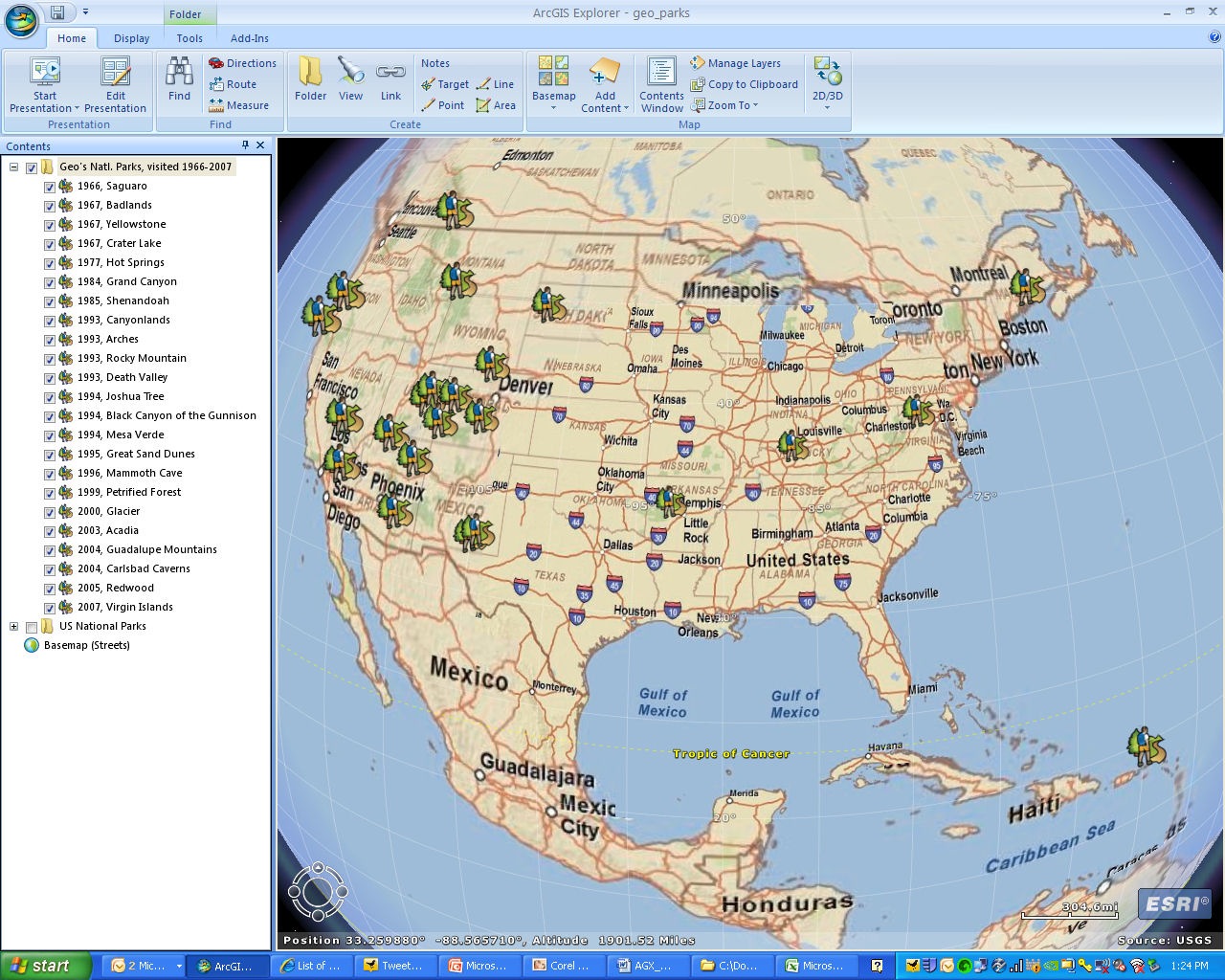 Stay tuned for the next installment.