Daily Archives:
September 15, 2009
Over a week ago, I discovered that this year is the 400th anniversary of Henry Hudson's landing at Manhattan and exploration of the river that now bears his name. More specifically, I learned that in the early weeks of September 1609 Hudson and his crew in the Dutch East India Company commissioned ship Half Moon explored and entered New York Bay and ultimately anchored off Manhattan Island—marking the beginning of the Dutch presence in North America.
The voyage and this event screamed, "Map me!" As a result, I began a hunt for mappable data and more information about what unfolded then. The result was feast, famine, and seemingly endless possibilities. So, I offer this blog post as a GIS "starter" with the prospect that others will evolve the story more fully.
Two basic questions that I thought would be interesting to answer were: Where did Hudson go on this his third voyage of exploration? What other European interests were already on the North American scene with permanent settlements? But with those and bit of Web research a flood of other questions crept in: What did Manhattan look like at the time? What geographies were known then? Why did Hudson effectively hijack his own expedition in mid-voyage and head for North America? Would the Dutch be keen on having a presence in North America? And, what about..? You get the picture: A growing set of related questions that are the stuff for a series great student georesearch projects. So, let's settle on the first two—the voyage and other European presence.
I put myself back on the trail of finding data I could bring into ArcGIS Explorer (AGX). I uncovered a KML source (Download 4 kb) produced by faculty at Hamagrael Elementary School in Delmar, NY (near the site of Hudson's farthest northward navigation).
Launching AGX, I decided to set the "Basemap" to physical geography and then I navigated to the location where I had stored the school's KML file and added it to my map using the "Add Content" menu.
Here's my new map project so far: The school's KML came in beautifully, complete with their symbology, labeling, and embedded links (e.g., September 11, 1609). (NOTE: From other Web research, especially at the Henry Hudson 400 and the Hudson River Maritime Museum sites, it seems that there is some difference of opinion in the data presented by the school. Regardless of the particulars, the important aspects of the voyage are validated by all…Another great opportunity for further geohistorical research!)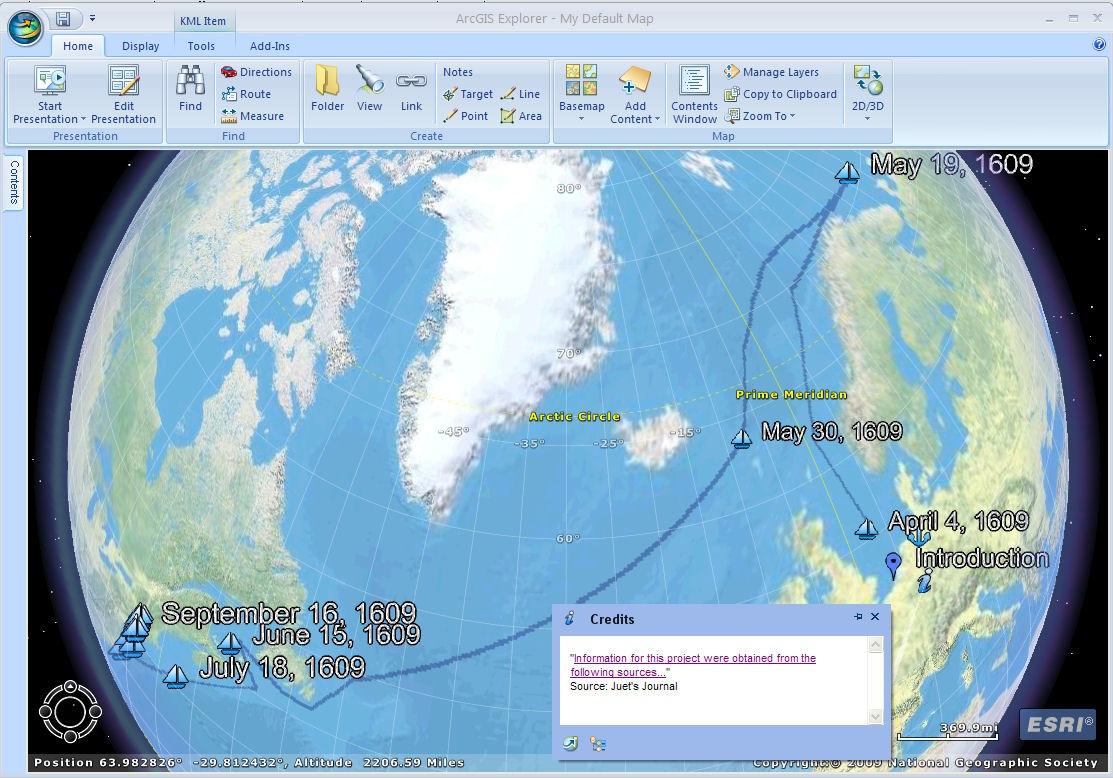 So, we have an answer to Question 1: Where did Hudson go? What about Question 2: What other European settlements were present? The English, French, and Spanish had already planted flags and settlements when the Dutch (via Hudson) arrived. The active settlements on the East Coast were: St. Augustine, FL (Spain, 1565), Jamestown, VA (England, 1607), and Quebec (France 1608). Using the "Find" function, I pinpointed those places as well as New Amsterdam, future New York City.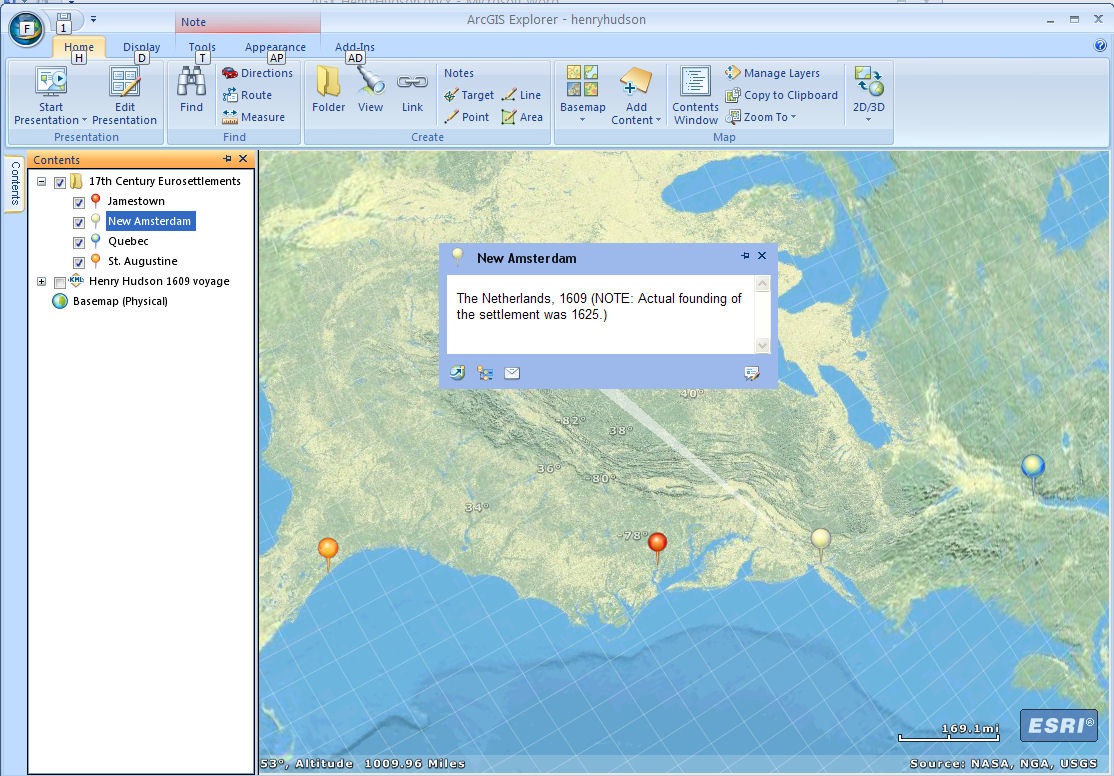 Create your own Henry Hudson AGX project and consider sharing your results at ArcGIS Online.
George Dailey, ESRI Education Program Manager