Monthly Archives:
January 2009
We have been discussing how to analyze ski areas in Colorado using ArcGIS (Part I, Part 2). Because ski areas are 3-D phenomena, taking advantage of the 3-D capabilities of ArcGIS Explorer is another excellent tool to analyze them spatially. Opening the colorado_ski_areas.nmf inside ArcGIS Explorer and looking south, the white outlines of Aspen Mountain, Aspen Highlands, Buttermilk, and Snowmass are visible. It shows that all three are predominately north-facing ski areas.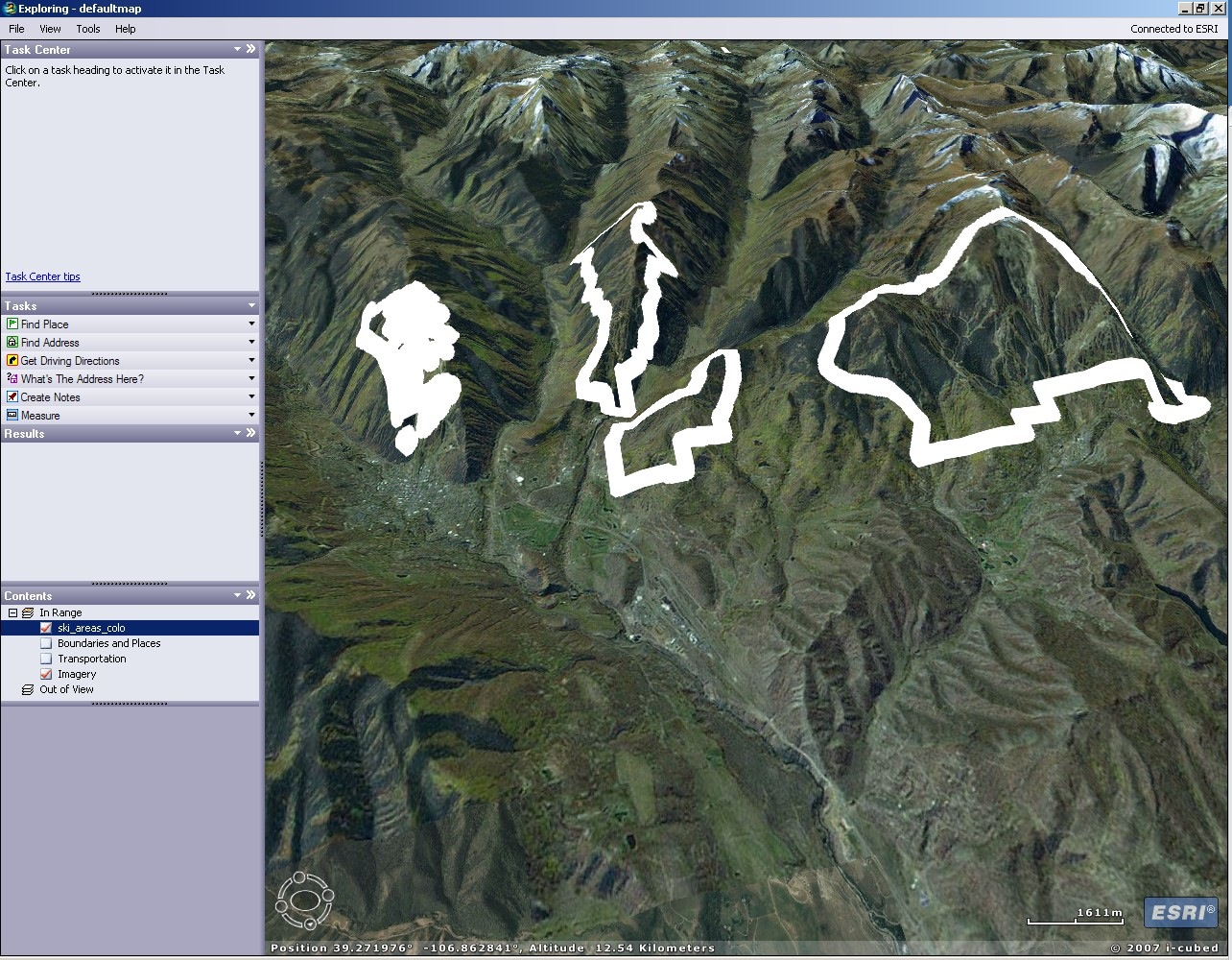 Which area appears to be largest? Identify each one and compare your visual assessment to the number of acres in the attribute table. Was your visual assessment correct? Which area looks like it has the largest vertical drop? Compare it to the elevation and vertical drop data for selected ski areas on http://www.how2ski.com/resources/snow-info/colorado.aspx. Use the form on http://www.onthesnow.com/colorado/terrain.html to analyze whether the vertical drop distance influences the percentage of beginner, intermediate, and advanced ski runs that a resort has, and if so, how and why. Examine the annual snowfall in conjunction with your maps. Which resort listed receives the highest amount of snowfall, and where is it located in the state? Next, examine a web camera to visualize the ski resorts that you have been exploring on http://www.coloradowinterinfo.com/ski-resort-web-cameras.html.
Colorado has the most skiable terrain of any state or province in North America, with nearly 39,000 acres. In ArcGIS, sort the ski area attribute table on the field "acres." Does the name of the largest ski area surprise you? Aspen Mountain comes in as the smallest. However, go back and examine the map. Which adjacent areas increase the combined skiable terrain near Aspen?
With minimal effort, rich data sets can be used to investigate spatial patterns with GIS. After your GIS analysis is done, get out there and hit the slopes! But remember to bring your GPS so you can map your runs after you are through
- Joseph Kerski, ESRI Education Manager