Monthly Archives:
September 2008
Recently, I started a "Fun With GIS" series, using ArcExplorer Java Edition for Education (AEJEE), ESRI's free, downloadable, dual platform (Win/Mac), lightweight GIS tool. This week, we'll do what a lot of teachers, students, parents, families, and general adventurers want to do: integrate GPS data into a map.
The first task is to go out and collect some data points. With an inexpensive Garmin eTrex GPS, I collected two routes on my GPS — my morning running route and my walk to and from work. Thanks to "DNR Garmin", a free, downloadable, Windows-based application built by the Minnesota Department of Natural Resources, it was easy to export the data from the GPS unit directly to a shapefile. After that, I opened AEJEE, added the shapefile, classified the routes according to their name, and gave each a separate color.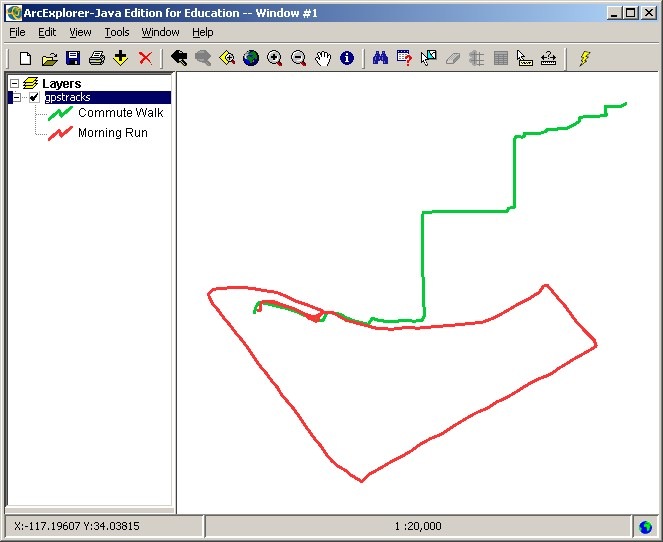 Then I just added some underlying context. I could have used the Geography Network but chose instead an aerial photo data set from the USGS Seamless server (seamless.usgs.gov).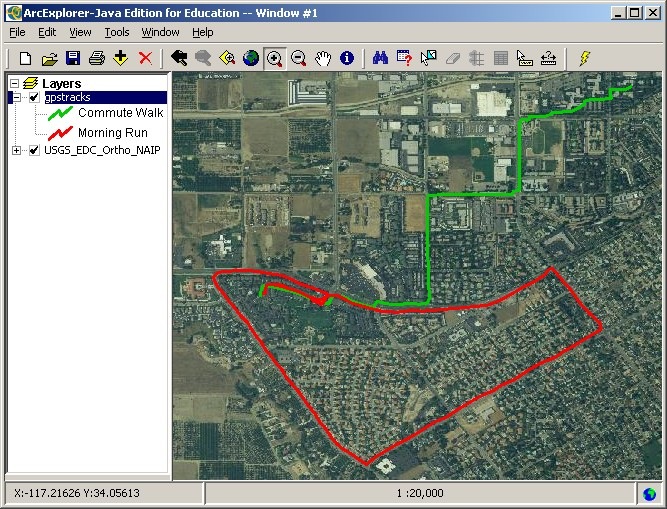 My map is now ready to post on a personal website. I could create a layout with an inset map for context, or annotate it in a paint program. Lots of options! But mastering the simple task of collecting points and tracks with a GPS and offloading them onto a computer gets a whole world of activities started!
- Charlie Fitzpatrick, ESRI Education Manager