Monthly Archives:
February 2008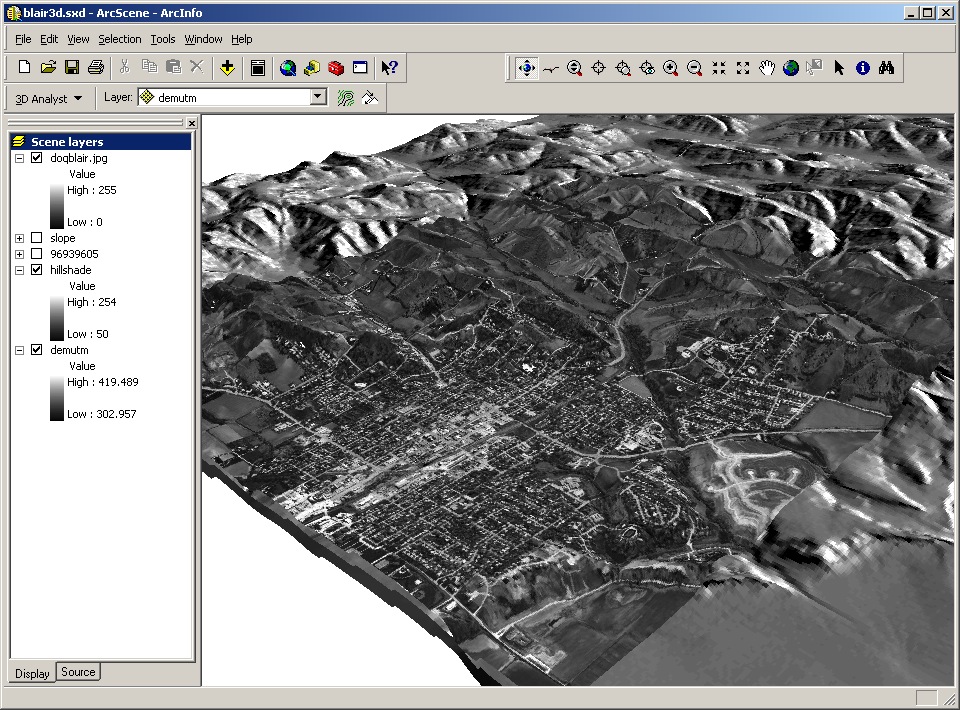 A new lesson in the ESRI ArcLessons library (http://edcommunity.esri.com/), walks data users through steps involved with how to download a Digital Elevation Model (DEM) from the Internet, format it, project it, and use it within an ArcGIS 2-D ArcMap session and a 3-D analyst session.
A DEM is a digital file consisting of terrain elevations for ground positions at regularly spaced horizontal intervals. This lesson uses 10-meter DEMs, but the procedures are the same for 30 meter or 90 meter DEMs. In my former position at the USGS, I saw how the collection of DEMs evolved, from the old days when an operator had to manually roll a ball of light up and down the slopes that he or she saw by examining stereo aerial photographs to create manual profiles, to the more recent procedure of scanning contour lines and running those lines through computer algorithms that create the DEM.
DEMs are essential whenever a three-dimensional analysis of a phenomenon is required, such as in studying watersheds, landslides, wildfires, coastal erosion, and much more. This lesson provides procedures in creating data layers derived from DEMs as well, including hillshades, slope, aspect (direction of slope), and contour lines. Three dimensional visualization is a powerful teaching tool that helps bring out the spatial relationship, patterns, and trends.
The lesson uses the USGS seamless data server (http://seamless.usgs.gov/) as the DEM source, although the bulk of the lesson can be used with the other servers that house DEM data as well. This lesson fosters several important skills such as downloading and formatting public domain raster data, including DEM, National Land Cover Data, Digital Orthophotoquads, and Digital Raster Graphics, spatial data management, projecting data layers, and how to model DEMs in the ArcGIS 3-D Analyst extension. I hope that the lesson is especially useful with regards to the often-asked procedures about why and how to project the DEMs so that the resulting slopes and profiles will be accurate.
- Joseph Kerski, ESRI Education Manager