Monthly Archives:
January 2008
One of the joys of working with GIS in the US is the tons of data that are available…unless of course you want to look into the past…that is until the National Historical Geographic Information System (NHGIS) came into being. The NHGIS is literally a treasure trove of GIS-ready aggregate census data and boundary files for the geography of the period 1790-2000.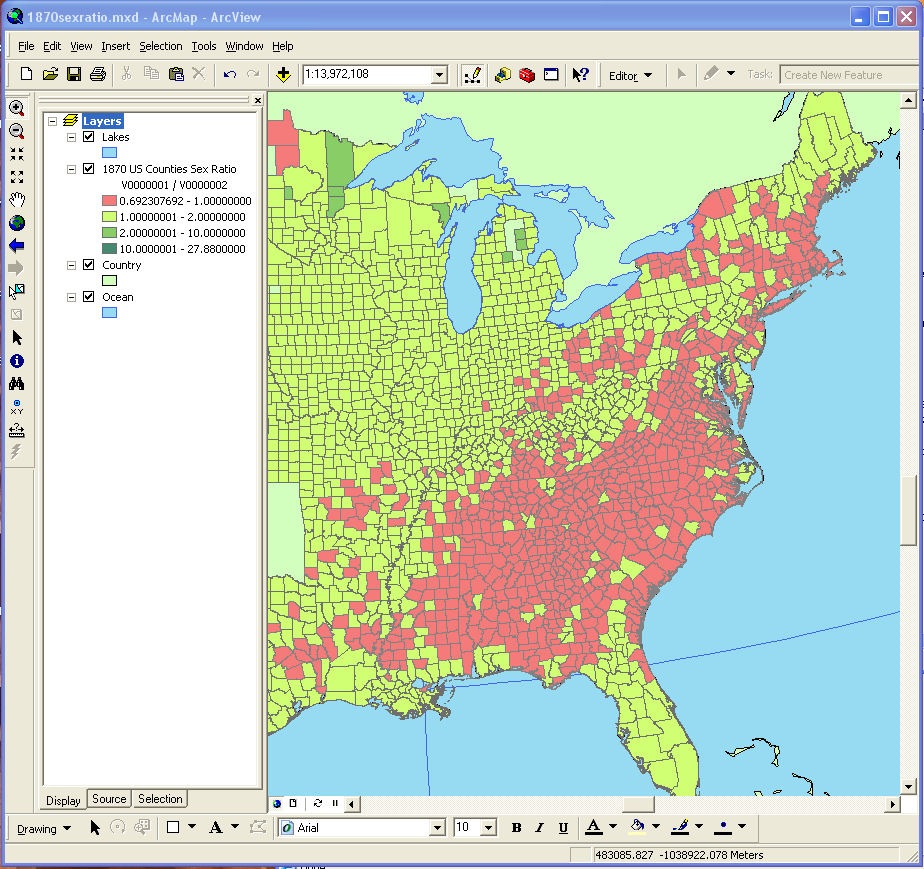 This is huge.
Using the "Shape Finder" and "Data Finder" functions you are able to select and download for free, geographic areas (e.g., states, counties, census tracts) and summary data (e.g., demographic, social, economic, and housing statistics). Using the ArcMap "join" function brings boundaries and attributes together. (NOTE: It is important to understand what data and geographic areas are available by decade.)
Here are a couple of examples to get you thinking.
By grabbing the 1870 county boundary files and associated 1870 county population counts by gender, I was able to create a map using ArcView to depict a relatively close post Civil War sex ratio (ratio of males to females). Here, the display is focused on the eastern US. At the time of the 1870 Census, the national average sex ratio stood at 102.2 men for every 100 females (or 1.022). Looking into counties which were the source of troops fighting the war and areas ravaged by it, the general picture is there are more females than males. In this cursory view, it is difficult to discern the specifics of this striking geographic pattern but with over 600,000 (generally male) military deaths, the war certainly affected the demography of counties most involved. (Question: What do you think the sex ratio was like in western US counties in 1870? Download the data and see for yourself.)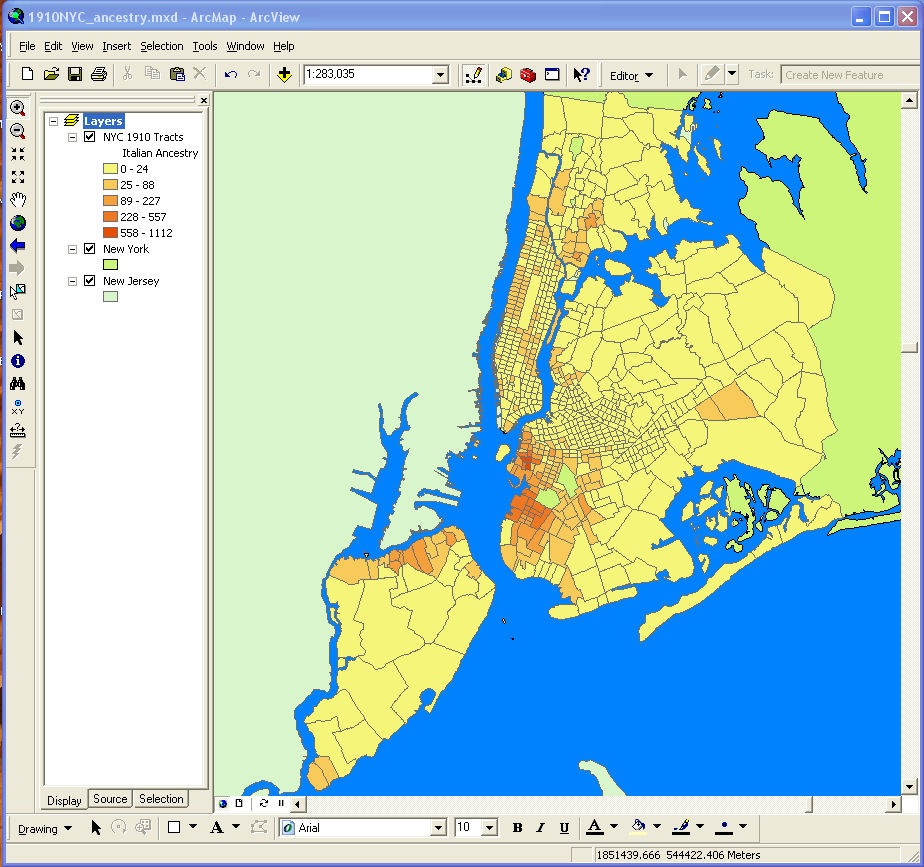 The 1910 Census saw the collection and release of the first census tract data for 8 cities: Baltimore, Boston, Cleveland, Chicago, New York, Philadelphia, Pittsburgh, and St. Louis. Immigration to New York City is legend with many waves of different nationalities. This map shows the Italian ancestry across the city's five boroughs in 1910 after the massive 1901-1910 influx. While broadly distributed, the Italian population at this time was largest in the Bronx.
Sign up for free access to a wealth of GIS data and open a new door into the nation's history.
- George Dailey, ESRI Education Manager