Monthly Archives:
October 2007
Australian Malcolm McInerney has something in common with Phileas Fogg of London: Both are globe girdlers. Jules Verne's hero went Around the World in Eighty Days on a wager. Malcolm, who hails from Adelaide, is doing it in less than half that time on a quest to better understand the passions, possibilities, and pitfalls in spreading the use of GIS in education, particularly in schools. Malcolm is a high school geography teacher with a current posting at the South Australian Department of Education, and is one of the primary voices and change agents in GIS education in Australia. Underwriting his international investigations is a fellowship from the Australian Winston Churchill Memorial Trust.
Malcolm is sharing his saga and his discoveries (including various geographic observations) via his SpatialWorlds blog. Thus far, he is halfway through his ed-venture and half a world away from home with current location in Toronto.
As he and I spent time together in Dallas and at the National Council for Geographic Education conference in Oklahoma City, it was clear that his blog needs a map. So, I offer this personal blog entry as a pathway as to how you can join Malcolm on his journey using ArcGIS Explorer (AGX).
Malcolm's basic itinerary is
| | |
| --- | --- |
| Adelaide, South Australia | Washington, DC (USA) |
| Hong Kong, China | New York City, New York (USA) |
| Dallas, Texas (USA) | Toronto, Canada |
| Oklahoma City, Oklahoma (USA) | London, UK |
| Arlington County, Virginia (USA) | Canterbury, UK |
| Harrisonburg, Virginia (USA) | Cornwall, somewhere near Truro, UK |
| Charlottesville, Virginia (USA) | Back home to Adelaide |
Using the AGX Find Place task I compiled a global pushpin map of Malcolm's basic destinations. (NOTE: Entering locations in the order shown above actually positions them in the reverse order of the visit in the Results window. Once located, I simply "grabbed" each entry in the list and moved it to the appropriate spot…or I could have located them in reverse order [from finish to start] which would put them in the preferred sequence.)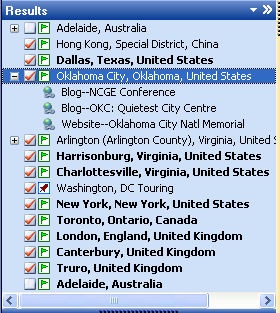 Next, I wanted to link Malcolm's blog entries and items of interest with the geography he was/is exploring. I experimented with this in two ways: Adding a link to a location in the Results window such as the entries under the Oklahoma City result-two of Malcolm's blog postings and a place he explored there, the Oklahoma City National Memorial. (NOTE: From the SpatialWorlds blog page, I clicked the named entry I wanted and copied the entry-specific URL. Back in AGX, I right-clicked the OKC location entry, selected "Add a link," and pasted the blog URL. I also renamed the entries to my liking. Clicking on a new OKC Results window addition opened that link in my Web browser.)
A second way of linking Malcolm's geocontent to my map is by using the "Create Notes" task. Interested in having his text and photographic entries appear inside the map, I grabbed another of his blog entry URLs-Washington, DC, pasted it in the "Note Text" window, gave the note a title, and used the "point" tool to position a pushpin (which I resymbolized [right click the pushpin > Properties > Appearance, Symbol]) in the vicinity of the Washington Monument. Clicking the new map feature launched the blog page inside a "balloon" pop-up window.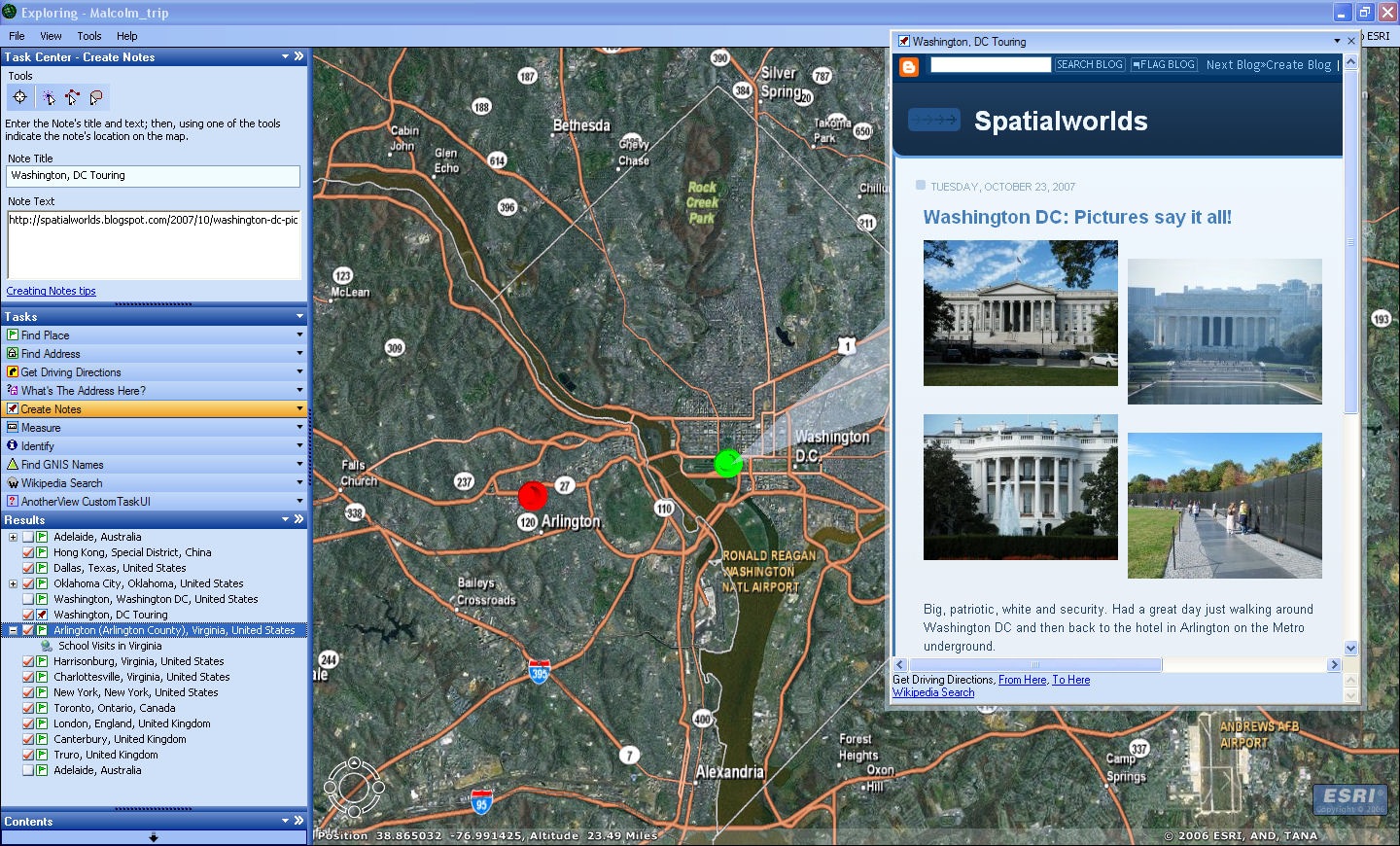 So, where could we go next with this…well that depends on Malcolm and our own creativity: What he shares with all of us via his blog and what we see inside that content? Besides the descriptive stories he is providing, he also is supplying us with information about places (general and specific), such as his geographic questions about Hong Kong, which we could explore in greater detail with AGX, ArcWeb Explorer, ArcExplorer Java Edition for Education, and other geographic tools and data, and use as a jumping off point for our own investigations.
What could each of us investigate: Anything and everything? For instance, where have you and your students traveled, what is like there? Or, what about Mr. Verne's protagonist, Phileas Fogg? While his mythical adventure took place over 130 years ago, he encountered real places…and his basic itinerary is waiting for you.
- George Dailey, ESRI Education Manager