Monthly Archives:
December 2011
The end of the year approaches, which means a Top Something list is practically obligatory. Admittedly, compiling such a list may be a lazy blogger's device, but remember, lazy bloggers are people too and sometimes need a holiday respite. In the spirit of the season, the numbered list below—presented in no particular order—may inspire you to learn something new, prepare yourself for a new job next year, or at least stare down chocolate temptation.
Reason 1: Your training budget has an expiration date.
Despite rumors to the contrary, your organization's training budget may not be nil. For organizations whose fiscal year follows the calendar year, training funds approved for 2011 will expire midnight December 31st, about the same time affectionate people are greeting the new year. What you may not know is that many managers hoard budget-approved dollars throughout the year to make sure they have enough for unexpected executive projects. This is the week to hand your boss a training request before she hurries out the door for vacation and remind her that those training funds need to be used or losed, or even lost. Nobody likes to lose money.
Reason 2: Learning is the gift that keeps on giving.
James Slavet, in a recent guest post for Forbes, promotes the Compound Weekly Learning Rate, which is described thusly, "This ability to learn is like the compounding interest on an investment: after two or three years, a relentless learner stands head and shoulders above his peers." Now who among us wouldn't like to be taller? Enough said. Continue reading →
With the holiday season now in full swing, here's an early present for individuals planning to take one of the ArcGIS Desktop certification exams. We just released a set of sample questions for both the ArcGIS Desktop Associate and ArcGIS Desktop Professional exams. The sample question sets are available for free on the Esri Training website.
Here's what you can expect: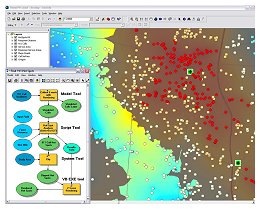 Like certification exam questions, sample questions are multiple choice. They are not, however, actual questions from the exams.
Sample questions cover the same subject areas as the certification exams, but the number of sample questions per subject does not equate to the number of questions per subject on the exams. There may not be sample questions for all subject areas tested by the exams.
For each question, you can immediately see whether the answer you selected is correct or incorrect. Every question includes an explanation of the correct answer.
The ArcGIS Desktop Associate set includes 35 sample questions.
The ArcGIS Desktop Professional set includes 41 sample questions.
We added sample question PDFs to the Certification website some time ago, but those PDFs contain only three questions each and were intended to simply show how exam questions are structured. These new sets of sample questions are intended to be an exam-preparation resource. Of course, they are not a comprehensive resource—the skills and knowledge gained through on-the-job experience are the best preparation for an exam.
If you're planning to take one of the ArcGIS Desktop exams, here's hoping the opportunity to do some free self-assessment makes your holiday season a little brighter.