Monthly Archives:
July 2011
As of today, exam registration for the ArcGIS Desktop Developer Associate and Enterprise System Design Associate certifications is open to the public. If you're interested in taking either of these exams, be sure to review the Qualifications and Skills Measured information on the Certification website. A set of sample questions (three) is provided for each certification to give you an idea of how exam questions are structured.
Six additional Esri technical certification exams are in development and are planned to be released by early 2012.
And the Winners Are…
In other news, we want to congratulate the winners of our drawing at the Esri International User Conference a couple of weeks ago: Jeffrey Dunn, Sumi Gauchan, and Theron Owens each won a complimentary certification exam voucher.
Jeff, who plans to take the ArcGIS Desktop Professional exam, says he's preparing for life post-graduate school. "Any documented knowledge and skill sets that I can provide an employer will be a plus."
Best of luck to Jeff, Sumi, and Theron with your exams! We hope we can welcome you to the Esri Certified community in the near future.
Face to Face Social Networking
Speaking of the Esri UC and community, the Esri Technical Certification reception was a hit. Hosted by our testing partner Pearson Vue on a beautiful evening mid-conference week, the reception attracted those lucky enough to attend the conference and goal-oriented enough to have earned an Esri technical certification. While enjoying food, drinks, and a great view of the Coronado bridge, the camaraderie of a shared accomplishment was evident. It's exciting to see this community grow.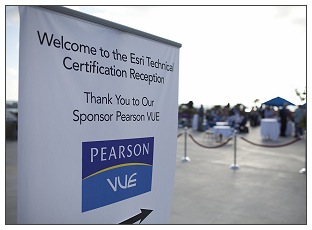 Attending the reception was Brendan Collins, a GIS application developer from Arlington, Virginia. Asked for his take on the value of an Esri technical certification, Brendan unknowingly validated Jeff's plan (above) when he put it like this, "When we interview applicants, we test for basic things like comprehension levels and programming knowledge. An Esri certification would give me greater confidence in an applicant's technical ability."
Successful GIS professionals need a broad base of knowledge and skills. Validating your technical skills is our goal with the Esri Technical Certification program.
If you're heading for San Diego this weekend, you're likely still deciding which sessions to attend, maybe making plans to meet up with friends, and perhaps even looking forward to getting inspired by all that the GIS community has accomplished in the last year.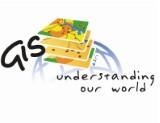 As those of us who work in Training Services and the Esri Technical Certification program prepare for the UC, we've been thinking about what we've accomplished—and how much work is ahead of us for the remainder of the year. We're looking forward to talking with conference attendees about those things. If you're going to San Diego and you want info about training or certification, here's the UC breakdown. Continue reading →
The Hands-On Learning Lab is located in the Esri Showcase in the San Diego Convention Center. To take a free lesson, visit during the following hours:
| | | | |
| --- | --- | --- | --- |
|      | Tues. July 12: |   | 9 a.m. – 6 p.m. |
|      | Wed. July 13: |   | 9 a.m. – 6 p.m. |
|      | Thurs. July 14: |   | 9 a.m. – 1:30 p.m. |
No registration is required. Each lesson listed below is approximately 45 minutes and includes a video presentation and a hands-on ArcGIS 10 software exercise. Esri instructors will be available for questions and support.
Basics of the Geodatabase Model
Creating a Map in ArcGIS
Designing Effective Web Applications Using ArcGIS Server
Editing with ArcGIS Desktop
Geocoding With ArcGIS
Getting Started with Animation
Introduction to ArcGIS Data Reviewer
Introduction to ArcGIS Desktop
Introduction to ArcGIS Server
Introduction to Geoprocessing Using Python
Introduction to Network Analyst
Introduction to Spatial Analyst
Introduction to Versioned Editing
Spatial Statistics for Public Health
What's New at Version 10.0
Working with CAD in ArcGIS