Monthly Archives:
January 2011
When access to GIS data, maps, and applications is broadly available throughout an organization, we call it enterprise GIS. Organizations intrigued by the idea of deploying GIS enterprise-wide often have concerns about the work (and costs) involved. Is there a particular way to go about it? Where do you start? What if you can't afford a consultant?
For answers to these questions and more, we turned to Dave Peters, manager of systems integration at Esri. Dave spent most of the 1980s with the U.S. Air Force, working on aerospace systems integration projects. In former lives, he was a physicist, pilot, and an engineer. During his 20-year tenure at Esri, Dave has worked on system design projects with numerous clients and has become the acknowledged expert on system architecture design for enterprise GIS operations.
Is enterprise GIS cost-prohibitive for organizations with limited IT budgets?
Dave:
I would think not. We implement enterprise GIS to improve business efficiency and effectiveness. The benefits of implementing GIS throughout the enterprise far outweigh the cost. These benefits are demonstrated over and over again by organizations both big and small.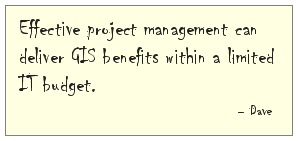 If you have a limited budget, you can take smaller steps forward; over time you will see the same benefits accrue. Today, hardware and software costs are significantly reduced, driven by the increase in processing capacity and performance for both servers and networks—this opens a variety of opportunities for small business automation. Continue reading