Monthly Archives:
May 2010
Last week's live training seminar (Using Python in ArcGIS Desktop 10) provided an up-close view of how Python scripting is integrated into the ArcGIS 10 release. The last part of the seminar dived into functionality provided in the new arcpy.mapping module. In the demo below, Esri instructor Michael Rhoades manipulates a layer and repairs broken data sources in a map document (.mxd) using Python scripts that call the arcpy.mapping module.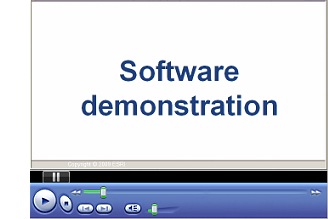 We know there's a lot of interest in Python scripting—"Python" is one of the top search keywords used on the Esri Training website. The first half of the training seminar covered some basic Python concepts and syntax for those who don't have Python experience. Subsequent topics included using Python scripts in the Field Calculator and creating script tools to automate GIS tasks.
In the out-take below, Bruce Harold, a product manager with the ArcGIS Desktop team, answers questions submitted by attendees during one of the three seminar Q&A sessions.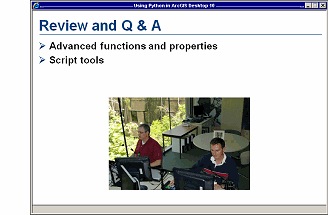 In another week or so, the free, complete recorded version of this seminar will be available on the Esri Training website. If you work with or manage imagery for your organization, you still have time to catch the last of today's free live broadcasts of Managing Imagery with ArcGIS 10. Tune in at 3 p.m. Pacific.
Last week's live training seminar previewed some of the new functionality coming in ArcMap at ArcGIS 10. Esri instructor Joel McCune covered the integrated Catalog window and much improved search tool, basemap layers, geoprocessing improvements, and more. In the second half of the seminar, Joel demonstrated how to create a map series using the new Data Driven Pages feature.
Anyone who frequently (or infrequently) needs to create or update a map series is going to love Data Driven Pages. In just a few minutes, you can assemble the series based on a layer in the map, assign a title to all the maps at once using dynamic text, and add nice touches such as an extent indicator (an outline of a feature shape displayed on a locator map—also new functionality at ArcGIS 10). Continue reading →