Tag:
Weather
Blizzards, ice storms, floods, mudslides, torrential rains, and more weather related mayhem have seemingly plagued the nation the last couple of weeks. Here's a way to keep an eye on the current weather watches and warnings using Explorer and ArcGIS Online.
ArcGIS Explorer Online
We'll start with Explorer Online. After starting the app click Search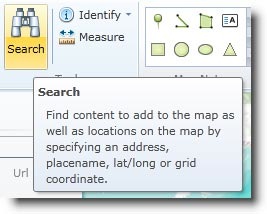 And then click ArcGIS to search for anything related to "weather warnings" in ArcGIS Online, as shown below:

Our search turns up a number of possibilities, and after previewing the choices we chose US Weather Warnings published by user_community.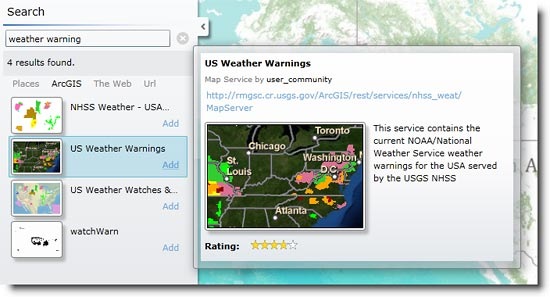 This service comes from NOAA/National Weather Service, and includes current weather warnings for the USA. It is published via ArcGIS Server as a live map service. The NHSS Watches/Warnings contains all of the current weather watches and warnings issued by NOAA's National Weather Service (NWS).
Once added to the map we can use Identify to learn more about the warning, and click a link to weather.gov to view more detailed information.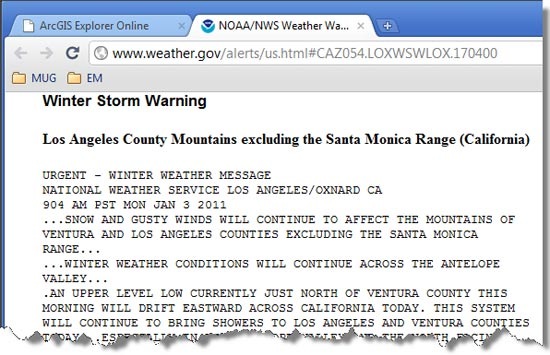 ArcGIS Explorer Desktop
Using Explorer Desktop the procedure is very similar. First click Add Content, then choose to add from ArcGIS Online: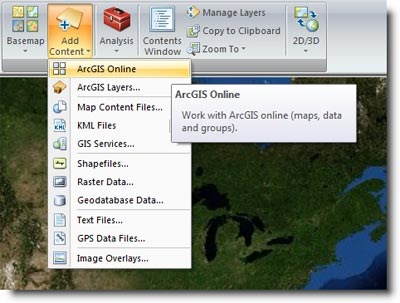 Then in the ArcGIS Online window a search string can be entered, in this case "weather warning:"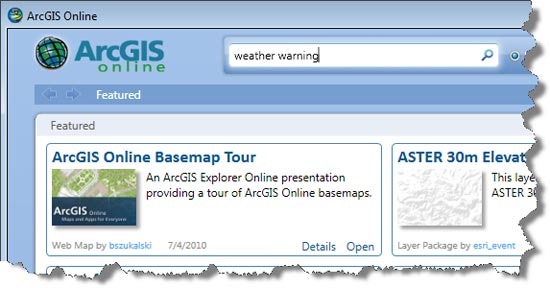 Looking at the search results one thing that will be different will be the types of items returned from ArcGIS Online. Since Explorer Desktop can use more than map and layer services, we'll also see items like layer packages, layer files, etc. We checked the item description (highlighted in yellow below) to look for a service that we can add to our existing map:

In Explorer Desktop popup windows are checked off by default when you add a service layer. To enable popups select the item and open its properties, then check the popup window on, as shown below: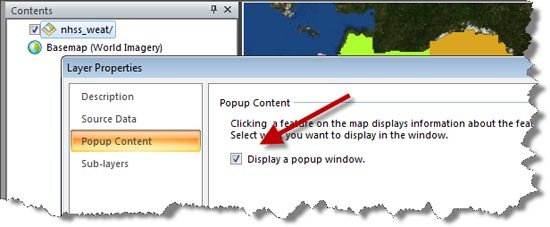 Now we've used that same service in both Explorer Online, and also Explorer Desktop.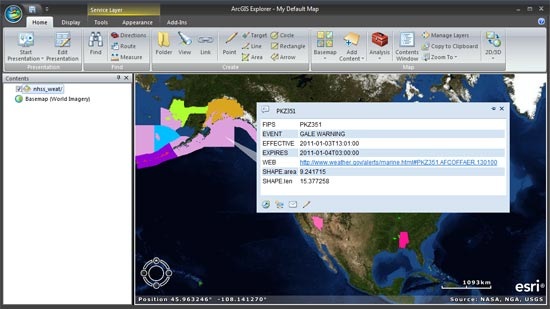 Explorer Desktop also enables us to toggle our viewing mode to 3D, so we can view the warnings on a globe.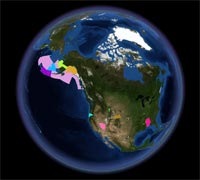 For more information on searching for and using shared items on ArcGIS Online see the ArcGIS Explorer Desktop help or ArcGIS Explorer Online help.