Tag:
Track Lines
The Squad Leader app is a new ArcGIS app for Android smartphones and tablets.  It is designed to enhance situational awareness for platoon and squad-sized units during operations. The app allows a soldier to submit and read reports, drop virtual … Continue reading →
Posted in
Defense
Tagged

Android, Application, ArcGIS 10.1, ArcGIS for Defense, Defense, Emergency, GPS, Intelligence, Land Operations, Mobile, Operations, reporting, Templates, Track Lines, Tracks, UDP
4 Comments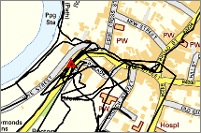 The ArcGIS Defense & Intelligence team and Helyx SIS Ltd. have posted the new Patrol Data Capture template for immediate download from Arcgis.com. This desktop application template is designed to help you import and clean patrol tracks from a GPS into ArcGIS. This template assists in separating patrol tracks, removing duplicate points, and detecting and removing error spikes. It includes a sample GPX file and a toolbox with geoprocessing tools to help you work with the imported track data. The template also includes a "Getting Started with the Patrol Data Capture Template" guide to help you set up the template and a "Using the Patrol Data Capture Template" guide to walk you through exercises using the template.