Tag:
Texas
by Ernest To* – RPS Espey, Carissa Belsky – Crespo Consulting Services, Inc., David Harkins – RPS Espey,
Jim Patek – Parsons Corporation, Steve Stecher – Crespo Consulting Services, Inc., Mel Vargas – Parsons Corporation,
Jennifer Walker – Watearth, Inc.
* =corresponding author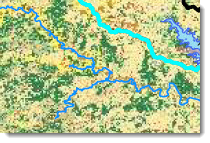 Sedimentation in Texas reservoirs is a significant problem that affects both water availability and quality in Texas.  The Texas Water Development Board estimates that Texas' major reservoirs are losing 90,000 acre-feet per year due to sedimentation. This is equivalent to a loss of 4.5 million acre-feet by 2060 and exceeds the projected increase of 3.4 million acre-feet from new reservoirs.   The reduction in storage volume not only impacts water supply but also necessitates the alteration of supply infrastructure to handle deteriorating water quality.  Uncertainty regarding rainfall supply due to climate change further burdens the already stressed reservoirs.