Tag:
temporal
This morning during the Esri Partner Conference (EPC) plenary session we provided an overview of the strategies and goals for ArcGIS Online, and a brief demonstration of new capabilities introduced with the latest release (publicly released this past week). Here's a recap of what was demonstrated at the conference.
A key foundational element of ArcGIS Online is the webmap. This is more than "just a map" - it's a specification that Esri is evolving that enables any ArcGIS Online map to be used anywhere, by everyone, easily. ArcGIS Online maps can be used in ready-to-use viewers like the ArcGIS.com map viewer, Explorer Online, configurable applications, custom apps, mobile apps, ArcGIS Desktop, and more. Some key additions to the webmap specification provide cross-client support for these features.
First shown was the support for temporal services, an ArcGIS service that was introduced at ArcGIS 10 that publishes and allows the display of time-dated information. Shown at the EPC (and pictured below) is a temporal service using archived Telvent weather data published as temporal service. Once you add a temporal service to the ArcGIS.com map viewer, or Explorer Online, you can display a slider to control temporal navigation, and manage properties for playback. Note the slider at the bottom of the map in the screen capture below: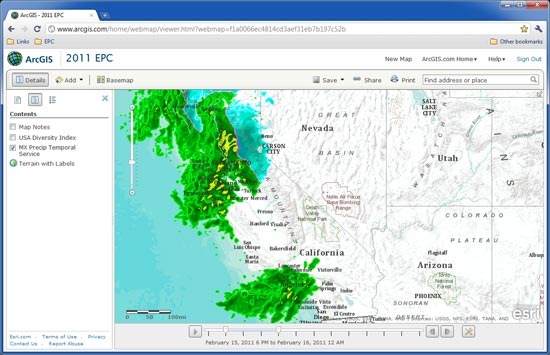 Also part of the webmap is support for configuring pop-ups. So rather than just displaying a list of attributes, that information can be formatted for display in custom ways, including as pie charts, shown below: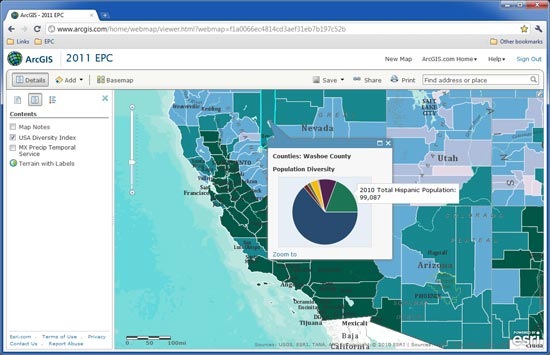 When you embed an ArcGIS Online map in a Web page or blog post, these pop-ups are also supported because they are a part of the ArcGIS Online webmap specification. Even if you're a custom application developer, by authoring and saving these in an ArcGIS Online map, you can easily leverage them in your custom apps. Below is the same map seen above, but embedded in a blog post.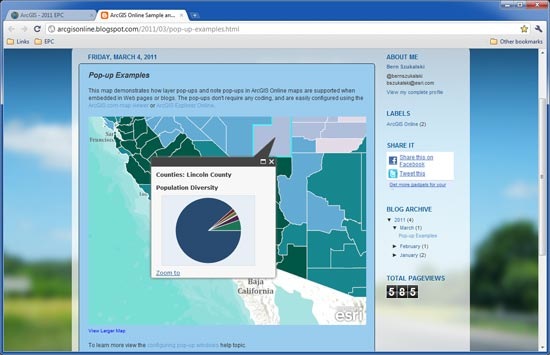 And here is the same map shown in one of the downloadable templates (source code included) found in the template gallery: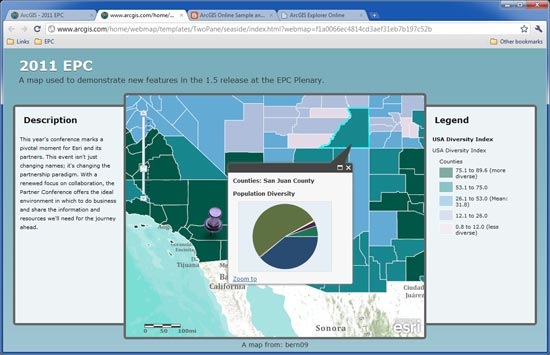 Map notes, formerly unique to ArcGIS Explorer, are also part of the webmap and have been implemented as features in feature layers. Notes can be edited and also shared between applications. Here is a note and the note feature templates in the ArcGIS.com map viewer: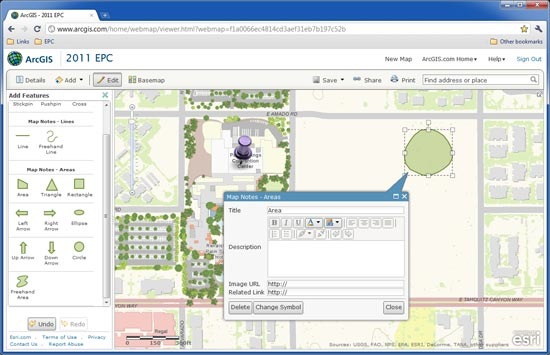 All of the above capabilities are also common to Explorer Online, since they all use the same webmap foundation. Explorer Online has the unique ability to create new feature templates from existing ones, and also to author presentations, shown below: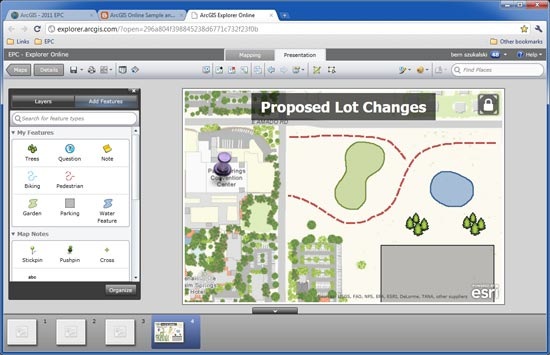 Finally, a demonstration of ArcGIS Portal wrapped up the plenary presentation. ArcGIS Portal is the same framework that Esri uses to build its public ArcGIS Online. Using ArcGIS Portal users can now implement their own "ArcGIS Online-like" portal within their organization, behind their firewalls. Shown below is one of the skins which has been applied to ArcGIS Portal. Though it leverages the same framework as ArcGIS Online, it looks completely different and includes some unique features.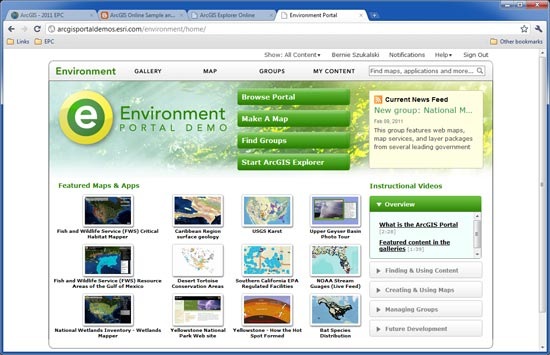 To learn more about these new features you can view the what's new at ArcGIS.com videos, videos published on the ArcGIS Online Esri website, and the what's new in ArcGIS Explorer Online help topic.