Tag:
team
ArcGIS Maps for SharePoint is our SharePoint add-in that allows you to add maps to your SharePoint sites, load ArcGIS data on them, and share that location info across your organization. For more information on what Maps for SharePoint can … Continue reading →
Posted in

Apps, Location Analytics, Mapping, Web
Tagged

ArcGIS, esri, Map, Mapping and Visualization, Microsoft, SharePoint, team, Visualization
2 Comments
By Aileen Buckley, Mapping Center Lead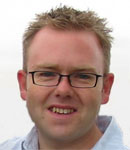 We are pleased to introduce to you Dr. Kenneth Field (@kennethfield), who is the newest member of our Mapping Center Web site team. Ken comes to us from Kingston University in the UK where he was Principal Lecturer at Kingston University London. He also served as Course Director for undergraduate and postgraduate courses at the Centre for GIS. A graduate of Oxford Polytechnic's cartography degree programme, he has spent his career enthusing students, colleagues, and others about cartographic design and production, increasingly through the use of GIS technologies. He will be able to carry on this mission through Mapping Center, sharing his knowledge and experience in blog entries, the creation of maps and other downloads to help you with your work, Ask a Cartographer, and more.