Tag:
statistics
When using the classified renderer, some people notice that the statistics in the Classification dialog are not exactly the same as the statistic of the Raster Dataset Properties. Most often, this is because your classified renderer is using an approximation for its statistics. Even though the statistics are estimated, most times your rendered output is quite similar.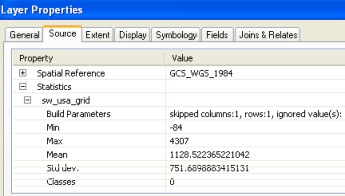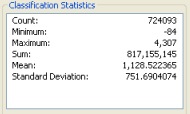 How do I turn on accurate statistics for my classified renderer?
In order to change the classified renderer to use accurate statistics, you will need to set a registry setting.  KB article 35443 shows you the steps to follow, to set your registry to use accurate statistics when using the classified renderer.

Why wouldn't I always want this on?
When the accurate statistics is on, the rendering performance slows down. And usually the estimated statistics for the classified renderer is sufficient enough for a similar classification.
When using the accurate statistics, sometimes a cryptic warning message would appear.



If this message appears, then you will need to follow the steps in KB Doc 35053.
You can try both accurate and estimated classified renderer statistics, and see which one is a better workflow for you.  Most users have told us they prefer the faster estimate (which is the default). Others require absolute accuracy when classifying.
Submitted by: Simon Woo