Tag:
Spatial Statistics
When it comes to the Spatial Statistics tools in Version 10.0, there are a couple of things that you need to keep in mind when using background geoprocessing. Many of the Spatial Statistics tools have textual output that can be viewed from the progress dialog box and the Results window when the tools are run in the foreground. When the tools are run in the background, you must rely on the Results Window to give you all of that important information (and save it for future use).
Let's use the Spatial Autocorrelation (Moran's I) tool as an example. The Spatial Autocorrelation tool returns five values: the Moran's I Index, Expected Index, Variance, z-score, and p-value. These values are accessible from the Results window and are also passed as derived output values for potential use in models or scripts. Right-clicking on the Messages entry in the Results window and selecting View will display the results in a Message dialog box (as illustrated below). If you execute this tool in the foreground, output values will also be displayed in the progress dialog box.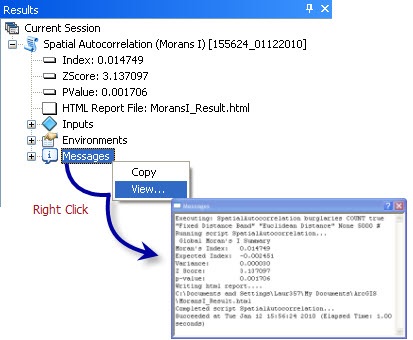 Optionally, the Spatial Autocorrelation tool will create an HTML file with a graphical summary of the results. In previous versions, you could choose to have a graphic pop up tell you whether your results are clustered, random, or dispersed. A similar graphic summary of your results is still available, but now it is actually saved as an HTML output. This will help us as we share and review our findings in the future. Double-clicking on the HTML file in the Results window will open the HTML file in your default Internet browser.

Also keep in mind that if you are running model tools that you created in ModelBuilder, you will have to make sure that you set the output files (like HTML pages) as Model Parameters. That way they will show up in the Results window.
So, make sure that you remember how important the Results window is for many of the Spatial Statistics tools! And for more resources on using the Spatial Statistics tools, check out our resources page at http://esriurl.com/spatialstats.