Tag:
Site Suitability
In the 1970s, the Iowa State Capitol in Des Moines had a bird's-eye view of a downtown in deep decay. Decades later, the iconic building — the ubiquitous television backdrop for nearly every reporter covering the Iowa Caucus — is perched … Continue reading →

by Sooria J
Business Analyst Online is getting smarter, which will help our users make smarter decisions with smarter intelligence. You must be wondering why am I "smarting" so much. Here's why.
How many times have you wondered…
I really like the color-coded maps with one variable. How cool would it be if I could get an interaction of multiple variables?
My client provides a specific set of criteria for each variable (age, income, population, etc.) with the specific range they are looking for. They are ONLY interested in areas that fall into their criteria. Do I need to spend time analyzing each variable one by one and filter out the areas that meet their criteria?
It would really save time if I could save multiple sets of criteria for each of my clients and provide them with a list of geographies that match their criteria based on their need at that moment, can I do this in less than five minutes?
If you are among the crowd who "wondered" about these questions, while using Business Analyst Online, your prayers are truly answered folks.
In the upcoming release of Business Analyst Online, we are adding a brand new feature which allows the user make all the smart moves mentioned above, aptly this feature is called "Smart Map Search". You will be able to pick multiple variables from our hundreds and hundreds of variables, set a definite range for each of the variables and view the results (geographies) that match your criteria. Oh yea, you can also save the criteria list so that you don't have to hunt for the variables of your (or your client's) choice each time. Also note that you can export the results into an Excel file and use it for further analysis.
Don't you agree that Business Analyst Online is getting smarter? Watch for my next post for more details with actual screenshots about this feature…
Later
SJ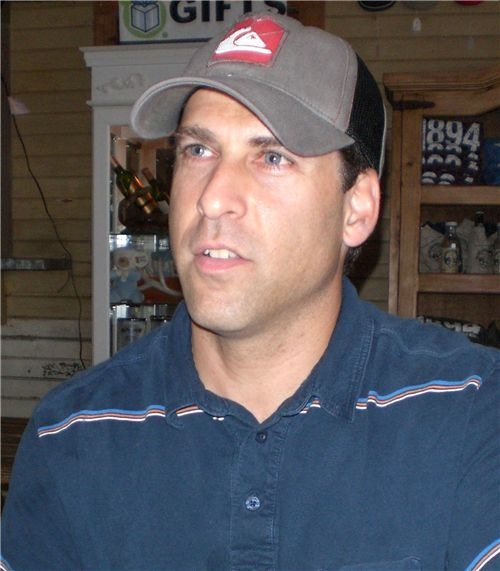 by Dennis Kaplan
This workflow was of big interest to the attendees at this year's RECON Shopping Center trade show.
The General Workflow: A business owner starts off by taking a macro look at a metro area to find ideal areas for possible investment. Once areas of interest are found, the user is now able to go into an area and take a micro look at the business landscape within the areas of interest to see if it meets their product mix.
1. The first part of this workflow was to take a macro look at a particular metro area. We used the Dallas Metro area. I call this the Site Suitability Analysis. This sample model uses Spatial Analyst to create Hot Zones for possible development. It creates distances from different geographic location surfaces as well as creating surfaces for demographics. These surfaces are then overlaid on top of each other to create a Weighted Overlay surface (This part of the model is configurable.). The result is a surface that shows areas where a retailer might want to start looking for a new prospective location. For good effect, I included some Points of Interest (POI) that a fictitious customer might have from a real estate broker. After running the sample model, it finds that two of the POIs fall into a Hot Zone.
This model is a framework that any user can utilize and swap in the layers of information of interest for their business needs. ArcGIS Business Analyst contains many layers that can be utilized for this type of Hot Zone Analysis. You can download and work with the model from Esri's Code Gallery at; http://resources.esri.com/businessAnalyst/desktop/index.cfm?fa=codeGalleryDetails&scriptID=16325
Site Suitability Analysis Screenshot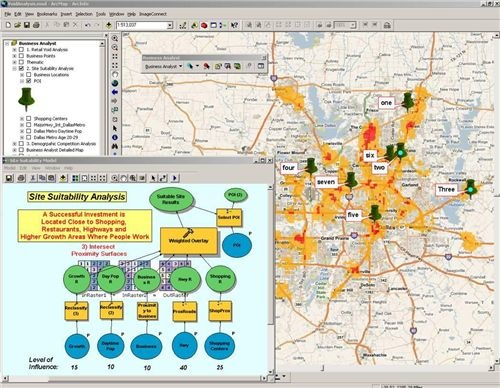 2. The second part of this workflow is called a Gap Analysis. It starts with the user zooming into one of the POIs in the Hot Zones. Retailers would like to know what businesses are within their trade area of interest as well as what businesses are not. This enables retailers to see if their product is a good mix for the existing market. In this case, the retailer has already created their Trade Area of Interest with the Draw your own trade area tool from the Business Analyst Trade Area Wizard. The retailer or business owner might also have their own set of businesses they always look for (their Master List), be it Restaurants or Steel Manufacturing locations. This model is optimized to use the InfoUSA Data points that come with the Business Analyst extension.
The model can be run in either run mode or edit mode. The model uses a custom Crystal Report template as well as a custom Python script that opens the report template upon completion. Both were created by Indria Davis from the Esri Commercial Technical Marketing team.
You can also download and work with the Gap Analysis model by going to; http://resources.esri.com/businessAnalyst/desktop/index.cfm?fa=codeGalleryDetails&scriptID=16329
Gap Analysis Screenshot in edit mode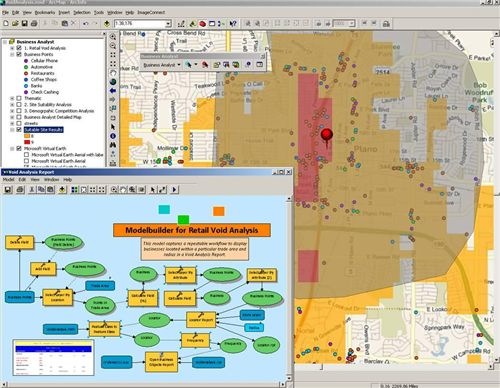 The Report results are very interesting. Quickly one can see the voids (what retailers are not in the area of interest). You can also see that there are 8 Autozones in the area, 3 of them are within the trade area and 5 of them are outside the trade area. The first one within the trade area in yellow is a half mile away from the POI and the first one outside the area of interest is almost 4 miles away.
Esri's tools give users open functionality to mold its tools they way users want them. Modelbuilder and Arctoolbox is sometimes an overlooked powerful environment that enables this collaboration. The above workflow showed how a business challange was solved utilizing Business Analyst, Spatial Analyst and Core Esri Spatial tools all within Modelbuilder's drag and drop environment.
I hope this workflow might help to open your minds that there is much more to the Business Analyst product than the Business Analyst toolbar.