Tag:
Pacific Disaster Center
The Public Safety COP Template is designed to be starter application to help you quickly implement the ArcGIS Viewer for Flex to provide situational awareness for your organization. This download package contains many of the tools and feeds that you have seen in our demonstrations and training. If you already have ArcGIS Server installed and configured you can go through these steps in about an hour. Obviously having an ArcGIS Server instance available somewhere within your organization is a prerequisite. Your data should be well organized and you should have your operational layers and basemaps published. This blog post contains the 10 basic steps to get this application set up within your organization.
To get started you can download this template from http://www.arcgis.com/home/item.html?id=1d90b418b78e40158914bd5178b6892f. For these 10 steps we are going to basically walk through the main configuration file (config.xml). More information is in the help documentation – see http://help.arcgis.com/en/webapps/flexviewer/help/mainconfig.htm
Step 1 – Pick your title and subtitle
Up at the top select the title and subtitle for your application. Often terms like GIS get lost on the broader Public Safety Community. Terms like Common Operational Picture (COP) or Situational Awareness seem to resonate more. In some cases specific application names and/or acronyms seem to take on a life of their own. For example applications like Virginia's VIPER or Florida's GATOR applications are great examples of this. Consider coming up with a good acronym (such as an aggressive animal) for your organization.

Step 2 – Pick your logo
Next find an image to include in the upper left of the application. This image should be 48 x 48 pixels.
Optionally include your logo over the map as a Static Image Widget – see – http://help.arcgis.com/en/webapps/flexviewer/help/widgets/staticimage_widget.htm

Step 3- Pick your colors
There are several color options that you can change quickly. See – http://help.arcgis.com/en/webapps/flexviewer/help/styling.htm. I've been coached by our graphics department not to go overboard and have colors so bright that they distract from the map. Setting the colors to match your organizations current web theme or "brand" can be quickly achieved by setting the colors appropriately.

Step 4 – Set your initial extent
Set the initial extent of your map for your jurisdiction. There is a handy helper utility here – http://help.arcgis.com/en/webapps/flexviewer/help/extenthelper/flexviewer_extenthelper.html – where you can zoom in to an area and copy the initial extent parameters and paste it in to your config.xml file. Note to make sure you match the aspect ratio of the helper utility to how our app will be normally displayed.

Step 5 – Basemaps
In order to provide context to your operational layers select the basemaps that are appropriate for your organization. New in version 2.2 of the ArcGIS Viewer for Flex you can combine local basemaps with global basemaps like those from ArcGIS Online or Bing. There are several local government templates for basemaps. Those include:
The Public Safety COP Template comes with a Public Safety basemap. This is a modification of the General Purpose basemap with an emphasis on Public Safety like critical infrastructure being highlighted and addresses showing up on the building footprints.

Step 6 – Live feeds from other organizations
The COP Template is already configured with live feeds from both the USGS and Pacific Disaster Center. Add other feeds such as your State or Location Department of Transportation or make your own using the Live Feeds Template.

Step 7 – Your operational data
The next step is to organize the data you manage. From the Emergency Management perspective this can include things like shelters, incidents, damage assessment, and field crew locations. The COP template provides layers for these. The other thing to consider is organizing your critical infrastructure data. Access to other business systems is also important; this is where the "Common" in COP comes in to play and things like Computer-Aided Dispatch, AVL, and Traffic Systems are important to be connected to.

Step 8 – Configure Public Safety COP widgets
The Public Safety COP Templates comes with three custom widgets – the ERG Widget, Report by Exception and Find Closest Facility. Configure these widgets to point to your own data. For example you can configure the ERG Widget to point to your own critical infrastructure layer.

Step 9 – Get other widgets and organize them
There are many widgets that come with the application out of the box. There additional widgets from the community – http://help.arcgis.com/en/webapps/flexviewer/gallery.html. I've listed some of the Public Safety related widgets here:
Step 10 – Configure the Splash Screen
Finally configure the Splash Widget for your organization using HTML formatting standards. You can include hyperlinks.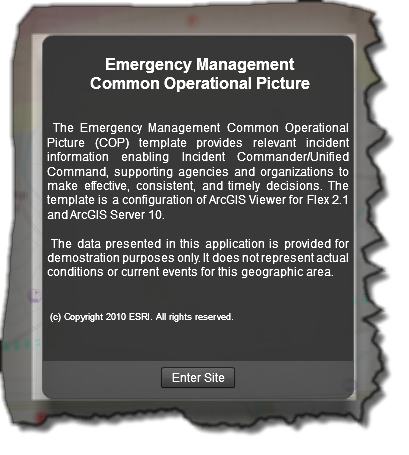 Now that you have this set up promote this within your organization! Perhaps you can use this in support of upcoming exercise. Here's an example of the COP Template that I have configured in support of the 2011 National Level Exercise: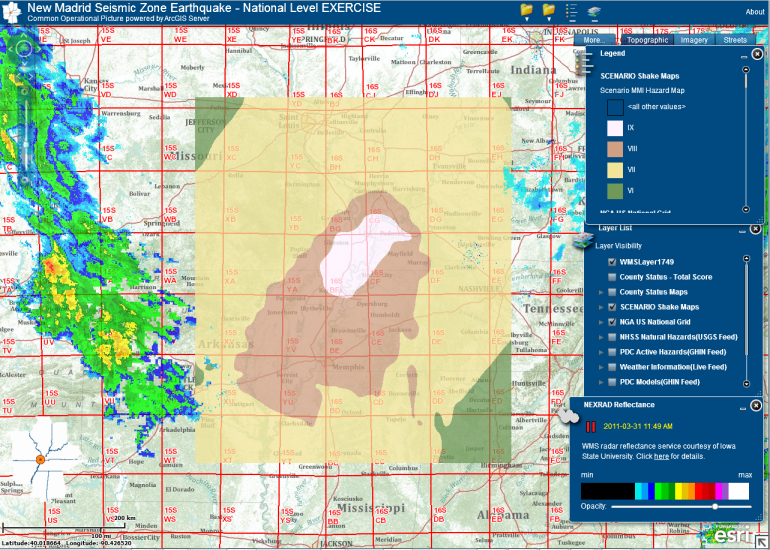 Here are some additional resources that may be helpful as you move forward:
Introduction to the ArcGIS Viewer for Flex – FREE recorded Live Training Seminar – http://training.esri.com/acb2000/showdetl.cfm?did=6&Product_id=983
If you are looking to go from a configurator to a developer here are some good training resources: